It's a beautiful bright Saturday morning – a perfect day for diving.
The title of this post is also the title of an old hymn that I can remember singing as a child. I don't need to wait until 'someday'. I can get a kind of peace by simply walking out my front door and clearing my mind as if I were erasing difficult equations from a chalkboard.
I started stalking in my garden this morning at about 6:30. I spent so much time hunting and snapping and Photoshopping that I don't have time to write much before I have to get ready to pick up my friends at 10:00.
So, I'll show you this morning's trophies from my garden safari.
I may as well start with my favourite orange lilies. The light was excellent this morning. I caught the stamens standing like weary soldiers standing at attention with their shadows caught against the orange wall of the barracks: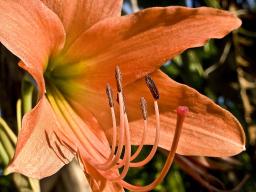 This one was a surprise when I saw it on the computer. I was concentrating so much on the composition of the flowers that I didn't notice the green grasshopper in the upper left corner: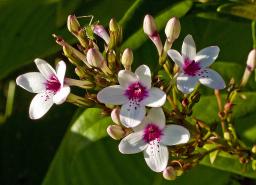 Here is one showing poor photography technique that I'm not proud of. I could state a half dozen 'ifs' that would have made it better. You will have to click to enlarge it so that you can see the spider web. Next time I'll watch my lighting angle and go for a darker background: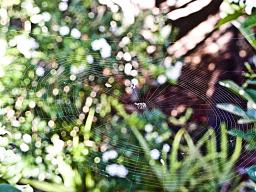 The velvety texture and outrageous colour contrasts caught my eye on these leaves. The light was just right to enhance the moodiness. The leaves are saying, "I'm different. So what?":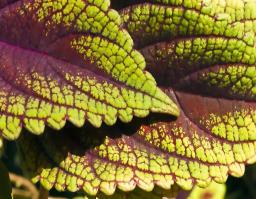 I've always liked lady bugs since I was a child. The lady bugs in PNG are different in colour to the ones I saw in North America when I was a kid, but they are just as cute: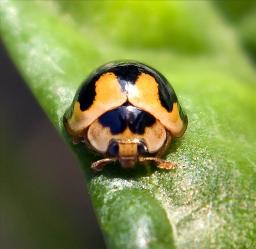 This is my pick of the day. I saw the drops of water on this banana leaf from 5 metres away. A switch clicked in my brain and a frantically flashing light lit up under the sign saying "PHOTO OPPORTUNITY".
Please click to enlarge this one. The little stars reflecting the sun's rays from the drops are more than I bargained for: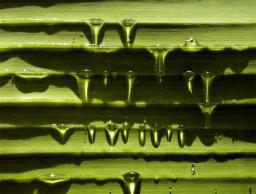 I'm constantly astounded by how much beauty I can discover given a peaceful mind and half-hour in my garden.
I guess that's what gardens are for.