Saturday morning I was worried that nobody was going to show up for a dive. Luckily, I pick up divers at Lorraine Collins' house. Lorraine was home and keen to go to the B-25 bomber at Wongat Island. We headed up the coast in clear water with brilliant blue sky overhead and a bright sun.
One the way down, I caught this blenny hiding in plain sight. Some blennies are difficult to spot. As with most well camouflaged fish, the eye gives them away: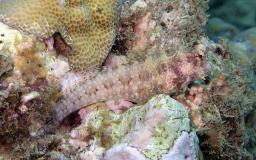 I tried to find this blenny in my fish book. It's a pretty good reference, but out of the hundreds of tropical Pacific blenny photos I couldn't find it. There is a very, very slim possibility that this is an undescribed species. 
Down on the bomber I was struggling to find a new angle. I have taken thousands of photos around the plane. As I finned around the base the dorsal twin 50 machinegun turret, I wondered what it would look like to sight right down along one of the barrels. It came out like this: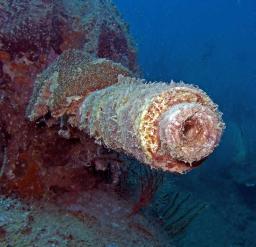 Shortly after the bomber was rediscovered, some lowlifes filched the waist guns and mounts. This left two big holes on the sides of the fuselage. This view is looking through one and out the other: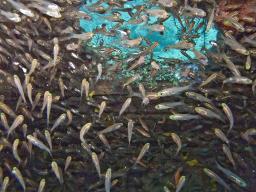 You can see that the fuselage is crammed full of tiny fish. It's not quite a sardine can, but pretty close:
On top of the fuselage, we found this Thysanozoon nigropapillosum (sorry, there's no commone name):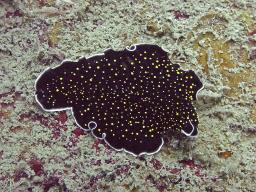 It's a kind of flatworm that is velvety black with tiny gold flecks. It is about the four or five centimetres long.
We left Wongat Island and headed over to Pig Island to get out of the rolling seas. The water was not so nice, so we decided to drift out to sea a bit. We got into a swarm of bees!
I have seen this several times – sometimes miles out to sea. I was once surrounded by thousands of honeybees about three or four miles out in Astrolabe Bay. Of course, they are tired of flying and the boat is a handy resting spot. Unfortunately it's not so nice for the other passengers.
This little fellow got swatted and expired. I took his photo to memorialize him: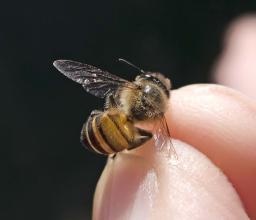 Here's a cheery shot of Lorraine sunning herself on the bow of Faded Glory: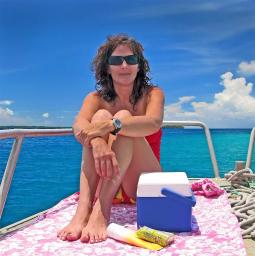 Trevor Hattersley and Karen Simmons joined me in the afternoon. Here's a nice photo of them frolicking in the warm waters of Tab Anchorage: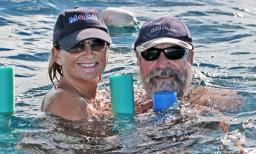 I started to get a little antsy and looked around for something else to photograph. Hmm . . . My reflection in the side of our 140HP Suzuki outboard motor: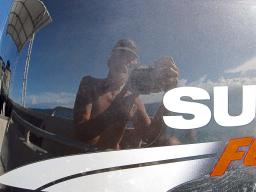 This shot reminds me of the helmet reflection photos and movies that I took in Idaho.
Just another Saturday in Madang.  What can I say?