I'm going to have diving related posts two days in a row. I hope it's not boring.
Yesterday, I showed you some photos of our dive at the B-25 bomber, the Green Dragon.
Today I want to present a quandary and seek the opinions of my readers.
This photo shows the port wing of the Green Dragon and the giant barrel sponge that has grown there: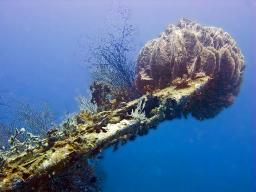 I would say it is half again as big as it was when I first saw it about twenty years ago. It is a beautiful specimen and is famous as being the first thing you see when diving this world famous site.
The problem is that the bomber has been deteriorating for over sixty years. My theory is that when the wing gets weak enough and the barrel sponge gets heavy enough, the wing will collapse and spoil one of the finest aircraft dive sites in the world.
So, do we conserve the sponge or preserve the wreck?
The choices I can think of are:
Do nothing and wait for it to collapse
Remove the sponge
Prop up the wing so that it won't collapse
Each of these choices has pros and cons, It seems there is no perfect solution here.
I prefer the third choice. Unfortunately, I don't have the wherewithal to do it myself. I envisioned a stainless steel monolith in the shape of a thin wing – like a glider wing. It could be attached at the bottom by being cemented into the reef – a common technique that causes no harm. The upper end would need to have a firm attachment near the end of the main spar of the wing.
I am sincerely interested in the opinions of my readers on this matter. You don't have to be a diver or an ecologist to think about this problem concerning the Green Dragon and form an opinion.
Whether you are a diver or not, if you want to express your opinion, please leave a comment. I will respond to each one that I receive.