A good night's sleep does wonders, doesn't it?
I feel like an art project today.
Many years ago I snapped this pretty lame photo of a scraggly lorikeet in some European aviary. I think it was maybe a little sick. Its feathers are in disarray: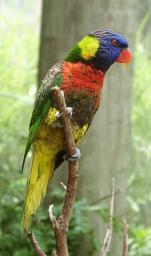 I used to keep lorikeets as pets. If you get them young, they really bond. They are also excellent talkers and mimics. Bob here, sitting on my hand trying to keep out of the cigar smoke, could mimic the sound of Eunie calling our dog, Bunny (a Doberman-Rottweiler cross). Every time that Bob would call Bunny the silly dog would come up on the veranda and look around to see where Eunie was.
Here's me and Bob enjoying a cigar and a beer after a hard day's work: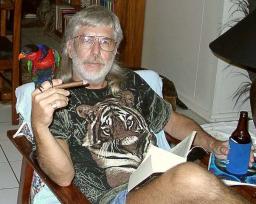 Bob is a Black-Capped Eastern Lorikeet and proud of it. Sadly, Bob has now met his maker. The picture is easily dated as it is clear that the SP Export Lager is in a brown bottle – something we haven't seen for years.
I cut the lorikeet out of the first photo and brightened it up. Then I tried a watercolour filter. Here's how it looks: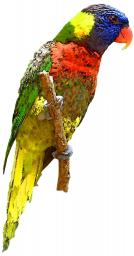 Well, that's pretty, I guess, but I'm looking this morning for something a little more menacing and surreal.
How about the Lorikeet from Hell?
Well, here he is: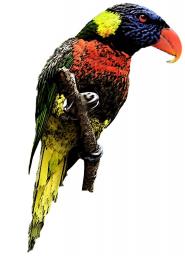 I used the poster edges filter to give him a more sinister shading and texture. Then I used the liquefy filter (you gotta try that one!) to turn him into an apex carnivore. He looks as if he'd love to tear your finger off and shove it up your nose.
Time to go to work.