When I came home from work yesterday afternoon, Karkar Island was looking mighty fine.
For readers who are not familiar with the area, I'll explain that Karkar is one of the biggest, nastiest, most potentially dangerous volcanoes on the planet. It's only 35 nautical miles from Madang, so if it really blew, we would probably all be toast.
It rumbles now and again and causes considerable panic. Here is the view of Karkar from our front yard: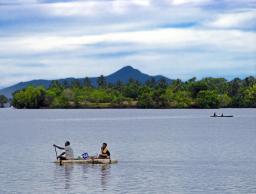 The island that is between the volcano and us is Beliau Island on the nautical charts, but locals usually call it Kerosin Island because it was a fuel depot during WWII.
My friend, Trevor Hattersley, lent me some photos that he took about two weeks after the huge eruption at Rabaul in 1994.
Here is what's left of the Brian Bell store: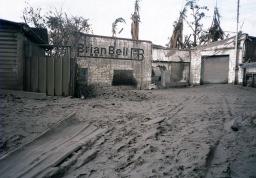 And here is the Kalvuna Resort Hotel not looking too good: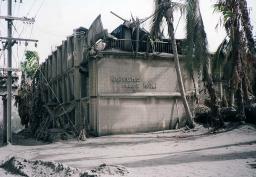 Finally, a most spectacular shot of Rabaul Harbour. Yes, that's right. Underneath that thick layer of pumice is the ocean. The two bumps in the middle are huge rocks called The Beehive. The pumice is so light and frothy that much of it floats on top of the salt water: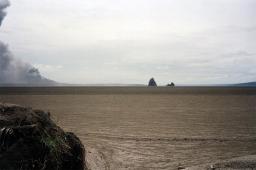 You can see the still erupting volcano at the left side of the photo.
I visited Rabaul in the late '80s to dive a huge Japanese wreck in the harbour. It was a very pretty town. After the eruption, I decided that I never wanted to return to Rabaul. I wanted to remember it the way it was.
Madang is much further away from Karkar than the town of Rabaul is from its resident monster. However, vulcanologists tell us that Karkar has the potential to blow with a world-class boom. Just a few months ago, Karkar was smoking and everybody in Madang was casting nervous glances to the north.
On to the canoes.
Some of you may never have seen a Melanesian style canoe. This one was parked in front of my house, so I snapped this shot to enlighten you: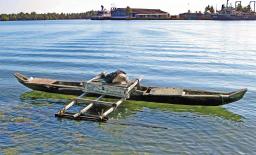 A boat had just passed in the harbour. Its wake left interesting ripples and set the canoe rocking.
I've been trying for years to get someone to build one of these for me to paddle around in the harbour after the day's work. I suppose I'll end up just buying one that I like – if the price is right.