Posted in
Mixed Nuts
on October 5th, 2008 by MadDog
As I sit at my desk at home today with the morning sun's blonde radiance streaming in through my bedroom window listening to Our House from the 1970 Crosby, Stills, Nash & Young album Déjà Vu,  I'm overcome by weepy sentimentality.
Did you ever feel so completely contented with life that it was a little scary?
The world is wobbling drunkenly at the very edge of the abyss, and I'm sitting here salting my oatmeal breakfast with tears of ecstasy because I'm feeling so fine.
Oh, yeah. So very fine.
But, you must remember that I am (forever, it seems) a recovering bipolar. I used to get these irrational highs all the time, interspersed with near-suicidal depression.
Somehow, seemingly miraculously – because I had no real hope – I was delivered. The love of a good woman, some decent drugs, and the faith that something more important and powerful than the gooey mush in my skull cared about me all combined to extract me, kicking and screaming, from the pernicious cycle of euphoria and despair.
I don't miss being in the dank, stony pit with the hyenas giggling nervously while tearing great bloody chunks from my soul.
But I do miss the periods of calm lucidity when Gloom and Doom were vacationing together in Vienna riding the Big Wheel at the Prater;  when the world felt safe, despite clear evidence to the contrary. I miss the respites from darkness when pewter clouds in my head parted and precious light flooded in with a profound sigh like the whisper of silvery smoke escaping from a toker's lips.
Oh, yeah. I miss the highs.
Life is steadier now. My cage doesn't rattle so much. That's good.
But, contrary to the lukewarm complacency of life these days, this morning I'm blessed by a sweet flashback of irrational inner delight: unsought, undeserved, unexpected, and enigmatic.
What triggered this phenomenon?
As consciousness returned this morning, I drowsily retrieved my camera and stumbled into the garden. Eunie is very sick with tonsillitis. I've been caring for her. I worry. I fret. I needed a break.
As I turned and looked back at our house, this is what I saw. Maybe this had something to do with the enhancement of my mood: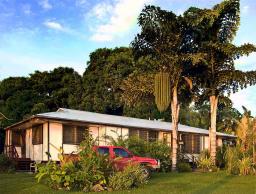 Our house lit like a Sultan's golden palace lent me cheer.
The delicious orange lilies were bathed in warmth: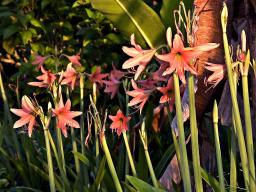 The maturing fruit on one of our Fishtail Palms is soon to be joined by a sister (the tan coloured pod on the right):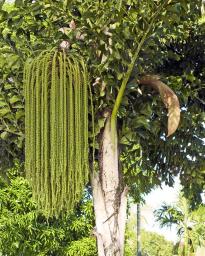 When I returned to our house to find Eunie awake and feeling much better, I sat down to write.
As if in a dream I put on Our House,  and started watching the screen fill with thoughts that I can express only through my fingers on the keyboard. Is this what a musician feels as his soul pours out through the open window that is his instrument?
Anyway, I'll pay homage to the lyrics by quoting the chorus:
Our house is a very, very, very fine house.
With two cats in the yard,
Life used to be so hard,
Now everything is easy 'cause of you.
I dedicate this composition and these sentiments to my woman. Any goodness, love, and compassion that is in me . . .
I owe to her.
Tags:
big wheel
,
crosby stills nash & young
,
deja vu
,
fishtail palm
,
prater
,
vienna