When I stepped out onto the veranda this morning, I felt like saying, "Holy cow!" But of course, there was nobody around to hear it. It slipped out anyway.
This morning's sunrise was astonishing, even by Madang standards.
The last couple of days have been freaky. Lots of mysterious communications technology appearing in my office (more about that later) and a two day dive charter for some very nice people from Australia at the same time. I did have a great time hosting the divers and made wonderful new friends. However, by yesterday evening, I was completely useless.
Though it was a couple of stressful days, waking up to this in the morning lifted my spirits quite nicely: (click on the photo to see a larger version)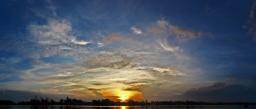 I ran back in to grab my camera. I had left my tripod at work, so I had to hand-hold carefully to get three shots left to right that I could assemble into a panorama with Photoshop.
Those of you who do not live in the tropics might not realize how quickly sunrises and sunsets come and go. In Madang, only 5° South of the Equator, it goes from dark to full daylight in less than half an hour. I guess that's because the sun is moving almost straight up in the morning and down in the evening instead of going on a slant as it does farther from the Equator. The same thing, but opposite, happens in the evening.
What it means for a photographer is that he has only a very few minutes to capture the effect. These moments of raw beauty are truly ephemeral.
Anyway, I hope you enjoy the photo at least a tenth as much as I enjoy showing it to you.
Good morning.
Tags:
sunrise