I feel that I am in danger of becoming a hermit.
Latino Night at CWA is the second major Madang party that I've missed in a row. The first was because the tickets were sold out. I missed Latino Night because I was "too tired" – translation: Too embarrassed to admit that I am hopeless at any sort of Latin dancing.
Fortunately for the patient reader, I have this fine report from our budding journalist, Lorraine Collins along with a nice kiddie photo and a couple of others featuring some very fine legs.
This from Lorraine Collins:
Hola! CWA hosted a Latino night for all its Amigos and Amigas. Based on previous successful, fun-filled CWA events, the tickets actually sold out days before the function (quite a rare event in Madang). A flotilla of volunteers slaved away cooking and decorating for the fiesta to make it as bueno a noche as possible. Guests received an uplifting Caipirinha upon arrival; a not-too-shabby cocktail of white rum, brown sugar, and freshly squeezed limes over crushed ice. It was yumliscious and full of Vitamin C, therefore making it an exceedingly healthy drink.

The evening's entertainment started off with a posse of brave little children doing a dance from Bolivia. The miniature stars were Grace McCarthy, Lottie Beschel, Lilani Mackie, Chloe Senn, Alice, and Mathieu Senn as the token boy. They performed perfectly a beautifully choreographed dance involving scarves. I reckon they will be looking for an agent soon.

Food was then served, most of it being a vegetarian's delight; Spanish Rice, Vegetarian enchiladas, Vegetable Salad, Mexican Vegetable Stew and Beef Enchiladas for those who needed some carne. For those who had some space left, pudding was Spanish cake with rum-soaked raisins.

Next up were Heidi Majano and Pascal Michon (our naughty little Frenchman in Paradise) demonstrating a very sexy and fast moving Salsa. Man, were they impressive! They shimmied and salsa'd, twirled and strutted and shook their bootie to a fine tune. The audience was very impressed (especially yours truly) and I think Salsa classes should definitely be something in the future. Good exercise plus "sex" that you can perform in public.

That stunning performance was followed by "The Saucy Salsa Sisters" strutting their stuff to a slinky little number from Cuba. We should probably have been introduced as the "Sauced Salsa Sisters" as co-ordination was lacking slightly, but we tried to cover it with excessive bum wiggling and boob shaking. That usually works.

From then on, it was a free for all, with all the Madang Señoras 'y cabaleros Salsa-ing the night away, learning new moves from Heidi, our resident Latino from El Salvador, and gaining confidence with every red wine.

It was a magnifico noche with all the ingredients for a great night; healthy cocktails, sumptuous food, great dancers, sexy music, and lots of booze. The night would not have been possible without all the volunteers that made the food (Heidi, Lorraine Collins, Eunice Messersmith), decorated (Heidi), danced (Heidi, Lorraine, Cessa Beschel, Fabiana Ponting), and most-importantly, filled the eskis with booze and ice (Trevor Hattersley). The CWA staff and Committee Members that helped in all the preparations were also an integral part of the night's success. And, of course, Heidi herself, who taught all the big and little girls their moves and hopefully a large part of the Madang Community too! Who said CWA is boring? It's "The Place To Be" – fun-filled events with all the profits going to worthwhile, Feel Good Charities.
Well . . . I feel as if I had been there.
Here are the kiddies doing the scarf dance: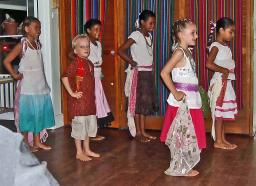 Gotta admit that Mathieu is a brave lad.
And here are the ladies getting it on over a Frangipani strewn dance floor. Hey, we've got it all in Madang: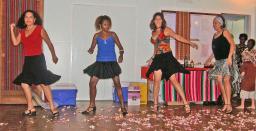 And one more leggy shot just for fun: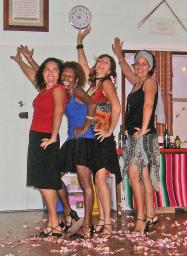 Please don't ask me why Lorraine is balancing a clock on her fingertips. I wasn't there and she didn't report it. It must be a Latino thing.
Adios amigos.
Tags:
Alice Senn
,
caipirinha
,
Chloe Senn
,
CWA
,
Grace McCarthy
,
Heidi Majano
,
latino dancing
,
latino night
,
Lilani Mackie
,
lorraine collins
,
Lottie Beschel
,
Mathieu Senn
,
Pascal Michon