Posted in
CWA
,
PNG Culture
on October 12th, 2008 by MadDog
This Sunday morning, I'd like to present an article that I asked Maureen Hill to write for Madang – Ples Bilong Mi. People in these parts are familiar with CWA, but I'd like for readers in other places to know something about this energetic and vital community organization.
So, settle in for an interesting read. Here's a photo of the CWA Cottage in Madang: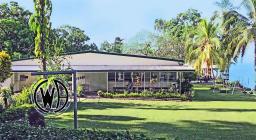 This from MAUREEN HILL:
COUNTRY WOMEN'S ASSOCIATION OF PAPUA NEW GUINEA – MADANG BRANCH

HISTORY OF ORGANISATION

The CWA, as the Country Women's Association is better known, was assisted in its establishment by the Australian administration at the time they were dividing PNG up into provinces and appointing District Commissioners to the provinces.

CWA was an organization known in Australia for the help it gave to families who lived in the out back of Australia. The kind of help given was to provide places for women to come and stay while they waited for their babies to arrive, to come to town for other health reasons or shopping purposes. Men were also welcome.

At that time there were Australian families being sent to outstations in PNG who were going to require the same services as was given by CWA in Australia.

While seeking land to build the District Commissioners house land was also sought to establish a CWA close at hand.

The Madang CWA was opened in 1952. It was a small building at that time on a choice block of land with lots of room for expansion.

As PNG has changed so has CWA over the years.

Madang CWA still has a guest house that profits from go to support the organization's projects.

WHAT DOES CWA DO?

CWA provides women in Madang a meeting place to find friends, learn new skills and find ways to raise money to help women and children in the community.

All CWA projects are to help women and children (families) in the Madang province.

Apart from the staff (7), who manage the guest house side of the organization all members are volunteers giving freely of their time to raise funds and run the programs.

Programs Include:

Kindergaden Long Ples (KLP):
A village based kindergarten program that operates in villages in the Gogol, inland Madang and up the North Coast. Village parents organize the kindergartens while CWA provides office space, transport, training and monitoring of the teachers and supplying of materials. It has been operating since 1982.

Early Childhood Health Care Program (ECHP):
This is a program that CWA started operating in 1996 to help improve the health of children in the villages where the KLP kindergartens are established. A CWA appointed nurse (HEO) goes to the villages to give health education to parents and children. She also does health evaluations on the children. If there are health problems, she advises the parents on ways to help the child or, if necessary, she advises the parents to seek further medical help.

Village Health Volunteers (VHV):
This program works in conjunction with the Madang health Dept to train village women to become health volunteers in their respective village. This training provides training in birth attending and general health work. This course is accredited by the Madang Health Dept and when the volunteers have finished their two year course they receive a Health Dept Certificate.

Adult Tok Pisin Literacy Classes (TPL):
These classes started in 2006 are designed to teach women who have no reading or writing skills. There is a great need for this.

CWA hopes at a later stage to have teacher training workshops to train women to go to their villages and hold literacy classes there.

Children's Ward Modilon Hospital:
CWA has been a major sponsor of the Children's ward at Modilon hospital ever since the hospital was built. Currently CWA pays much of the maintenance for the ward and weekly supplies vegetables, eggs and milk for the children.

Village Birthing Houses:
CWA has helped fund houses in villages for mothers to give birth in privacy and traditionally.

Schooling:
Over the years CWA has helped many students with school fees and supplied much in the way of books stationary and sports equipment to various schools.

Play Group:
A play group meets on a regular basis at the cottage it is operated by willing volunteers and funded by CWA.

GENERAL INFORMATION

Membership to CWA costs K10.00 a year.

The Branch and Guest House are managed by a volunteer committee elected on an annual basis.

Most of the mentioned programs are funded by money raised by the volunteer members.

All of this is only possible by the tremendous community support given to CWA when fund raising events are held.
My thanks go to Maureen for that interesting report.
Here's a shot of Maureen from a previous post about Project Handclasp and the visit of the USS Peleliu to Madang: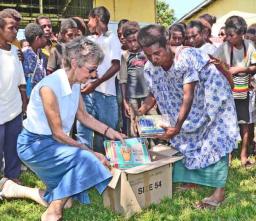 Cheers to all the ladies (and gentlemen) of CWA! (Yes, they do allow male members. I joined several years ago.)
Tags:
CWA
,
kindergarden long ples
,
maureen hill
,
modilon hospital
,
project handclasp
,
tok pisin
,
uss peleliu
,
village health volunteers