I've been trying to take a little time each day organizing my photographs so that I have some small chance of finding something that I want. If I'd been smart, I would have found a way to organize all my photos as soon as I put them on my computer by keywords.
I tried assigning the keywords "underwater", "anemone", and "anemonefish" to the photo below. Adobe Bridge allows you to assign keywords (as many as you like) to each image and then search by keyword. I searched for "anemone" and, sure enough, this photo popped up. The only problem is that I have tens of thousands of photos. Probably half of them or more should simply be deleted. I can already see what I'm going to be doing on during my next vacation time.
As I was going through some photos yesterday, I ran across some old pals. I'd like to introduce you to some of my favourite fish.
These little beauties are obviously Anemonefish. Specifically, these are Spinecheek Anemonefish (Premnas biaculeatus):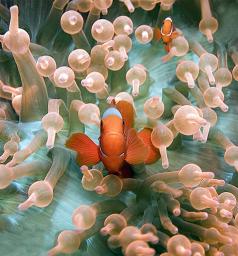 The shot above was incredibly lucky. Out of 100 – 300 exposures that I make on an average dive, I feel lucky if a handful are worth processing with Photoshop. I'm joyful if there is one that really makes me grin like an idiot. The frame above was one in a thousand. Everything was copacetic.
Anyone who doesn't know this little fellow must have been engaged in intense navel contemplation in a cave for the last few years. Yes, it's everybody's favourite fish, Nemo. If you've not been formally introduced, he is an Anemonefish, specifically a Clown Anemonefish (Amphiprion percula). This Nemo wannabe looks as if he is swimming onto the stage for a screen-test: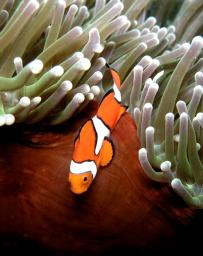 Much as I hate to discuss filthy lucre in this carefree space, I must admit that the next photo has enriched the meagre coffers of Clan MadDog more than any other. I have sold this image several times over. It's been in magazine articles, on the cover of tourist information booklets, and sold as metre-wide wall hangings. Its title is "Buddy." He will soon feature on one of the dozen Papua New Guinea post cards that I am producing.
Divers call their paired-up fellow diver a buddy, so the name is a natural. Divers are like Nuns, we always travel in pairs.
Meet Buddy, another Anemonefish. Buddy is an example of the Orange Variation of Clark's Anemonefish (Amphiprion clarkii):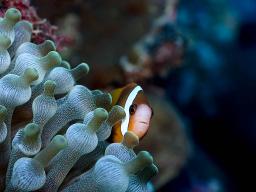 I snagged the next image on The Henry Leith near Wongat Island. One can only describe it as a handsome fish. He displays a certain smug dignity in his tweedy suit. Formally, he's known as Epinephelus miliaris. He introduces himself with a Bond-like smirk as Grouper, Netfin Grouper: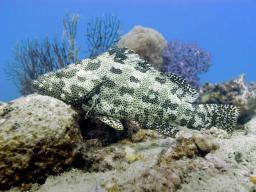 Soon, I'll write about the less congenial denizens of our salty, wet neighbourhood – the 'friends' that we keep at arm's length.
We all know people like that. Fish are no different.
You will find other photos of anemonefish on Madang – Ples Bilong Mi here, here, and here.
Tags:
Amphiprion clarkii
,
Amphiprion percula
,
clark's anemonefish
,
Clown Anemonefish
,
epinephelus miliaris
,
nemo
,
Premnas biaculeatus
,
spinecheek anemonefish