My fellow blogger Robert@PNG pointed out to me that my link to the Microsoft Photosynth site was bombing out. I have fixed it now.
I felt so sad that I had to take a picture to record the moment*: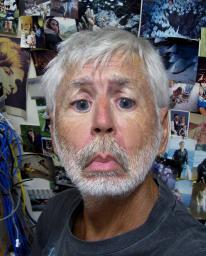 The image above is one that you probably won't  want to click to enlarge.
* Okay, okay. there was  a problem with the link to the Photosynth site. However, this entirely superfluous post's only purpose is to show another example of the stupid tricks you can do so easily with the Photoshop Liquify filter. Believe me, you could teach your dog to use it.
Tags:
microsoft photosynth