Posted in
Mixed Nuts
on October 18th, 2008 by MadDog
Had a hard day out on the water, so I don't have much time to write. What a shame. I'll entertain myself by showing you some photos that I got this morning in – guess now – My Garden. Where else am I going to go?
Yes, I'm back to the bugs on flowers thing again. I'm saving the star of the show for last.
These little flies or whatever they are seem to be attracted especially to this particular flower. On any given day one can find them on almost every blossom: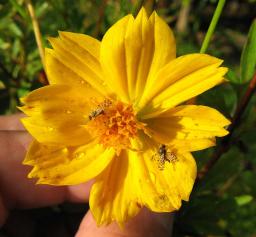 Nevertheless, they do sometimes have relatives over. The big flies are hard to catch with a camera. They are very skittish. The little fellow seems to be hiding from the big black monster: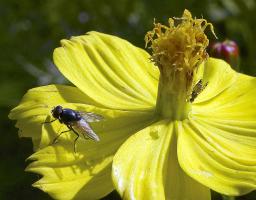 A careful observer will note that I got the colour balance all wrong on the first photo. It has way too much red. The one above is the correct colour for that flower. I'm too lazy to fix it. I will leave it as a demonstration of how not to do it.
A week ago I hacked away at some bushes near the water that were beginning to block my view of the harbour. I had a look at them this morning. It appears as if I'm going to be hacking away again soon: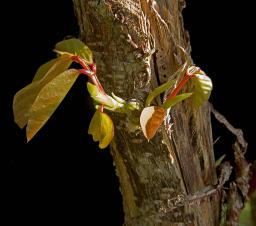 Jenny, one of my readers, commented that the other name for the Sensitive Plant is the Tickle Me plant. How quaint. I've showed you how the leaves collapse at the merest jiggle.
Here is a blossom and a couple of developing seed pods: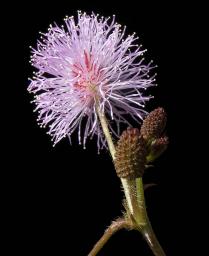 The seeds themselves, when they mature, are truly nasty characters. As you can see, they are bristling with little barbs that are incredibly effective when it comes to sticking to your clothes, or your skin, if you're unlucky: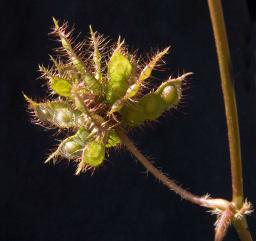 Ouch!
They are nature's Velcro.
Except that they are even better.
Tags:
sensitive plant
,
tickle-me plant