It's a Rainy Saturday*. No boat action.
So, I'm at home going through the news archives. I discovered a horribly underreported event of significant significance which occurred in 2005.
Our humble abode was the venue for a double celebration – The 39th Jubilee of Queen Eunice of Madang and an Auspicious Visitation of Swami Monty**.
Out of fairness to the other resident royals, I must mention that there are actually several Queens in Madang, most of them women.
Each Queen influences events with immense grace and mercy within their respective areas of expertise. It's a sort of power sharing deal. There are Business Queens, Social Queens, NGO Queens, and not a few Bar Queens.
Here is Her Majesticness Queen Eunice in her Royal Regalia: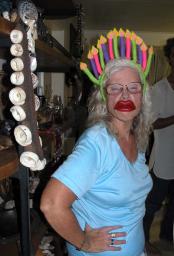 At her Royal Backside hangs her Royal Flogging Belt. She uses this instrument of splendid torture on me only when I truly need it. Come to think of it, in her copious wisdom, she employs the RFB only when I request it on bended knee.
Her Stern Mercifulness is a Matron of Great Virtue and a Lifetime Member of the Country Women's Association. All in all, she is a person with whom not to trifle.
All hail Queen Eunice!
I shan't dare to say that I'm saving the best for last. Queen Eunice may deign to read this wretched missive. I do not wish to dally with the RFB when I am not in the mood.
Nevertheless, the mere happenstance of being in the Presence of Swami Monty is a blissful transcendence into realms of Humbuggery that mercifully induces a trance-like state not unlike that of having consumed a half-litre of Glenfiddich. If fact, any decent single-malt Scotch will do quite nicely.
Being of humble nature, he delights with self-effacing speech. When I addressed him as Your Sublime Insightfulness, he responded jocularly, "Oh, my goodness gracious! Call me Monty." We all giggled nervously.
When we retired to My Garden for meditation and yet another single-malt, His Trustworthiness exclaimed, "Great balls 'o fire! I observe with sublime satisfaction that you have planted the seeds of the Harmonious Daisies that I previously sent to you. Is it not amazing how quickly they blossom?"
As the Swami delivered a brief homily concerning the beneficial effects of sacrificial smoke of the Harmonious Daisies, I retreated to the house to snatch my camera and a chair, hoping on hope that I could persuade His Unpretentiousness to be seated for a portrait.
From the vast, unimaginable magnitude of plenty in his storehouse of goodness, he summoned the humility to sit it a homely chair, next to the Harmonious Daisies and greet us with wry humour.
And this is what we saw: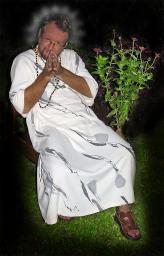 Note how his blissful eyes sparkle; his mischievous grin; the girding of his splendid feet in humble sandals.
Swami Monty entranced us all.
If ever again the Swami graces us wretched servants with his Beatifical Presence, I pray that my bar is well stocked and my camera battery is charged.
Peace, baby!
* If you're not to make jest of your friends, then who? And, by the way, this is what you get when I'm really bored.
** For the uninformed, I'll note that Swami Monty, for purposes of security, uses the alias "Monty Armstrong" – a likely enough moniker. As a cover, he pretends to work for Airlines PNG.

Tags:
birthday
,
CWA
,
glenfiddich
,
queen eunice
,
scotch
,
single malt
,
swami monty