Posted in
Mixed Nuts
on December 31st, 2008 by MadDog
The train from Hanoi to Hoi An wore me down a bit. I was in a compartment for four and I couldn't speak more than a few words of Vietnamese. So, when I left Hoi An for Saigon, I decided to take a plane instead. The train had cost me U$17. I think that the plane was about US$70.
Everybody knows that the name of the city is Ho Chi Minh City, but, like a lot of things that everybody knows, a lot of people ignore the fact and continue to use the more familiar name of Sài Gòn.
All of the guide books (I had Lonely Planet) say that you should stay away from the kids who want to ride you around on their motor scooters (too dangerous!) and the cyclos. If you don't know what a cyclo is, have a look at this: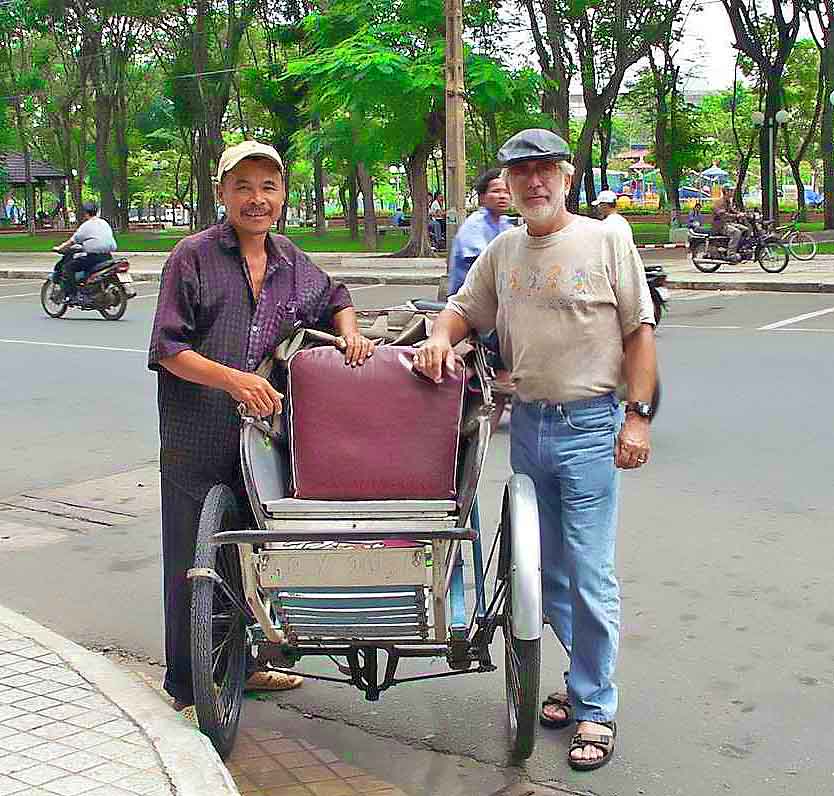 The driver's name is Quang. I'll have more to say about him in my final post about Vietnam. For now, I'll just say now that having him haul me around was an excellent experience.
I don't know why I took so few photos in Saigon. Possibly it is because Saigon didn't appeal to me as much as the other places I'd been. It's a big, slightly obnoxious city that seemed to me to have no particular character.
The street vendors are particularly insufferable. I did a lot of walking around the city. On several occasions, I would be followed for blocks by a persistent peddler. I finally stumbled on the solution. I absolutely refused to speak English. When a street vendor started hassling me in broken English, I would answer in Tok Pisin. I'd start by saying, "O plis, sori. Mi no save tok Engles." I'd follow that with a blank stare. After a few minutes of fun watching the peddler desperately trying to communicate, he'd start to look around for a more likely sucker. It was devastatingly effective.
One place that did attract my attention was the Wedding Palace. I'm a Registered Celebrant here in Papua New Guinea, which means that I perform a lot of weddings. So, I have a sort of professional interest in the matter. The Wedding Palace is a huge white building with a beautiful colonial style interior. This couple was happy to have me take a photo of them on the staircase: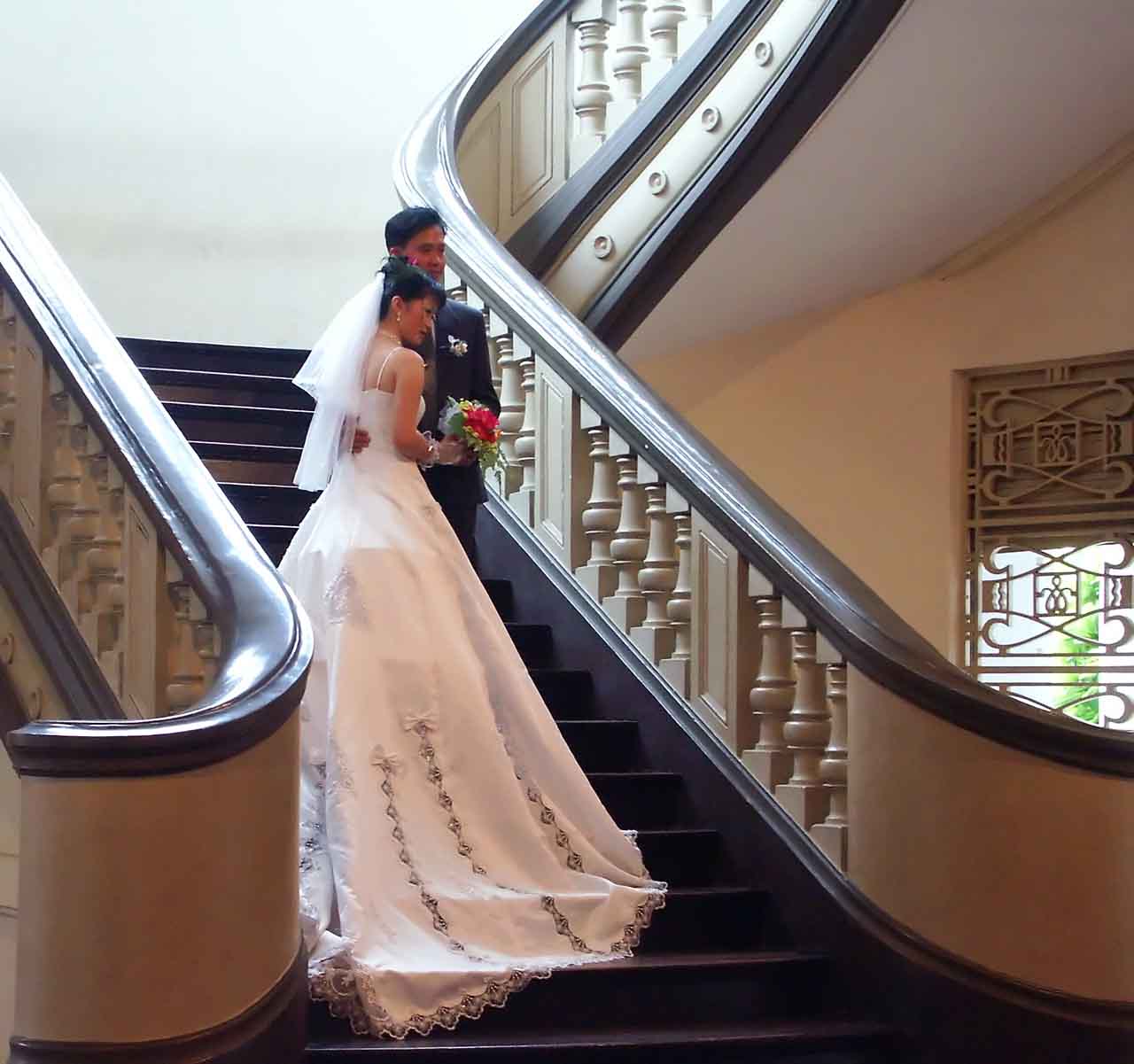 Out back is the special wedding car in which the bride and groom are whisked around town for their celebrations. The car is certainly interesting, but what is more curious is the 105mm rocket launcher in the background: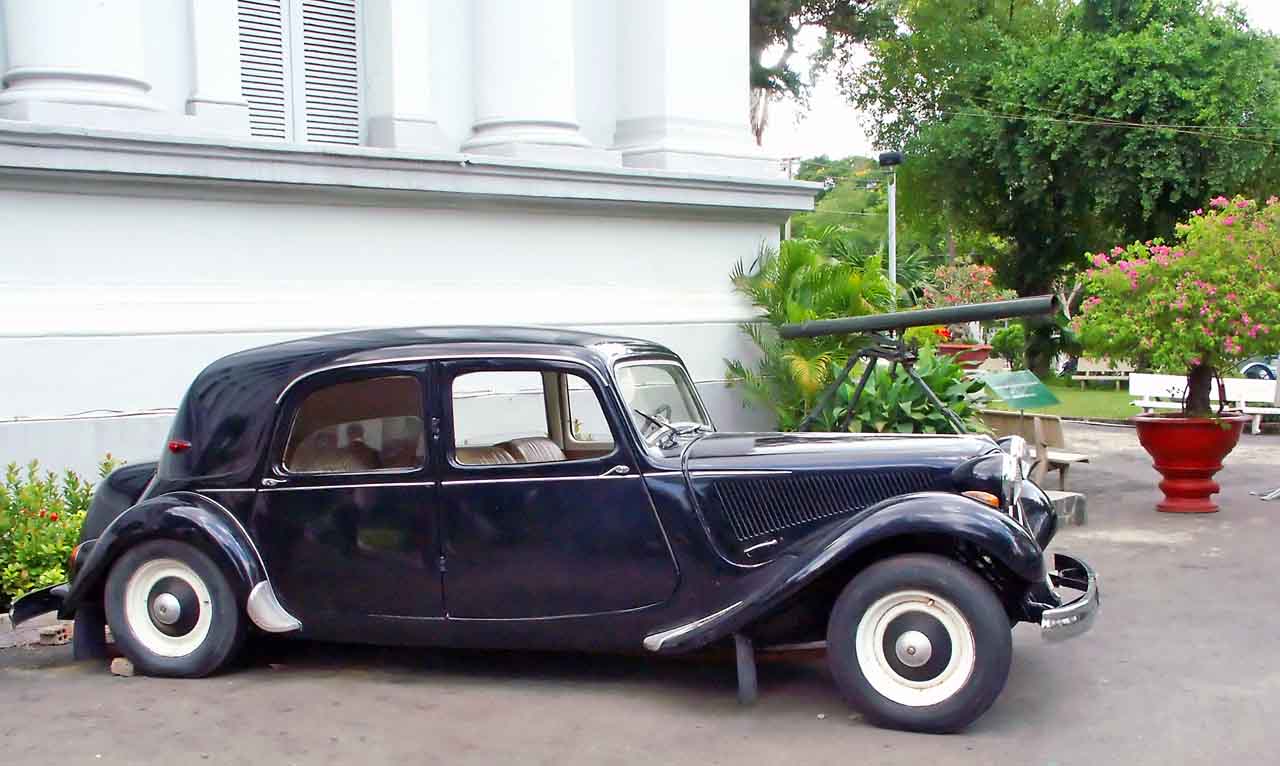 There are many war museums around the city. The entire city, in fact, is a huge war museum. You can see bits of destructive paraphernalia on practically every street. I visited several of the war museums. They were tough going. It was challenging to view the "American War" through the eyes of Vietnamese museum curators.
Most of my favourite photos of Saigon are night scenes. The city bustles during the day, but at night it sparkles. This is a typical night time street scene in front of the Rex Hotel: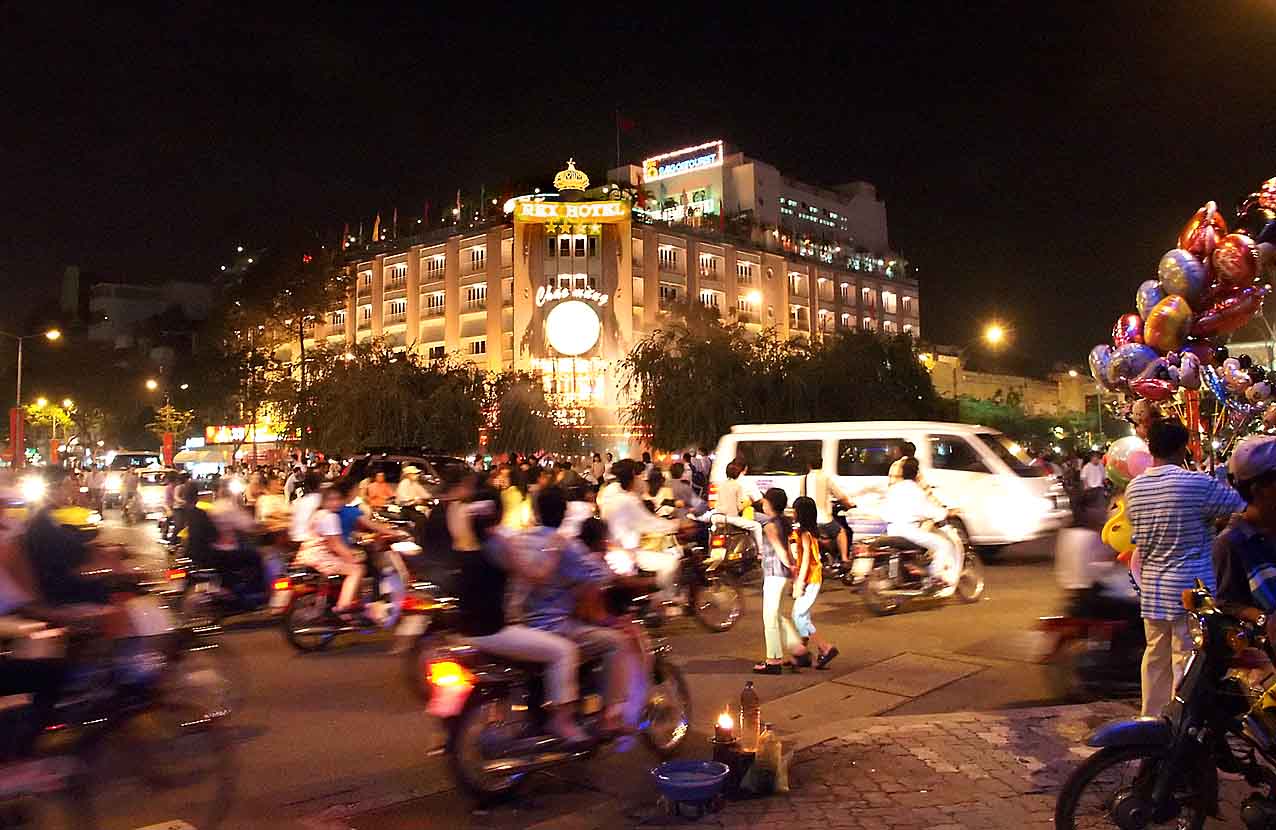 Motorbikes are everywhere; traffic doesn't ease until about ten at night. It seems that drivers are obligated to sound their horns at least once every ten seconds – it must be a law. The advice to avoid the boys who want to take you for a ride for a price is probably wise. I witnessed an average of three serious motorbike pile-ups a day.
During the day, most women dress in long-sleeved white clothing and white gloves. Somehow, they manage to keep big hats on their heads while riding. The point is to prevent the sun from darkening the skin. Lighter skin is considered more attractive. I talked to a young lady at my hotel about the Ao Dai – the long, conservative, tight fitting dress so favoured by the Vietnamese. When I mentioned that I found it particularly attractive, she smiled and explained why. "It covers everything and conceals nothing" she said. She is so right.
At night, however, the ladies loosen up a little: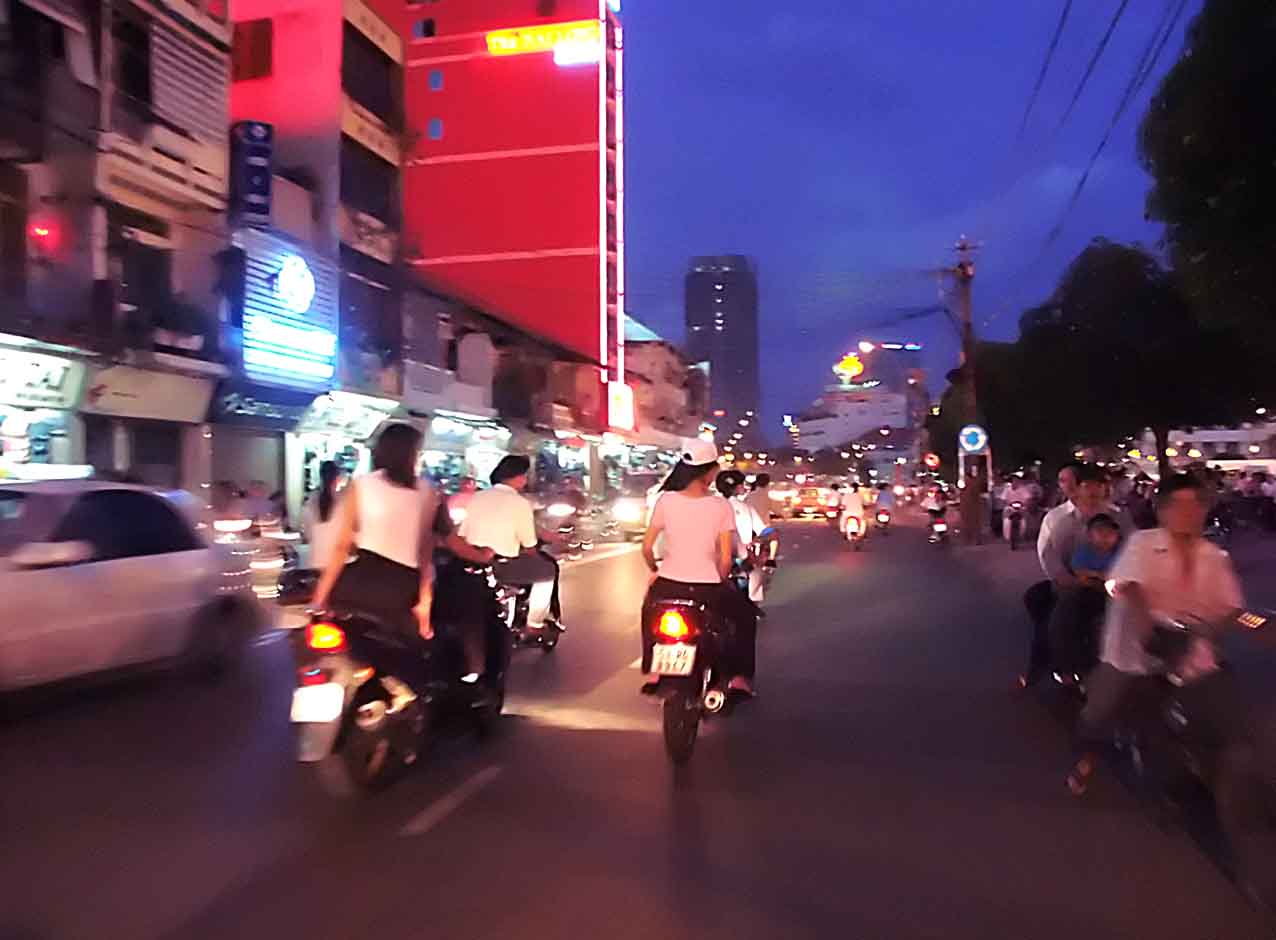 Armies of motorbikes cruise seemingly without fixed destinations: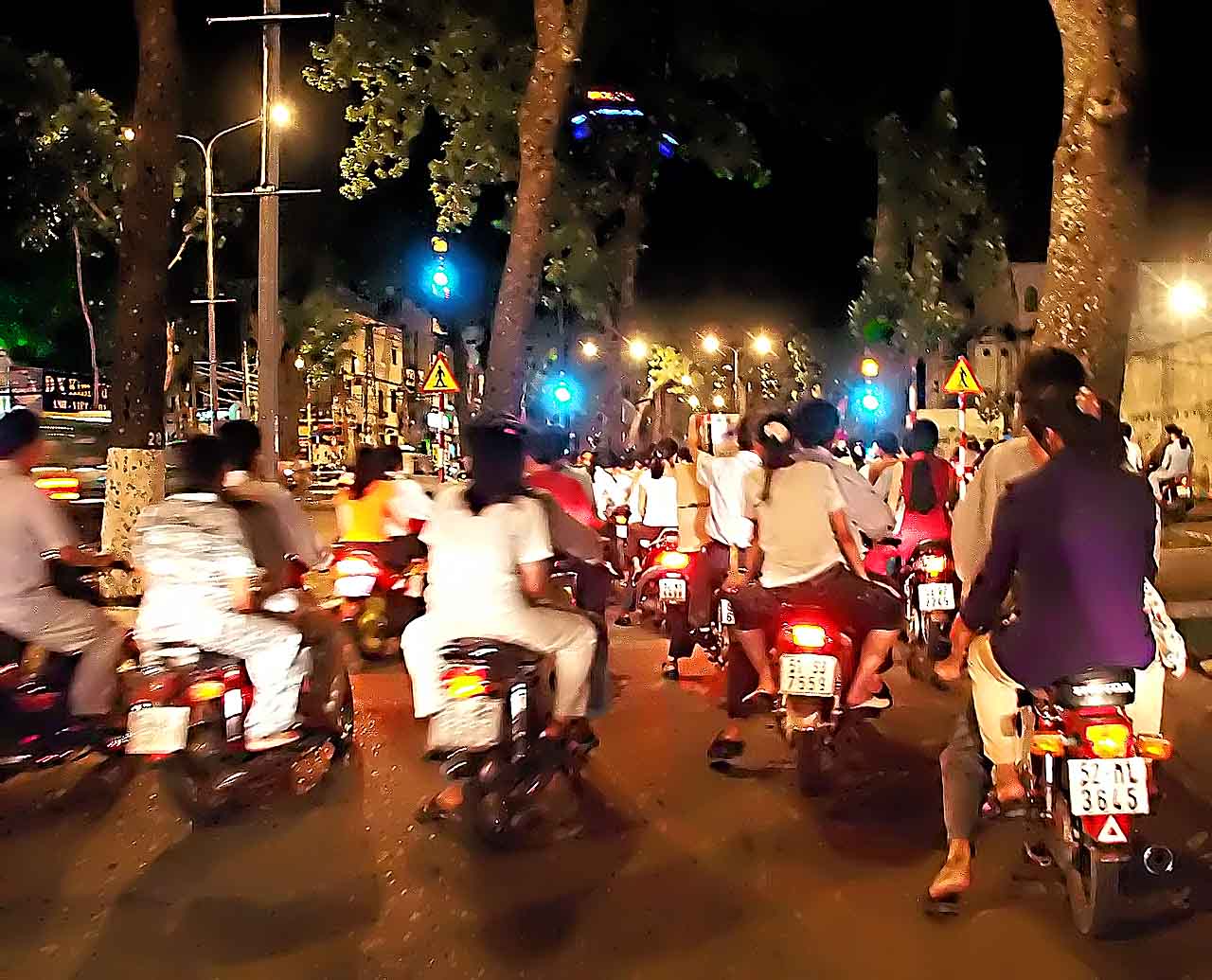 It's not unusual to see a family of four on a single motorbike.
Having taken no notes to go with my photos, I can't identify many of the places that I saw. This one, I know, is City Hall: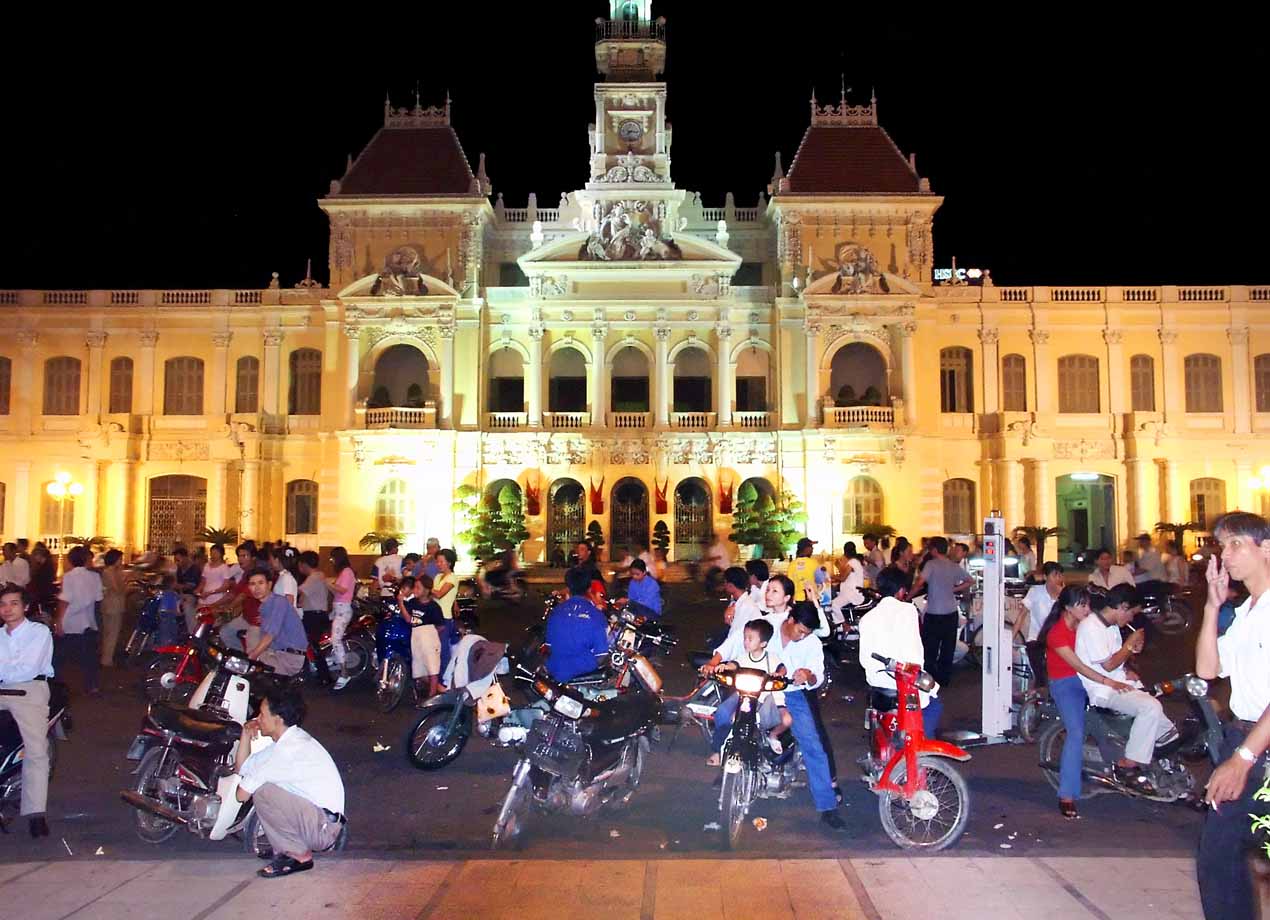 Here, in the park at City Hall, is a statue of Ho Chi Minh: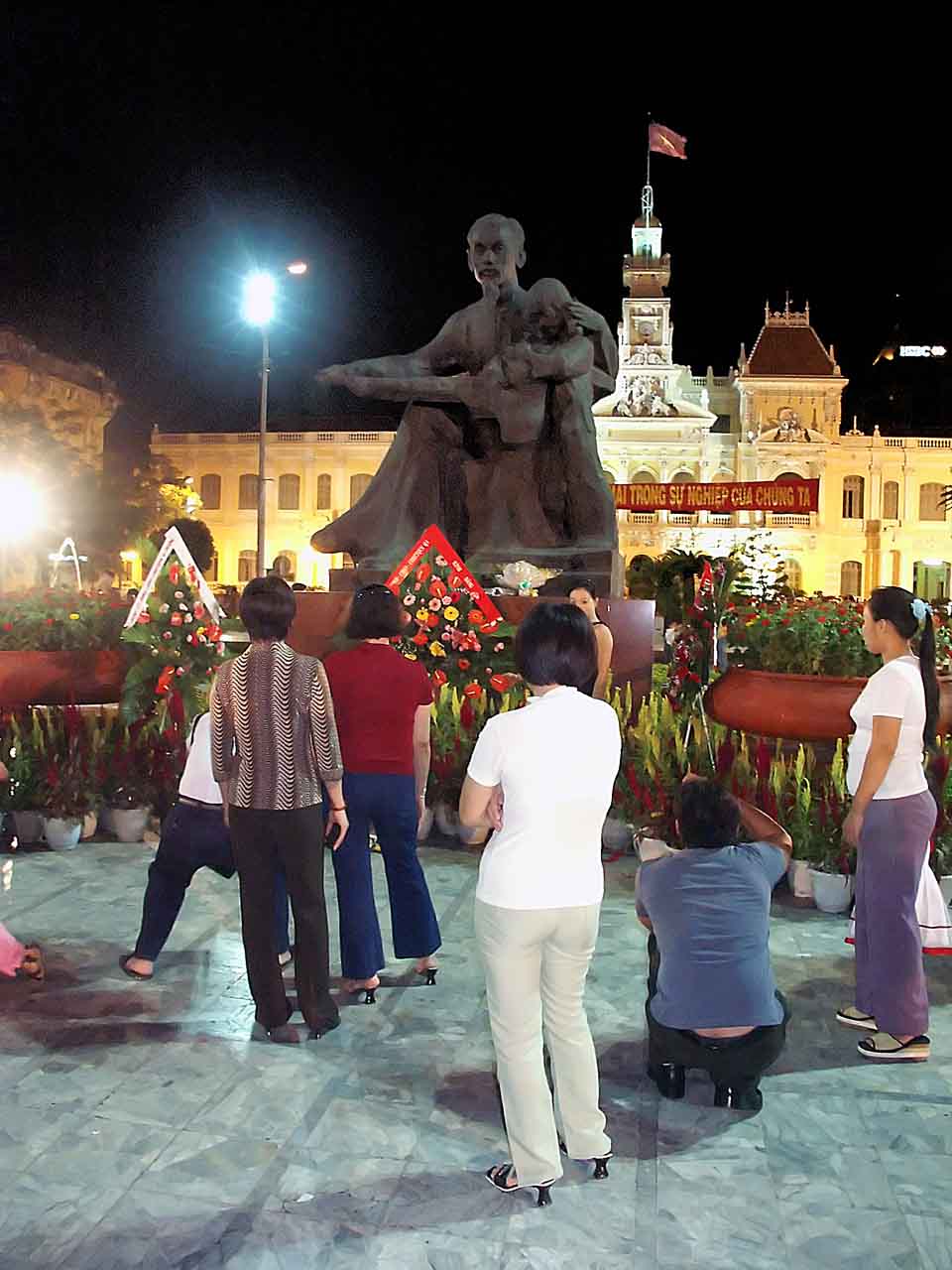 Down by the Sài Gòn River, there is a huge floating restaurant decorated like a giant fish: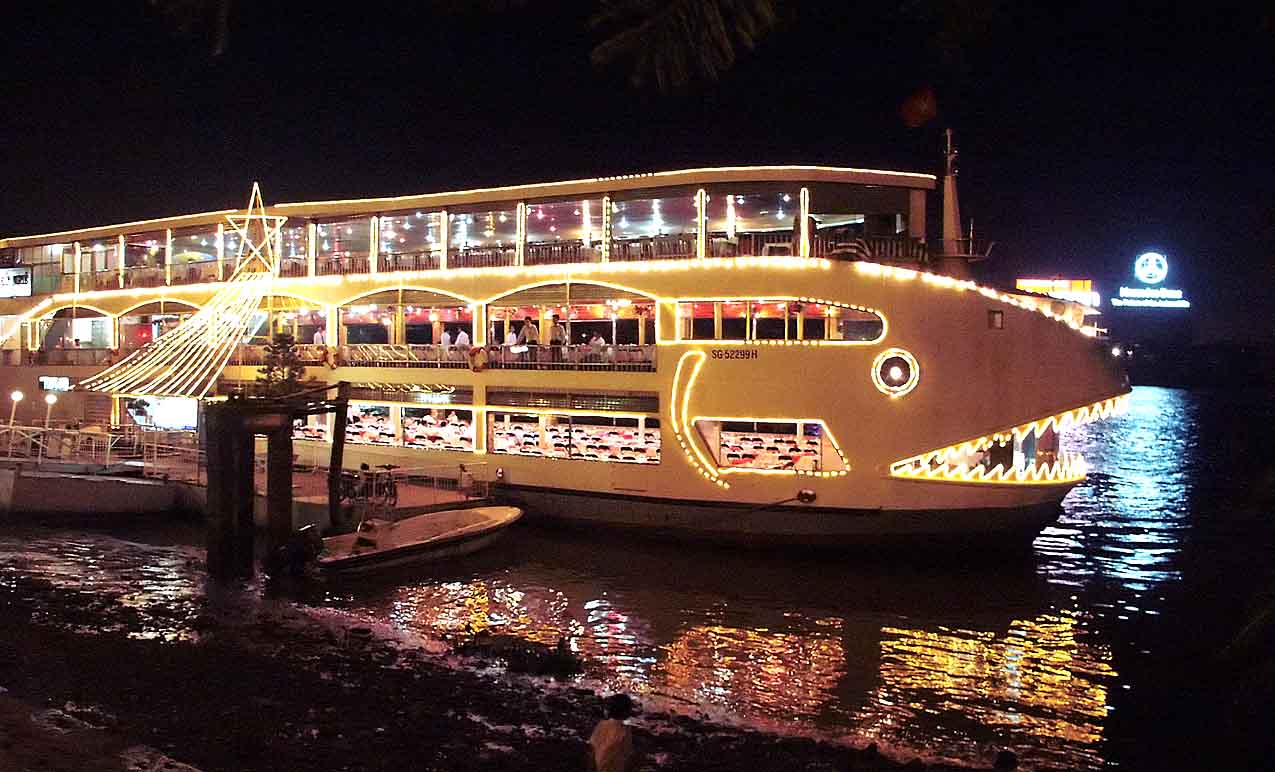 As part of my pilgrimage, I had planned to visit the Củ Chi Tunnels. I didn't particularly want to – not being much of a fan of war. I did, however, find the experience revealing, if difficult. The place is like a horror show. It has a metaphysical stink of war: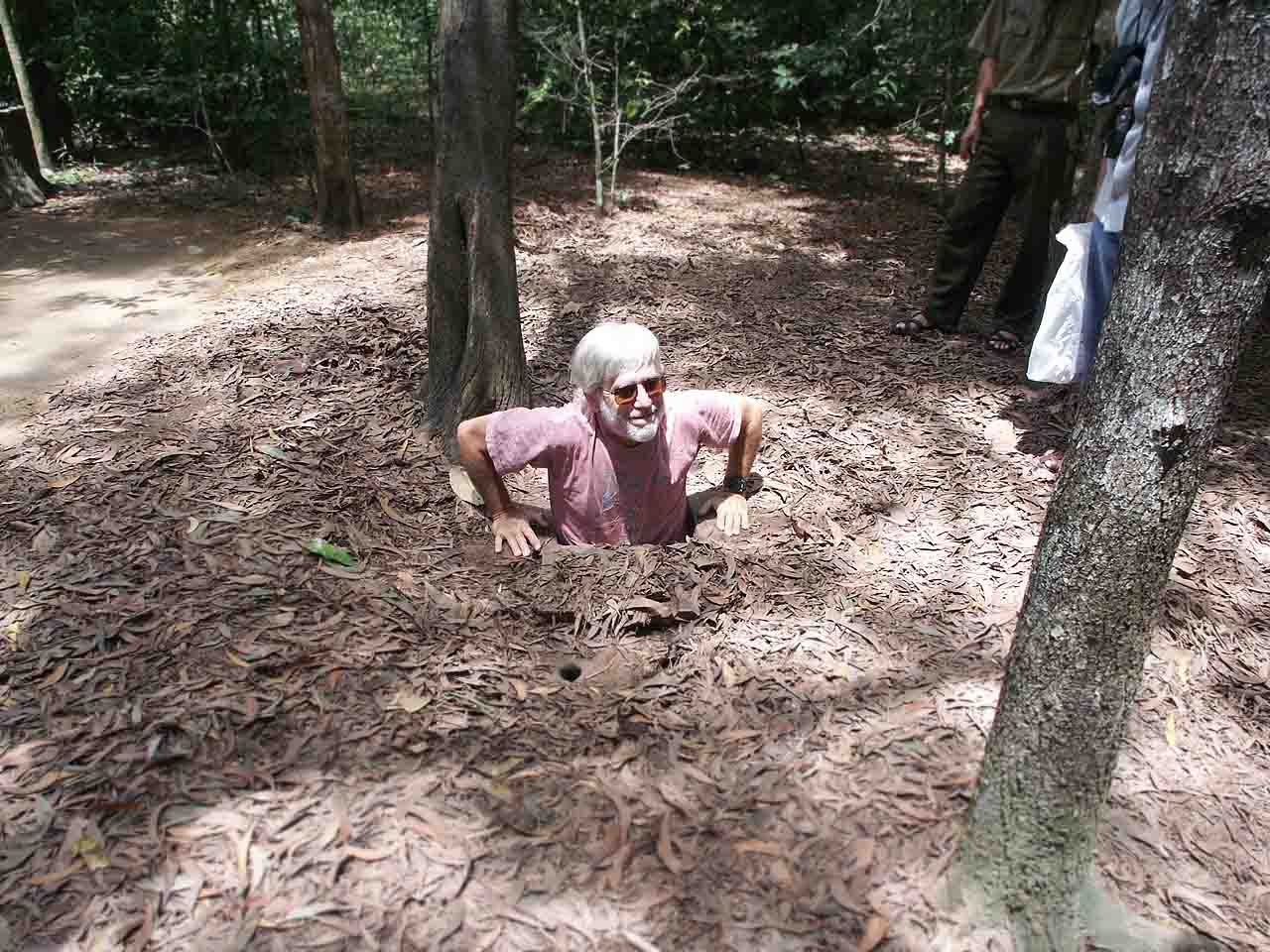 The first thing that you hear when you approach the area is the continual popping of firearms. There is a firing range where, if you're inclined, you can shoot anything from a M1911 .45 semiautomatic pistol to a Browning M2 .50 machinegun. Bullets for an AK-47 or American M-16 were going for US$1 per round. I saw one person after another shell out US$30 for a magazine and then rip it off in about three or four seconds.
The noise of giant popcorn being cooked and the smell of cordite brought back a lot of memories. I wasted no money on bullets.
Tags:
cu chi tunnels
,
cyclo
,
ho chi minh city
,
quang
,
saigon