Fortunately for me, I enjoy taking photos of little things. That's a particularly happy proclivity when it comes to underwater photography, because we don't have the clearest water here. In murky water, the closer you get, the better the shot. Naturally, small subjects will yield the clearest shots.
That's if you can get close enough.
This is a teeny-weeny fish. I don't know what it is. When they are this small (about1 cm), they are very difficult to identify unless you have a lot of time to dig through the literature: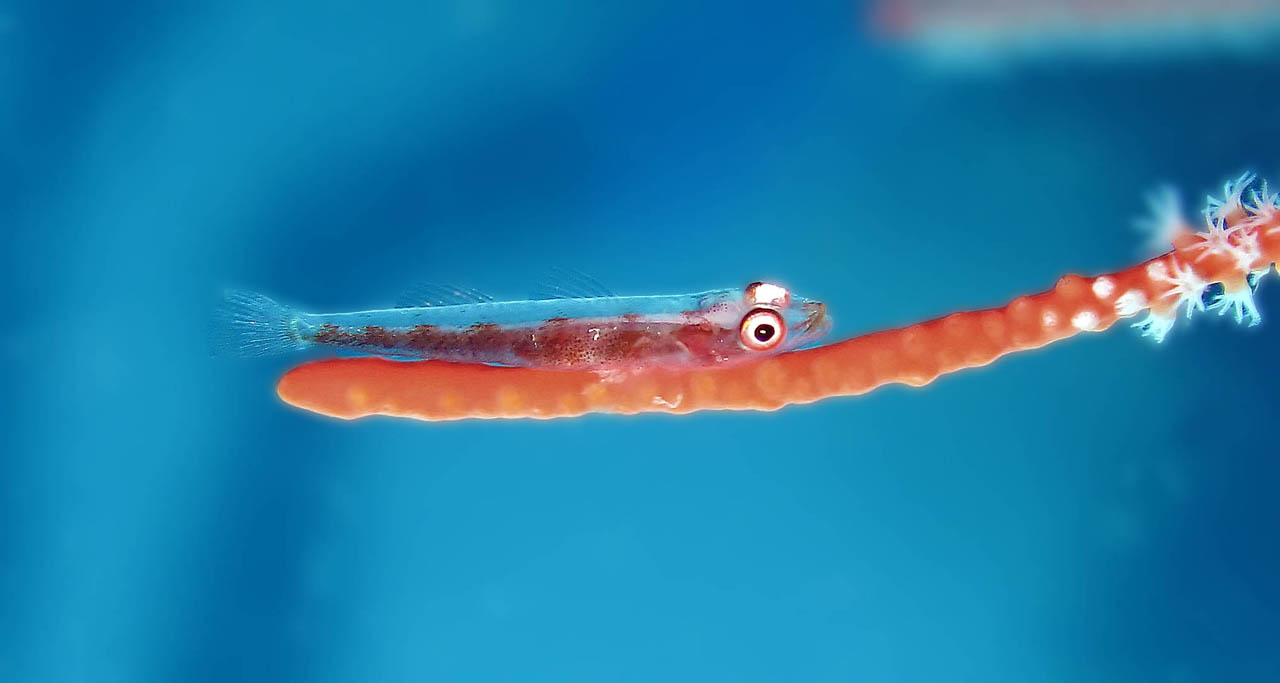 I do know the name of this one. It's an Urchin Clingfish (Diademichthys lineatus). This little fellow would be about 4 cm long: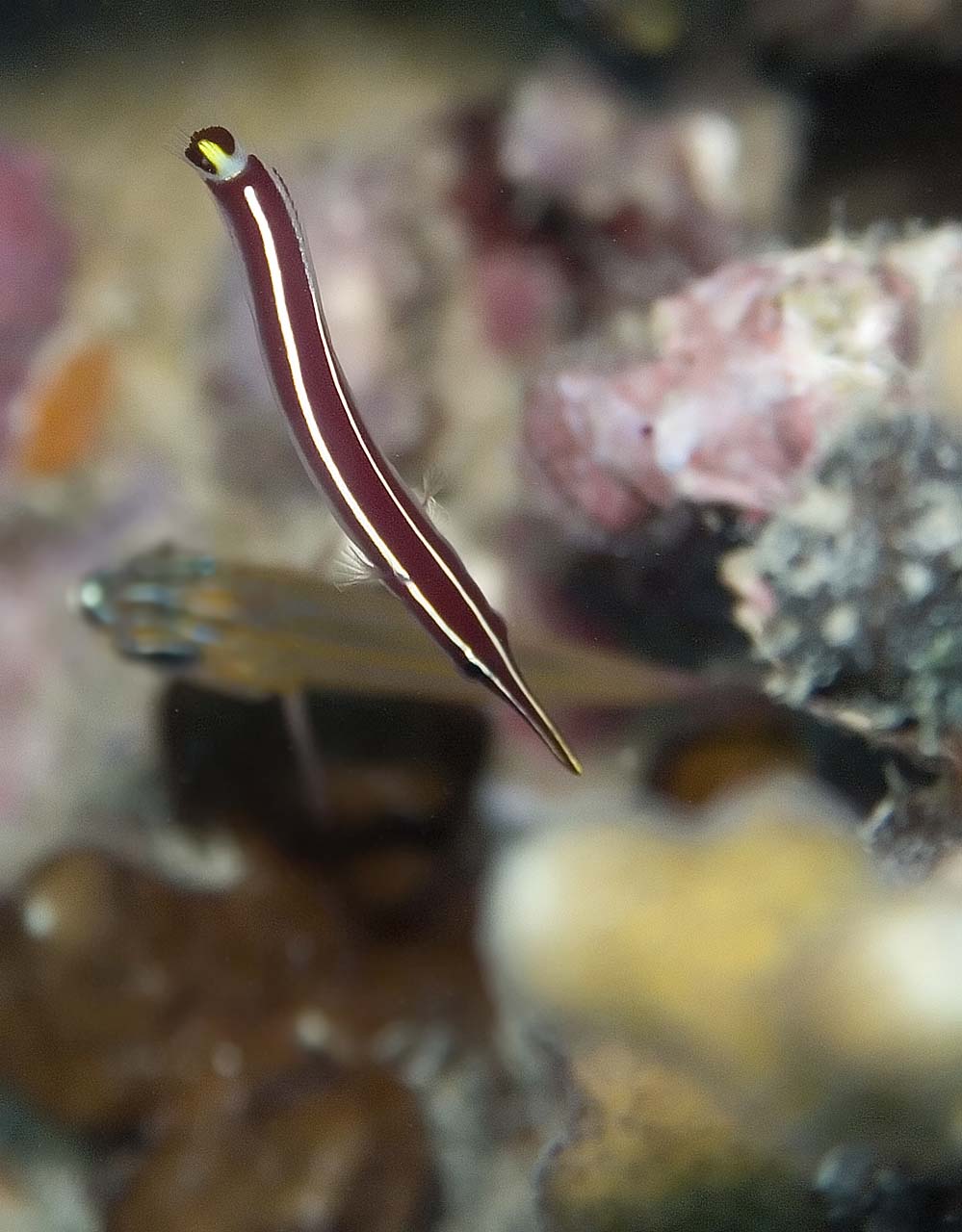 The unusual half-vertical head-down swimming position is typical of this species.
Here are two fine examples of one of our most beautiful reef fishes, the Fire Dartfish (Nemateleotris magnifica):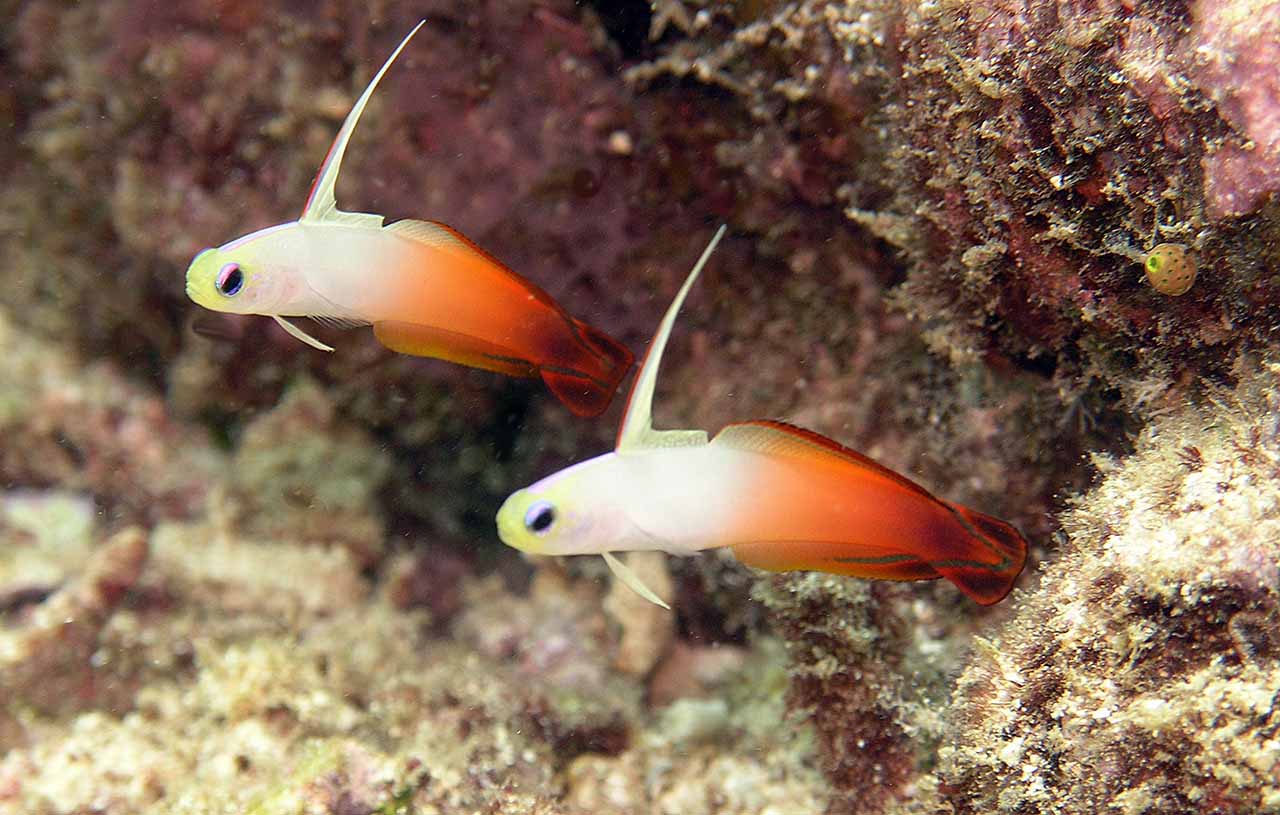 These are common on only a few reefs. They must have very specific requirements for habitat. They favour the tops of reefs that are swept clean of sand and small rubble. The specimens above are about 4 or 5 cm long.
This little fishy is a Three Lined Blenny (Ecsenius trilineatus):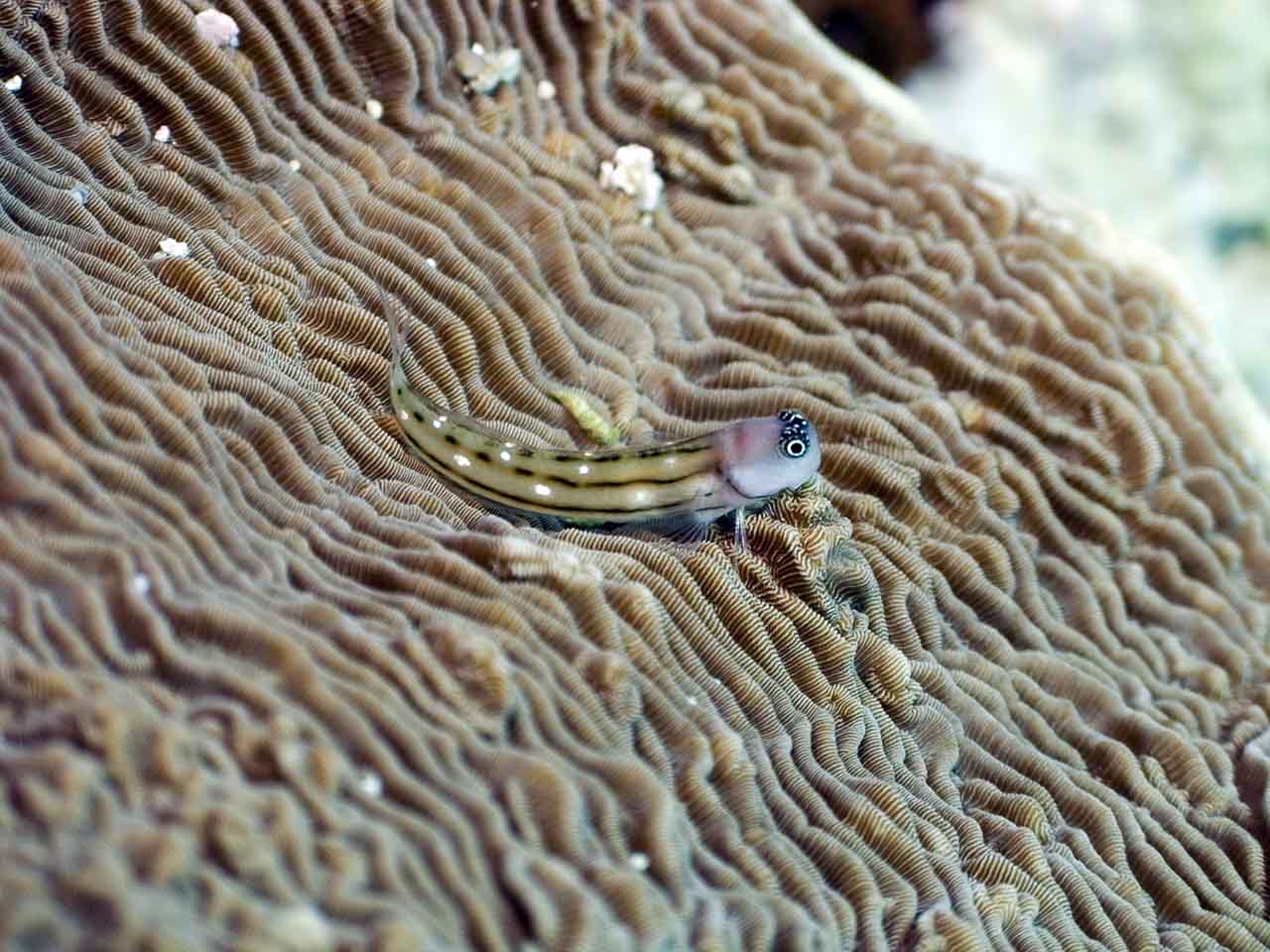 This is their typical resting position. They like to be out in the sun. Other blennys prefer to hide in holes.
Speaking of hiding in holes, that is the favourite habitat of the shrimpgobys. This one is a Randall's Shrimpgoby (Amblyeleotris randalii). There is usually a small shrimp that inhabits the same hole. I'll show a photo of that sometime: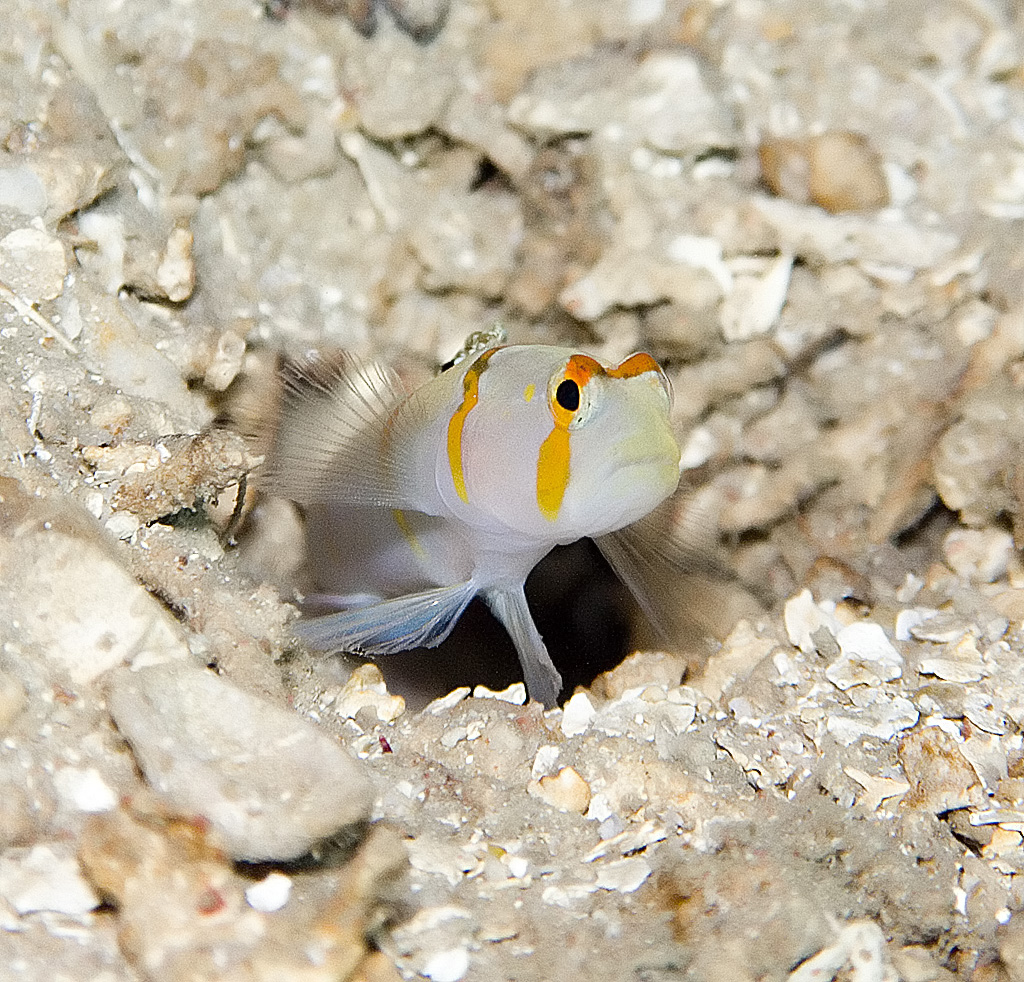 The little shrimpgoby above is about 5 cm long.
These are razorfish. I'm too lazy to look up the taxonomic name: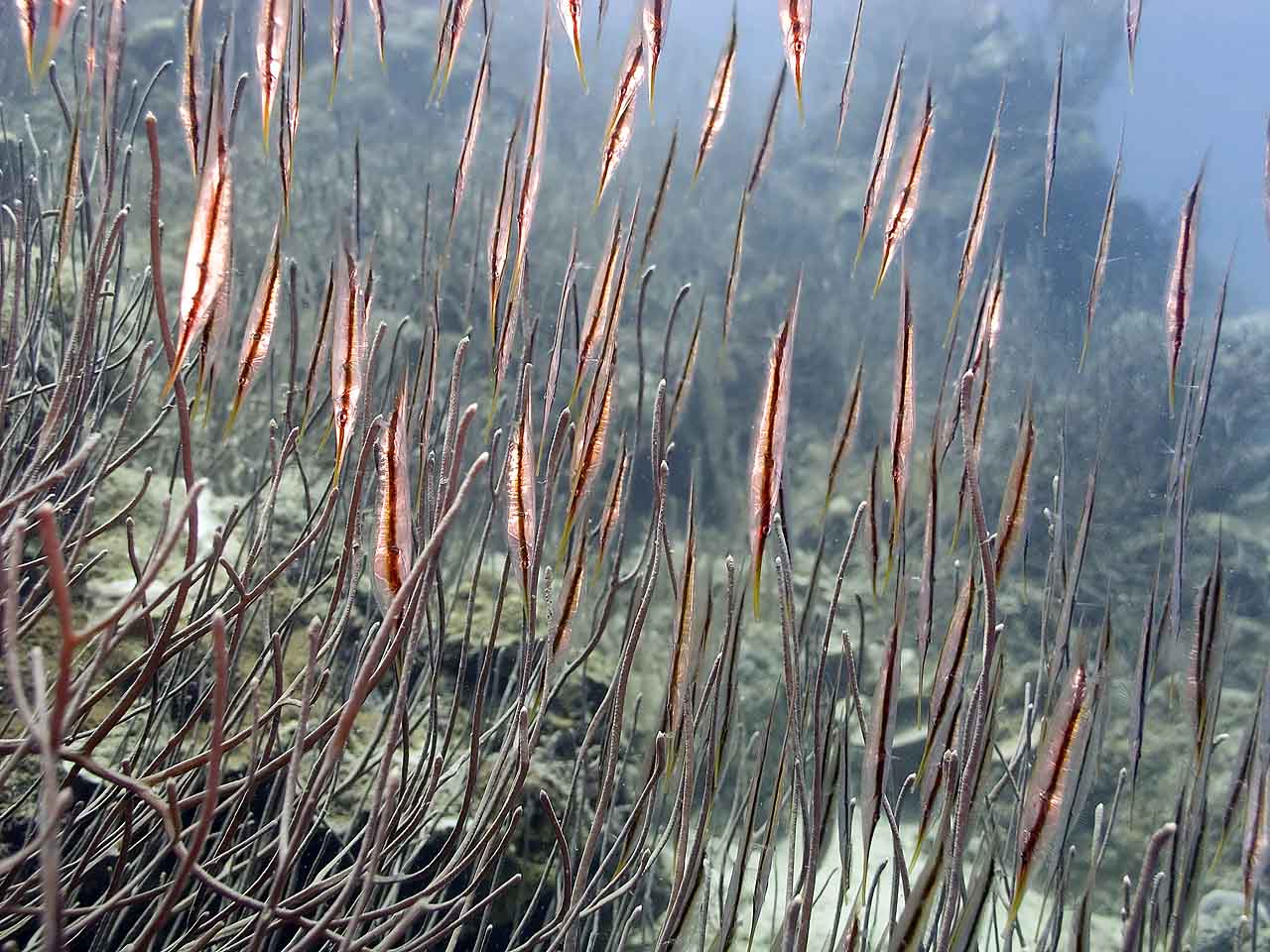 They appear to be impossibly tall and skinny – like a beanpole. However, if you look closely, you'll see that they swim with their heads pointing straight down so that they blend in with the vertically branched corals and sea grasses that are their preferred habitat. They are really a long, slender fish, but they swim as if they're standing on their heads. If you disturb them, they immediately adopt a horizontal position and dart away.
Even little fish can be startling if you get enough of them in one place. In this shot, Carol is rising up through a fish storm to the forward hatch of The Henry Leith: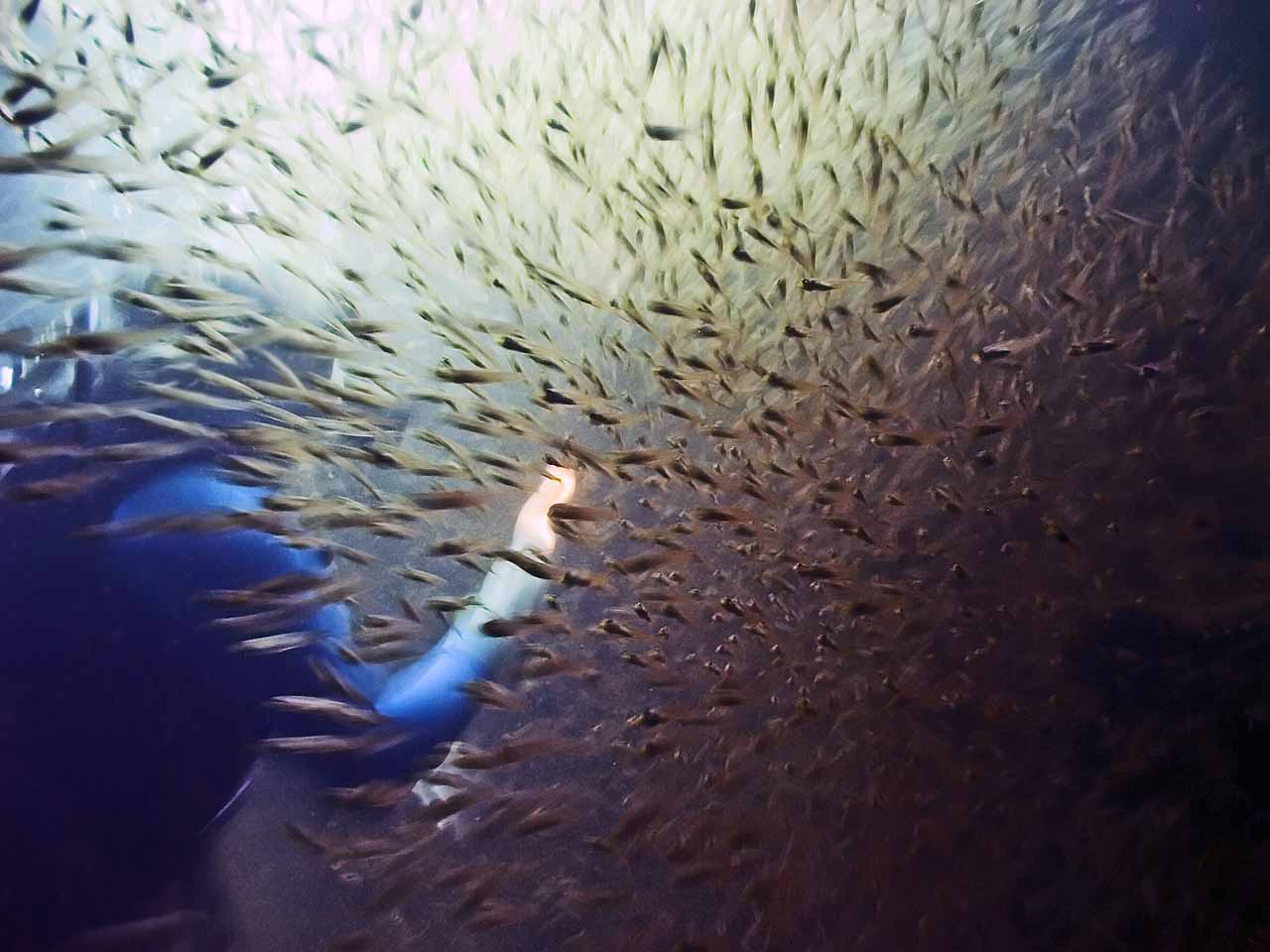 I could hear her screeching with delight through her regulator. That's a mark of an experienced diver.
Tags:
Amblyeleotris randalli
,
Carol Dover
,
Diademichthys lineatus
,
Ecsenius trilineatus
,
Fire Dartfish
,
Fire Goby
,
Nemateleotris magnifica
,
Randall's Shrimpgoby
,
razorfish
,
The Henry Leith
,
Three Lined Blenny
,
Urchin Clingfish