On Wednesday the 7th The National had an interesting front-page article titled Earhart's plane found at last? It's gob smacking news! – if it's true . . .
Here's a scan of the front-page portion: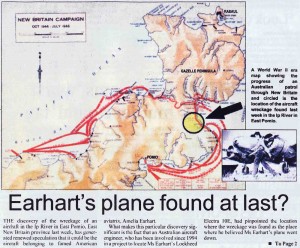 You can find the full text of the article here (link had died). There have been many articles in The National concerning the disappearance of Amelia Earhart. You can find a list of them here (link has died).
Among unsolved mysteries of the last 100 years or so, the disappearance of Amelia Earhart and her co-pilot must be near the top. It's right up there with "Who killed JFK?" and "Why did Britney Spears shave her head?"
I Googled around for a bit this morning and found an interesting site that gives a pretty full history of the search. You can find it here. There is also a page which has links to several more articles here.
That should be enough to help you to avoid working for at least an hour.
What would it mean if they discover that the plane is hers? That's a pretty good question. My first thought is: what are they going to do with it. I'm sure that that will be a subject of great debate. Who does it belong to? Somebody is certainly going to profit from it. Who will that be?
So many questions . . .
Tags:
amelaia earhart