Serenity is a much-sought commodity these days.  It certainly is for me.  I think that's true for many people in these "interesting" times.
Maybe it's just me, but it seems that the situation on this planet is getting worse instead of better.  Most of the time, I don't want to watch the news.  We can't seem to find a way to stop killing each other.  We're obviously poisoning the planet in myriad ways.  The primary occupation of most of the rich seems to be to rob from the poor.  The litany of human perversity goes on and on.
It's no surprise, then, if I seek moments when I can steal away from the troublesome day to come and find peace in the beauty of my adopted land.
Driving to work in the morning often provides such opportunities.
As I turned onto Coronation drive this morning, the Finnesterre Mountains  were brooding across Astrolabe Bay  looking bluer than the sea: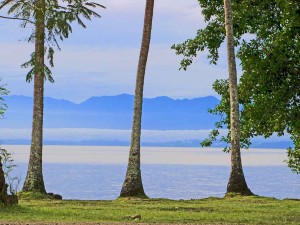 I crossed the road to have a look at the shoreline. The muted light made the mossy rocks glow fluorescent green: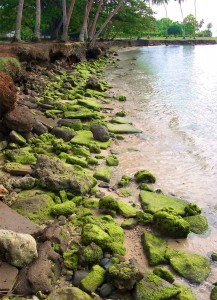 To the northeast, the glassy sea reflects the morning sun crashing through the clouds: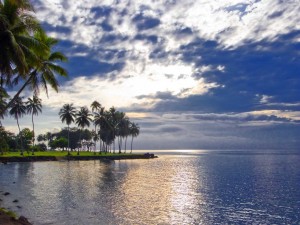 I got back into the car and drove up the road to Machinegun Point. It's one the spots that I love to photograph: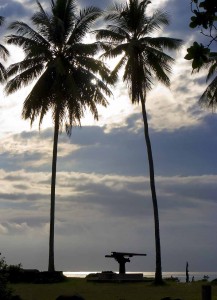 The image above reminds me that change is a blessed thing.  Just as a photographer notices the change of light, atmosphere, and context when he composes, I notice changes in life's circumstances that drag me along, kicking and screaming, to new experiences – new vistas, if you will.  One day I'm dismally wondering, "Is this all there is?"  The next day, circumstances change – new forces come into play.  I may be facing a new life that promises new opportunities.
Certainly, not all changes are beneficial.  Often circumstances beyond our control bring about undesirable change.
But we can control the changes that we craft of our own volition.  When we opt to change ourselves for noble reasons, we are truly human in the best sense.  When we choose options that better our family or community relationships, we benefit the whole.
It's trite, but true; when we cease to change, we die.
Tags:
astrolabe bay
,
machinegun point