It looks as if most all the problems of moving Madang – Ples Bilong Mi are in the past. I still have a few issues with old images not showing up and there's something wrong with the gallery plugin, but I can get back to regular posting now.
The image below is from yesterday in our front yard. It's not the QE2, but it's a big cruise ship. We didn't see it when we left the house. Sometimes, we don't notice what's right in front of us. When we drove into town we could see it sticking up at the end of Modilon Road, and we wondered how we'd missed seeing it at home: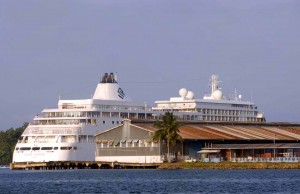 This reminds me of the time that an Air Niugini jet ran off the end of the runway right in front of our house and we didn't notice it in the morning: (this image has appeared here previously)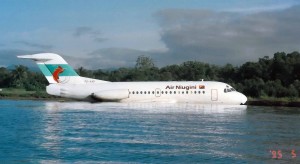 Yesterday evening I was sitting in my "reading chair" with a beer and a cigar and I heard very loud Italian opera music coming from outside. This is not something that is normal in Madang. In fact, since 1981, it has never happened. I don't know about before that, since I wasn't here.
Anyway, it was that one that goes, "Da-da-daaaaaa. Da-da-daaaaaa. Da-da-da-da-da-daaaaaaaa." Don't get me wrong. I'm not a Philistine. I don't mind opera. I just don't understand Italian and I can never remember the names of them.
Anyway, I got up to look out the door. Just then, the cruise ship tooted very loudly three times (the standard signal for "leaving port") and pulled away from the dock.
If the above doesn't amuse you, let me try this.
TELIKOM turned off all of our phones (probably about twenty) because they messed up again in their billing department. Never mind; it happens now only occasionally. It used to happen every month. Of course, they want you then to pay a reconnection fee, but we learned long ago to thumb our noses at that nonsense.
So, to get my weekly jab in at TELIKOM, I'll show you this beautiful (and typical) "work in progress" shot of our connection box in front of our office: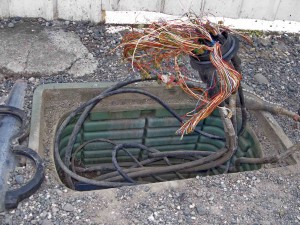 Messy, eh?
Fortunately, it wasn't raining yesterday.
Tags:
air niugini
,
telikom