Yesterday, for our regular Saturday morning dive, we motored out to Pig Island  to check out the Eel Garden, one of our favourites.
Along with some ordinary, but nevertheless spectacular critters, we enjoyed some rare treats.
On the long wall that marks the outer side of the Eel Garden, I visited one of my favourite anemones. Its residents are Spinecheek Anemonefish (Premnas biaculeatus).  One of the pleasures of doing many dives in a small area over many years is that you get to know the fish as your neighbours. This is Mary Jane and her young cohabitant, Mike: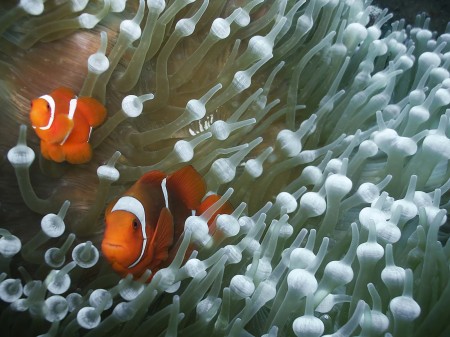 Over on the other side of the wall at the old catamaran wreck, a double cluster of Bubble Coral (Plerogyra sinuosa)  was lit very nicely. I took a shot with the light available, eschewing my flash, as is my wont. It's nicely balanced, not too bright, and the colours are somewhat muted – just exactly the way my eyes saw it: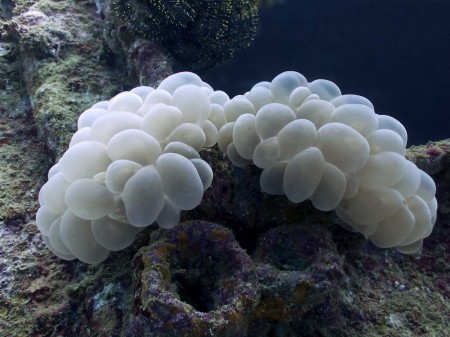 As I've mentioned many times before, I prefer shots that I'm able to capture with the light that is presented to me by nature. Sometimes flash is necessary (as in the Spinecheek shot at the top), but I prefer to show you the images that I saw with my naked eyeballs.
To illustrate the difference once again, here is the same shot with the flash turned on: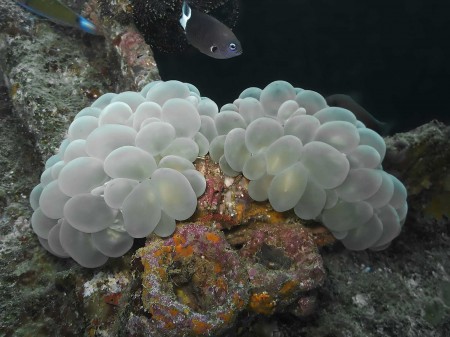 It's more colourful, but it is not  what I saw.
Once in a while, maybe every hundred dives, we get to see something that blows us away. Here's Albert, one of our Spanish divers, getting a shot of a giant flatworm. He had just gotten this new camera and this was his first dive with it: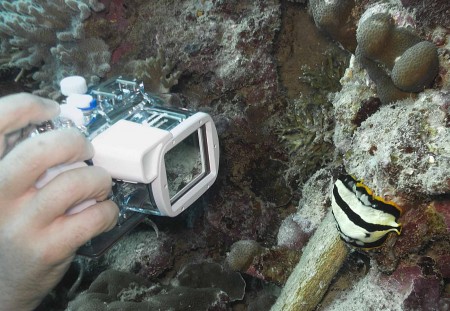 In case you don't know much about flatworms (planaria), let me tell you that this one is huge. I can't find it in my identification book, so it must be fairly rare. On the odd chance that anybody out there recognizes it or has a better book than I do, please let me know the species name: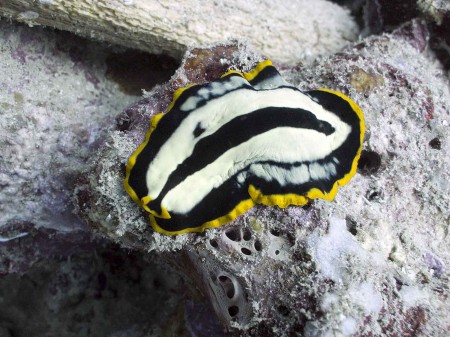 On the other hand, new species are being discovered at the rate of dozens a year, so we may have  found something that has not yet been described.
Finally, Anna, another of our Spanish divers, has herself a brand-new tattoo: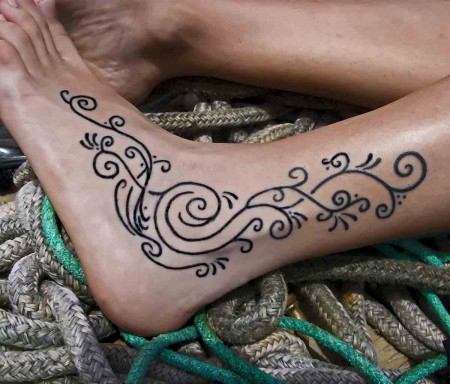 And, a lovely one it is. I'm more into the pictorial designs rather than the abstract. However, this one, based on the henna hand designs, is certainly beautiful and very feminine.
Good job, Anna, for choosing wisely. It's there for life, so I'm happy for you that it's a good one.
Tags:
eel garden
,
flatworm
,
pig island
,
Plerogyra sinuosa
,
Premnas biaculeatus
,
spinecheek anemonefish