I've subscribed to two magazines since before I entered puberty. One is Scientific American.   I've learned a lot from reading roughly 600 issues over the years. The other magazine that I've read all these years is Analog Science Fiction & Fact.   The material is not so difficult. Many famous Science Fiction authors have gotten their start in the pages of Analog: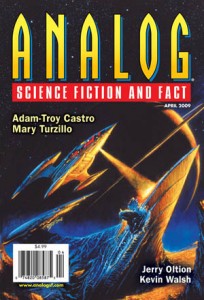 Yesterday evening I was reading an article about a Mars colony where the cats were infested with
Taxoplasma gondii.
  Taxo
-what?
  Me too. I had only a dim recollection that it was something that cats carry and humans can get it and it's not only not very good for you; it has some extremely odd side affects.
T. gondii   is a very peculiar parasite. Cats carry it with little effect. A really good parasite soon learns not to harm its host. Here's how it works:  (From NPR All Things Considered,   14 April 2007)
When you see a cat pounce on a rat, it seems like a classic story about a predator and prey.

But scientists have recently discovered that sometimes the main actor is actually a tiny parasite in the rat's brain that makes the normally fearful rat think "oh how nice" when it smells a cat.

The parasite wants the rat to be caught by the cat because it needs to be in the cat's stomach to reproduce. New research sheds light on how this surprising little organism can manipulate a rodent to do its will.
Well, that is a little simplistic, but nicely put. So, the cat infects the rat (apparently rats find cat turds quite tasty) and T. gondii   begins to rewire the rat's brain so that it likes the smell of cat pee. Now the rats hang around where the cats like to take a whiz and the cats quickly catch onto this and the rats are soon in the cats' tummies making more T. gondii.   If that doesn't show how cool nature is, then I just don't know what might impress you.
That's all well and good, but what does it have to do with humans?
Hah!  Humans can get infectd by T. gondii   also. That's where it gets really interesting.
In humans T. gondii   can cause birth defects, predispose one to mental problems, cause more boys than girls to be born . . . the list goes on. I won't go into all that. You can read more here and here.
The interesting idea to toy around with is:  Could this be a plan hatched by Aliens to take over the world? Scoff if you like, but this image might just get you to thinking: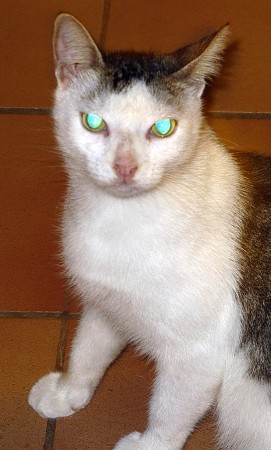 How easy would it be for a technologically advanced society to develop a parasite that could infect humans (half the population of earth already, by some reports) and begin to subtly change behaviour? Later, the parasite, if well designed, would follow its programmed evolutionary path and begin modifying humans in more drastic ways. Like similar organisms (malaria being one) it could constantly modify itslef to defend against a cure.
It would be as easy as playing with kittens. And probably as much fun.
I'm not suggesting that this is the case. I'm just saying that it would be the easiest way that I can think of to take over the world.
Tags:
alien
,
aliens
,
analog
,
cat
,
human behaviour
,
rat
,
scientific american
,
toxoplasma gondii