Posted in
Humor
,
Under the Sea
on February 25th, 2009 by MadDog
We treated ourselves to a mid-week dive yesterday afternoon. In fact, we did two separate dives on one tank each. We went to the Green Dragon  B-25 bomber first and then to the wreck of the Henry Leith,  both near Wongat Island.
The water was very murky around the bomber, so macro shots were the only option. I found this nudibranch on one of the ammunition boxes in the dorsal gun mount: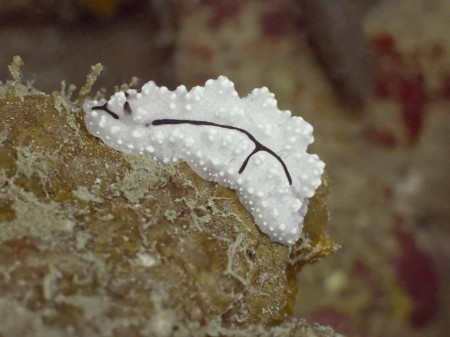 I can't find it in my invertebrates book, but it's pretty common. It always makes me think of a fancy bit of candy that you might find in an expensive sweets shop in Vienna. UPDATE: It is a Pipek's phyllidiopsis (Phyllidiopsis pipeki),   as if you care.
Anyone who knows Carol Dover understands that she is a natural actress. Point a camera at her and she will start hamming. It's in her blood. Case in point:

The gang was hanging on the anchor rope above the Henry Leith. As soon as Carol caught sight of the camera, the show was on.
I got a couple of other nice videos that I will post tomorrow. YouTube seems to be slow today processing them.
Tags:
Carol Dover
,
henry leith
,
nudibranch
,
Phyllidiopsis pipeki
,
Pipek's phyllidiopsis
,
wongat island