I'm almost finished reminiscing about Wednesday afternoon's dive. The torture will soon be over.
Amidst the abundant life there is a small anemone that has been near the bow of the Henry Leith   for many years. It is the true home of Nemo and his extended family. Don't let anybody tell you otherwise. Nemo lives in Madang and always has. All you kiddies out there, watch Nemo now. In case you are wondering, Nemo is the big one that keeps coming into the middle of the shot:Back over at the Green Dragon B-25 bomber I took this shot of the yoke (the "steering wheel") with the usual bunch of tiny fish swimming around: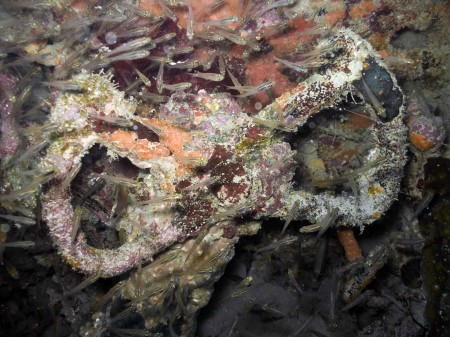 Up on the tip of the port wing, where the giant barrel sponge is, I captured this Pixy
Hawkfish
[red variation]
(Cirrhitichthys oxycephalus):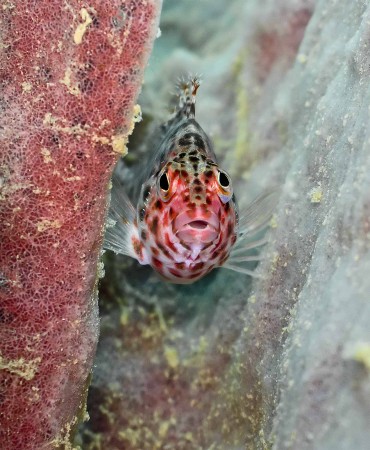 Much, much too much work at work is driving me crazy. It's cutting deeply into my playtime. Eunie will be travelling to the USA and Canada during April, May, and half of June. I will be a temporary bachelor – not one my favourite things.
Never mind. I'm planning a trip to the highlands to climb Mt. Wilhelm.  I'll be writing an article f or Our Way  magazine about an insane Englishman who is planning to jump off of the top (with a parachute, one would assume). I'll also be going on a research trip to Rabaul to get as close to the volcano as I possibly can. I promise you some interesting shots. I'll also be doing some diving there and grab more images.
At 65 life is beginning to get interesting.
About time!
Tags:
b-25
,
bomber
,
Cirrhitichthys oxycephalus
,
green dragon
,
henry leith
,
Pixy Hawkfish
,
wongat island