I just got around to processing some snaps taken at the Eel Garden near Pig Island a couple of weeks ago. I'll show you the ones that I like best.
This little guy is one a large group of walking decapods that we commonly call Hermit Crabs. They all have soft abdomens that they must protect from predators. Therefore, each one has to find a house all to itself – thus, the hermit crab who lives all alone in his house. This one is a Calcinus miutus: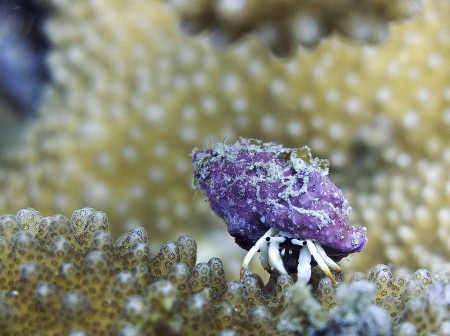 I enjoy snapping hermit crabs because they are so easy. The don't move very fast. If you scare it, you just have to wait a minute and it will come back out to see what's up.
Lizardfish are another of my favourites. The stay put pretty well if you move slowly. If you hold your breath and move very slowly, you can stick the camera right in its face. Here is a Reef Lizardfish (Synodus rubromarmoratus):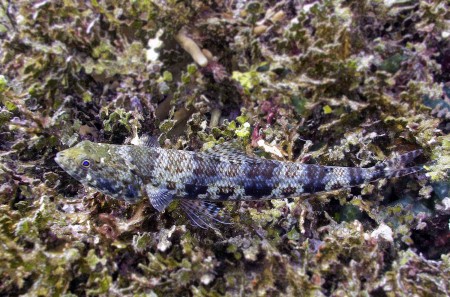 It doesn't look very impressive just laying there on the coral rubble. But, if you move around and shove your camera in his face, it's another story entirely. It turns into a monster: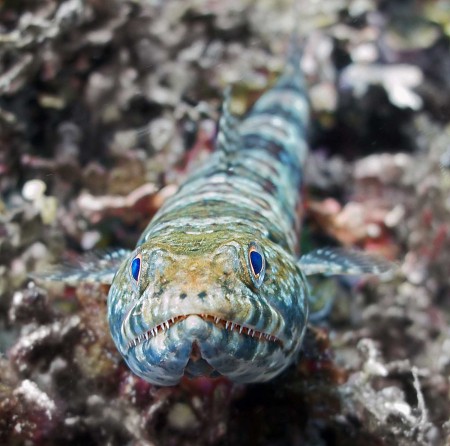 Fierce, eh? It's only about as long as your hand.
Here is a Red and Black Anemonefish (Amphiprion melanopus) to brighten up the page: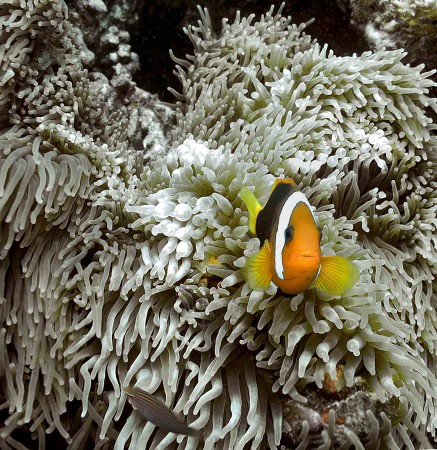 I keep finding Anemonefish that I've not noticed before. At first they tend to look pretty much alike. New divers tend to call them all "Clownfish". That's okay, but when you start to look closely, you see that there are many different varieties of the orange-ish Anemonefish. They have their colours distributed differently, their white bars and black patches in different places, and their fins are different colours.
This sturdy-looking fellow is a Shadowfin Soldierfish ( Myripristis adusta):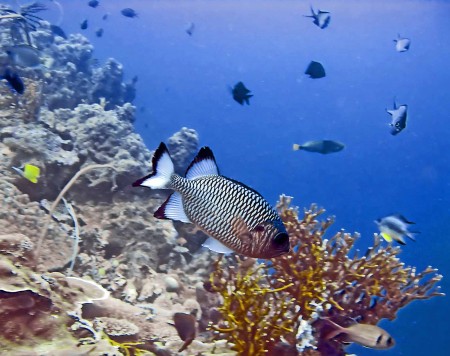 We often see this species and other Soldierfishes with a parasite on its head. Some studies have shown that females are more likely to mate with a male sporting a parasite. Have a look at this.
Finally, I'll leave you with a puzzle. Here is a close up of a marine critter. It is about 40 cm long. It does not swim, but moves slowly on the bottom. The funny-looking swirly bit in the middle of the image is, I believe, where some predator has bitten a chunk out of it and the wound has left a scar: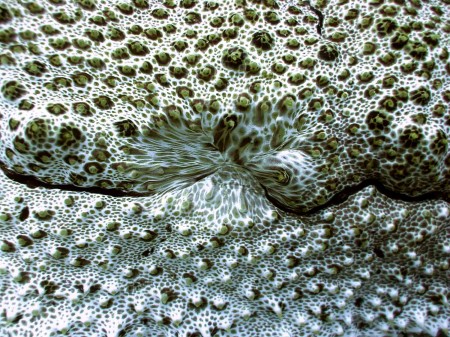 Can you say what this creature is?
Leave a comment. I promise to answer each one.
Tags:
Amphiprion melanopus
,
Calcinus miutus
,
decapod
,
eel garden
,
hermit crab
,
Myripristis adusta
,
pig island
,
Red and Black Anemonefish
,
Reef Lizardfish
,
Shadowfin Soldierfish
,
Synodus rubromarmoratus