Posted in
Dangerous
,
Mixed Nuts
on March 2nd, 2009 by MadDog
I'm going to start showing you some of the artefacts that Eunie and I have in our 'museum' (our house). We've been fairly seriously collecting since 1981. We have nothing of great monetary value, but most of the pieces are interesting anyway.
Several years ago, when we were working occasionally as tour guides to the Sepik River area and to the Trobriand Islands, we had some rare collection opportunities. Of the small Sepik artefacts that we have in our collection, my favourites are the bone daggers: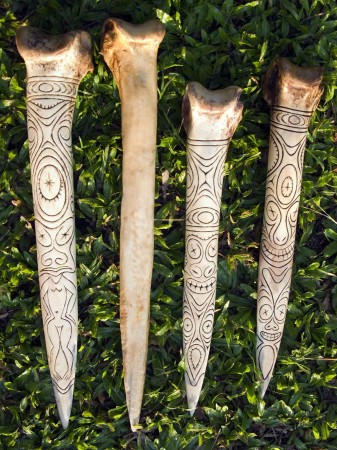 These examples are made of the femur of a Cassowary bird. In times past, it is quite likely that they would have been made from human femurs. Three of the daggers have inscribed patterns that evoke a masalai spirit. We'll get to that later. Here is a Cassowary bird: (not my photograph – ripped from the web)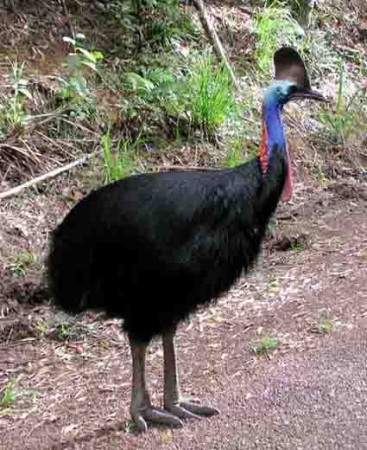 You don't want to mess with a Cassowary. Fully grown, it stands nearly as high as a man, has a very bad temper, and is absolutely fearless. It has no natural predator (except, of course, the universal predator – mankind). It can disembowel a human with a single slash of its claws. Think of Don Rickles with a flame-thrower.
Let's get to masalai. Basically, masalai are nasty spirits. They can live most anyplace, but commonly occupy trees, whirlpools, even mountains. I won't go into a lengthy explanation. Somebody else has already done it. (from The Polymathic Obsessions of Thomas H. Slone – check it out!)  Here are some human actors in masalai drag mimicing the anthropomorphic form: (not my photograph – ripped from the web)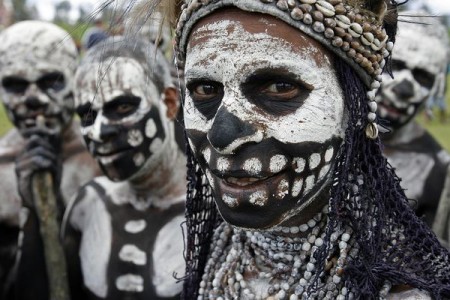 And some juvenile wanna-be masalai: (not my photograph – ripped from the web)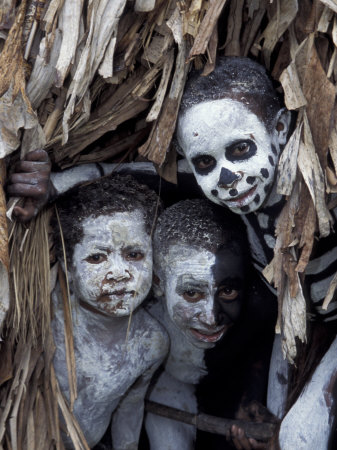 There are at least two Papua New Guinea blogs that include the word masalai. One is the very nice The Masalai Blog with the tag line:  "news, ideas, general banter and your comments…(acting locally looking globally)."  The other is Masalai i Tokaut (A Masalai Speaks) which deals with (alleged) corruption in the forestry sector. Unfortunately, it seems that it hasn't been updated since November 2007. That's too bad, since I would be shocked to hear that corruption has since ceased. The idea is similar to what we will be attempting to do with our new ReefCops whistle-blower site.
Stay tuned for more anthropological nonsense.
Tags:
cassowary
,
casuarius
,
femur
,
masalai