Posted in
Mixed Nuts
,
Photography Tricks
on March 3rd, 2009 by MadDog
I woke up at 05:00 this morning – bummer! I hate it when that happens. It's too late too take a pill and go back to sleep and it's too early to get excited about doing anything else. I suppose that about half the world has  to get up at or before that ridiculous time, but I'm happier with an extra hour's sleep.
Anyway, I looked out the front window and saw a big ship across the harbour. It was all lit up and making some beautiful reflections in the water. I grabbed my camera and tripod. I set my camera (Canon G9) in the manual exposure mode and fiddled with the knobs and buttons for a bit. I ended up with a fifteen second exposure at f 5.6 (the camera's resolution 'sweet spot') with an ISO of 200. As if you care. I took a few shots at higher and lower exposure values, but that setting worked out best. Of course, I had to use manual focus also, because the camera couldn't grab an automatic focus.
Here's one of the shots: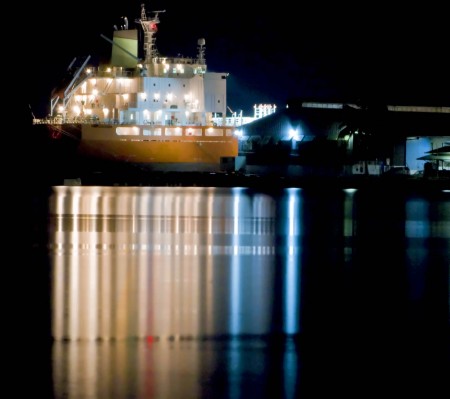 I dig the way the red masthead light was caught in the reflections in the water.
I ran another of the shots through Microsoft's Photozoom. Check this out:
If you don't have Microsoft Silverlight yet, you'll need to install it. It's a 'wave of the future' anyway, so you may as well go ahead. If you zoom in (try the full-screen mode) and look to the right and below the red light on the top of the ship, you can read the name,
North Contender.
Of course, I Googled the ship. I Google everything. I'm a Google-o-Matic. I couldn't find any photographs of the ship. I did run across the General Arrangement of the ship and its Capacity Plan. You can look at these and see that it is the same ship (sometimes ship names are ambiguous – there are so many with the same name).
I also ran across this reference to the ship in an apparently abandoned blog (millions of those out there). The fellow, Chian Ee, was planning on joining the ship while it was in Papua New Guinea.
The world is a curious place. There are so many connections – busy, busy, busy . . .
Tags:
canon g9
,
north contender
,
silverlight