Just inside the reef at the Western tip of Pig Island there is a spot that few choose to dive. There is a lot of sandy bottom and the visibility is usually not much to write home about. It is, however, chock full of unusual critters.
For instance:  This is a juvenile Oriental Sweetlips (Plectorhinchus vittatus). It is rarely seen and looks nothing like the adult: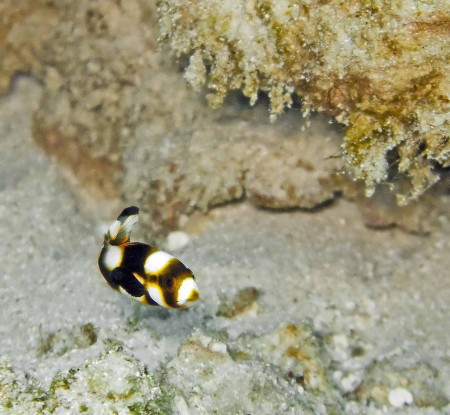 I didn't have a good image of the adult form here at the office, so I ripped this from the web (travelimages.com photo by W. Allgöwer) so that you can see what it will look like when it grows up: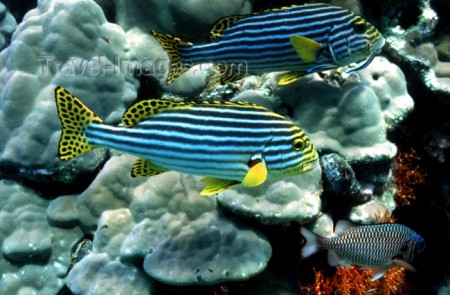 Regarding the image above, I should mention that the bluish stripes are actually white.
The area abounds with anemones, many with unusual characteristics. Here is a variety of Leather Anemone (Heteractis crispa)  with unusual blue tips on the tentacles: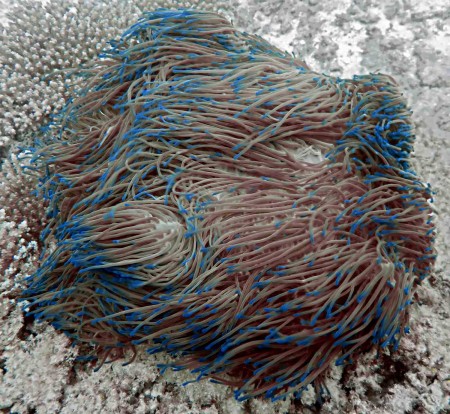 The visibility cleared up a bit here and there. I was lucky to get this shot of Bluestripe Snappers (Lutjanus kasmira)  with the flash turned on. It took me a while to clean up the backscatter, but it was worth the effort: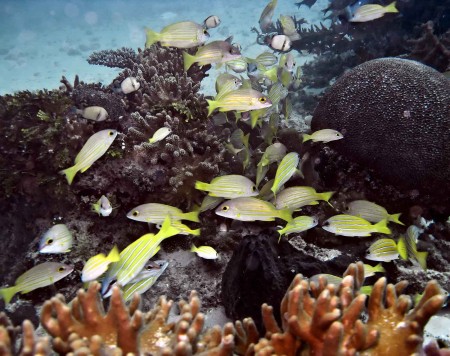 There are many small Bulb Anemones (Entacmaea quadricolor)  here and a large percentage of them are homes to Spinecheek Anemonefish (Premnas biaculeatus):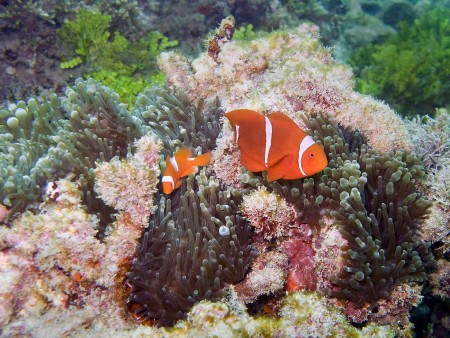 The large individual above appeard a dusky red colour to my eyes. It had much darker than normal pigmentation. This is probably because the individual anemone is also heavily pigmented. Many Anemonefish take on shades that help them to blend in with their host amenome. The flash made the fish here appear much brighter than they appeared to the naked eye.
I can't seem to stop shooting lizardfish. At least I'm not using a shotgun. This is the very common Reef Lizardfish (Synodus variegatus):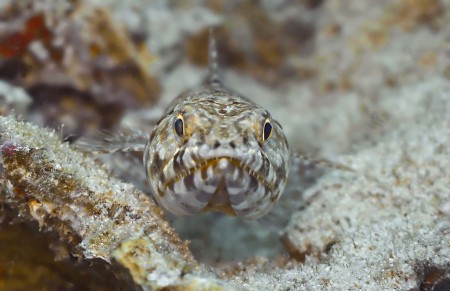 It always amuses me how fierce that they look when you get a good shot head-on and close-up. The nose here is a little blurry, but I'm still happy with it.
Sometimes the smallest things are the most amazing. This Blue Lipped Coral Oyster (Pedum spondyloideum)  is only about 40mm wide, but the colours are spectacular: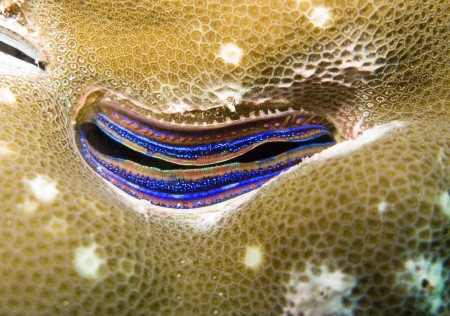 Stay tuned for more fishy features on Madang – Ples Bilong Mi.
Tags:
anemone
,
blue lipped coral oyster
,
bluestripe snapper
,
heteractis crispa
,
lutjanus kasmira
,
oriental sweetlips
,
pedum spondyloideum
,
pig island
,
plectorhinchus vittatus
,
Premnas biaculeatus
,
Reef Lizardfish
,
spinecheek anemonefish
,
Synodus variegatus