Posted in
Dangerous
on March 10th, 2009 by MadDog
As if street crime isn't enough to deal with, there is another festering problem in Madang that has been stinking more and more.
When your rubbish is picked up (if it actually is  ever picked up), where do you expect it to go? It has to go somewhere. The Garbage Fairies don't just come along and gobble it up.
Well, surprise, surprise!  Here is where it's going: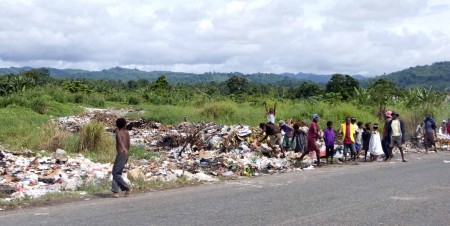 I bet that you though the same as I:  We have a land fill.  That's where all the rubbish is supposed to go.
Well, yes, we do have a land fill. What it looks like to me is that so much crap has been dropped along the narrow dirt road that leads to it that the trucks can't get to it now. I'd like to have a stern talk with whoever is responsible for looking out for the tip and see what he has to say for himself. Let's see . . . what would be an appropriate punishment . . . hmmmm . . .
As I was driving up to Nagada this morning, I actually caught a Madang Town Council clamshell garbage truck dumping its stinky load half on the road. I tried to get turned around quick enough to get a photo of the jerk, but I was too slow.
Patience pays off. A few minutes later another gang of loonies came along and were happy to have their photos taken. I can't state positively that the load is garbage and I didn't stick around to watch them unload it, but you can draw your own conclusions.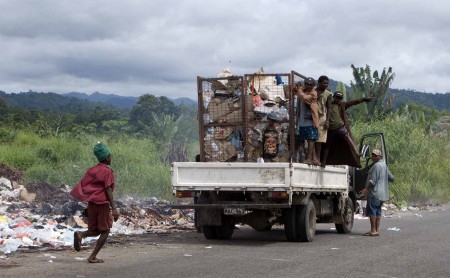 The minute I got back to the office and told Eunie, she was on the phone to somebody – who, I don't know. God works in mysterious ways. If anybody can get some action, I suppose she can.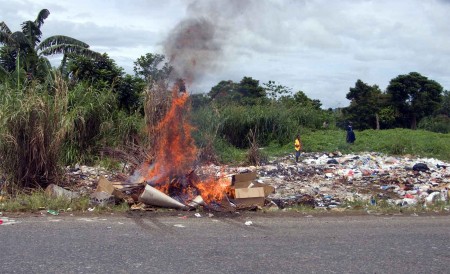 Am I crazy or is this a really bad idea?
Tags:
garbage
,
rubbish
,
sanitation
,
town council