Posted in
Dangerous
on March 12th, 2009 by MadDog
I need to get back into the water. Let's see . . . If I sweet-talk my boss (that's my wife Eunie – Yes, really!), I might be able to take off tomorrow afternoon for a dive. I'll tell you later how that goes.
In the meantime, I'll get figuratively back into the water by showing you some more shots that we got on the inside of the reef at the West end of Pig Island last Saturday.
Here is something that I'd bet that you haven't seen all week: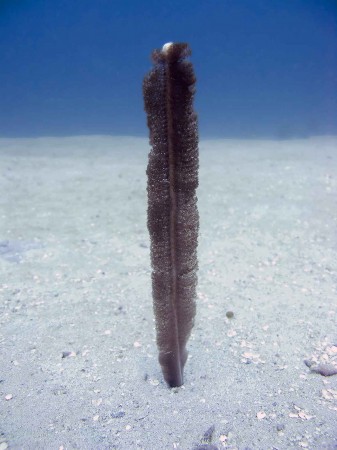 It's a Sea Pen. This one is some species of
Vigularia.
  It sticks up out of the sand about 20cm and looks a lot like a feather. What is surprising is that if you give it a tap, it pulls down into the sand and disappears! I love to see the look on the faces of divers who have not seen this before.
This thing is a Fan Worm (Sabellastarte indica):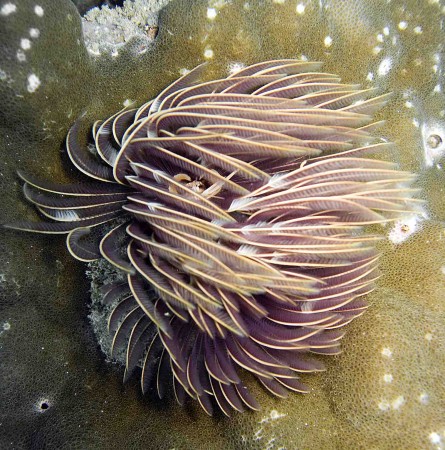 It looks like a dead bird fallen on the coral with its feathers blowing slowly in the wind. If you get too close, it will disappear down into its tubular house so quickly that you can see no movement at all. One microsecond it's there and the next, it's vanished. It's about the size of your hand.
Of course, almost anybody would recognise this is a Giant Clam (Tridacna maxima):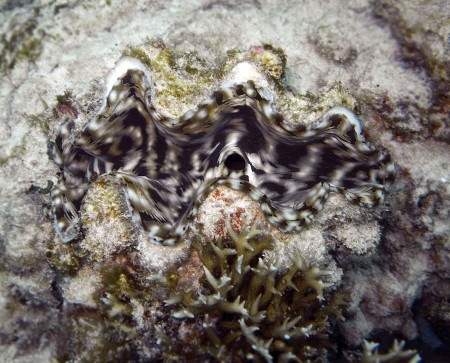 This one is hardly a man-eater. I remember in the old movies when a diver would get caught in a giant clam. They
can
  clamp together quickly, but I seriously doubt if the clam would like to keep your leg inside. It would probably want to spit it out as quickly as possible. This one is about 30cm long.
Here is a different shot of the Spinecheek Anemonefish that I showed to you the other day (Premnas biaculeatus):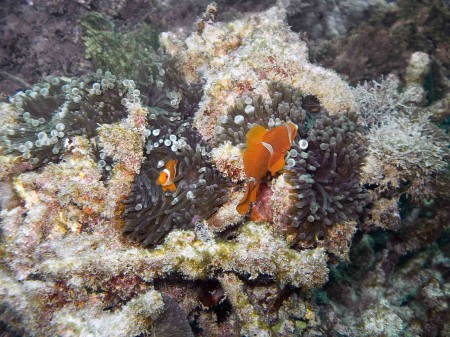 The little partner is probably unrelated. I used to think that all the Anemonefish that inhabit an anemone were related to each other. I discovered that this could not be less true. Since there is a free-swimming
planktonic
phase in the life-cycle, each individual fish must find a host anemone or die. The chance of it ending up on the same anemone on which it was spawned is practically nil. I'll write more about that sometime. I learned it while researching an article on Anemonefish for
Niugini Blue
magazine.
In a large sandy area there were thousands of tiny hermit crabs all moving in the same direction in a hurry. I've never seen that before and I don't have any idea what it was all about. Here are a couple of them:

No, I haven't forgotten about the Deadly Ice Cream Cone. This is a Cone snail
(Conus litteratus):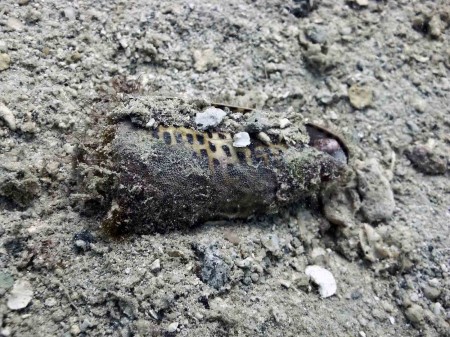 It is one of the most deadly creatures in the ocean. It has a harpoon-like barb that it uses to kill fish. Yes, you heard that right. This snail is a vicious piscivore. This one is about as long as a finger. I've seen movies of a cone snail harpooning a fish larger that itself. Here is a video clip of a Cone Snail capturing a small fish:
Is that scary? If you stuck your finger close to the business end, you could be dead in 24 hours. I turned this one over with a stick to I could take the shot.
Tags:
cone snail
,
Conus litteratus
,
fan worm
,
feather
,
giant clam
,
hermit crab
,
pig island
,
piscivore
,
Premnas biaculeatus
,
Sabellastarte indica
,
sea pen
,
spinecheek anemonefish
,
Tridacna maxima
,
vigularia