Eunie was in Port Moresby last night. I fell asleep at about 20:30 and woke up wide-eyed and bushy-tailed at about 01:30. Not being inclined to stay up the rest of the night, I took 5mg of good ol' vallium and went outside with may camera and tripod to wait for the pill to knock me out.
The night was clear and calm. Everything seemed all sparkly and bright. Faded Glory looked peaceful sitting at the end of her dock. I took her picture: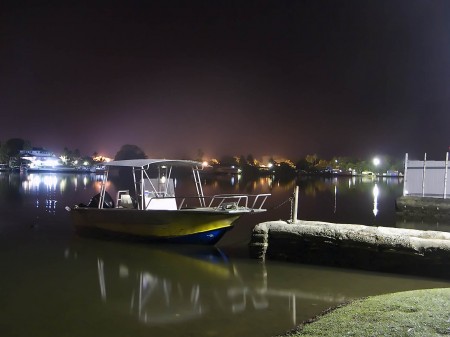 It took a fifteen second exposure to get this shot. It required very little processing with Photoshop to clean it up. I next turned my attention to a container ship across the harbour from our house: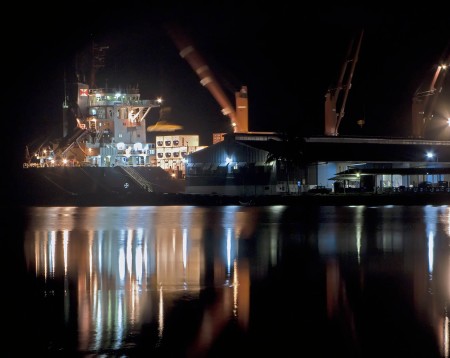 Having gotten a solid night's sleep, I picked Eunie up at the airport. On our way the the office, I spotted a familiar ship out on Astrolabe Bay: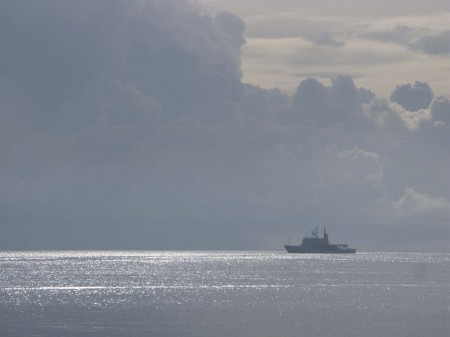 The photo above is what came out of my camera – a Canon G9 shooting in the RAW mode. It's interesting compositionally – I used the Rule of Thirds – but otherwise, it stinks. It's flat and lifeless. With Photoshop CS4 and about 10 minutes stolen from my work day I had this:
Ahhhh, much better!
The ship is one of two Royal Australian Navy Survey Vessels that have come up here to do detailed charting and data collection in Astrolabe Bay. I took a couple of sailors from one of the ships out fishing a week or so ago and they invited me aboard that evening for the grand tour. Check out the HMAS Mellville. We get a surprising number of interesting ships in our harbour.
Tags:
faded glory
,
royal australian navy
,
survey ship