Posted in
Photography Tricks
on March 25th, 2009 by MadDog
When I leave my house in the morning I can see the Finisterre Mountains as I come in on the Airport Road. That is usually where I decide if I am later going to turn on Coronation Drive to grab some images. If the mountains look crisp and blue, then I'm going to have a fifteen minute detour on the way to work.
If you look carefully at these images (and you know what you're looking for), you'll see evidence of heavy-duty, industrial strength Photoshopping. These are not so much photographs as interpretations of photographs. In each shot, I was listening for a voice. When I heard it, I amplified it with Photoshop filters and adjustments until I could hear the voice clearly.
Machinegun Point is one of my favourite shooting spots. I've never gotten an uninteresting image here. Every day it's different: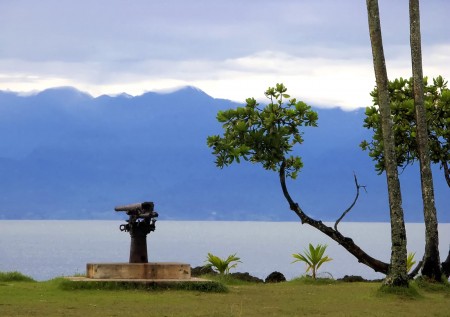 Further along I caught this group of early morning gawkers enjoying the view across Astrolabe Bay: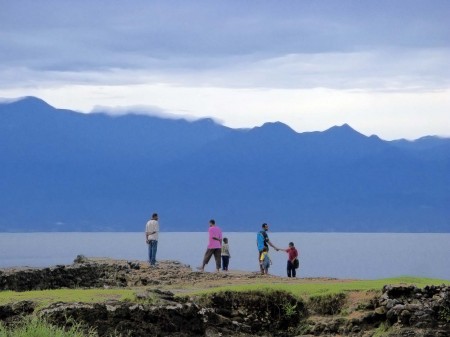 Shooting more toward East, I caught this pedestrian looking back over his shoulder at the insipid sunrise: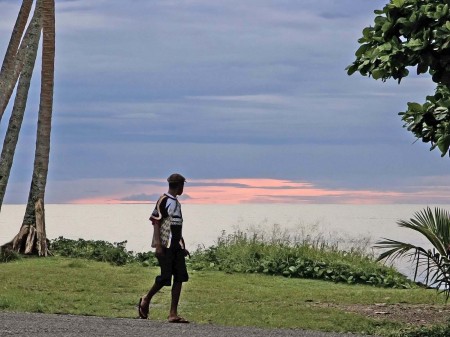 Up by the Coastwatchers Monument, two canoes drift on the calm waters of Astrolabe Bay: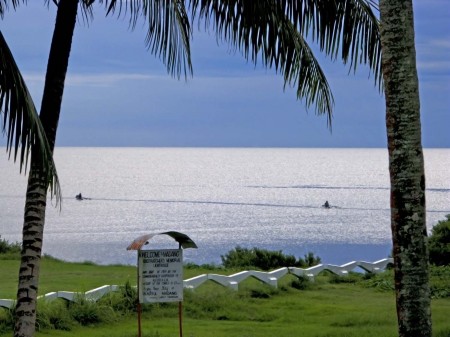 Looking back over my shoulder at the mountains again, I decided to pull into the Coastwatchers Hotel and walk up to the restaurant for a better angle: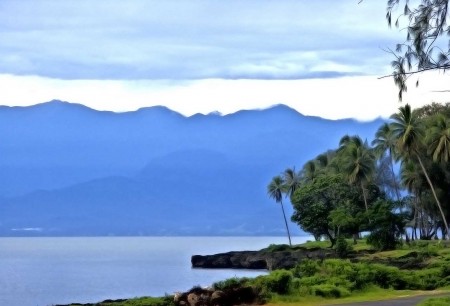 I particularly like the way the vegetation turned out in this image. I decided, after a few experiments, to abandon realism altogether and go for a lush look. If you click to enlarge and look at the vegetation, you'll see what I mean.
My little excursion this morning and the few minutes that I spent massaging the images set me up for the day and put me in a good mood.  When I'm bored or depressed (Eunie is in Port Moresby for a Chamber of Commerce meeting), a little Photoshop break cheers me up.
Tags:
astrolabe bay
,
finisterre mountains
,
voice