Posted in
Mixed Nuts
on April 2nd, 2009 by MadDog
Eunie left yesterday morning for Canada. I'm playing bachelor for a month until I fly over to join her. It's not much fun and it's not going to get any better. I hate being lonely.
So, on the way to work this morning, I cheered myself up by shooting some nice sunrise images. I cheer myself up even more by showing them to you.
It was rainy this morning until about 06:00. I got this image at about 06:15 from in front of my house: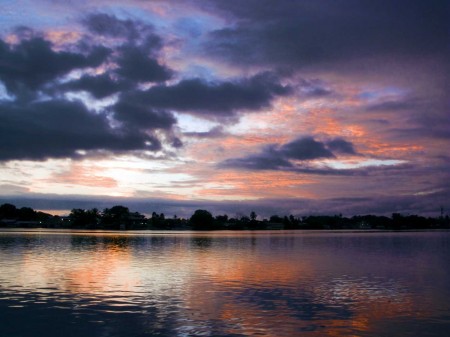 When I turned the corner to get off of Modilon Road onto Coronation Drive, I was completely blown away by this scene: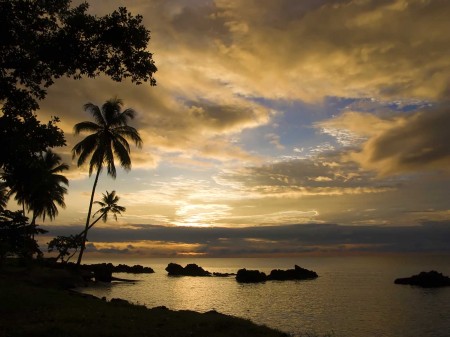 Does that scream, "Tropical Sunrise!" or what? I try not to overdo the saturation of the colours. Sometimes it's tempting, but when you give in, it looks fake. I pushed the saturation as hard as I dared on this one, though. The golden aura is just about what I saw with my eyes. When you put it in a digital image, you usually have to push the saturation a bit to make yourself happy that what you see on the screen is what you think you saw (or possibly what you might wish  that you saw) in reality.
It's interesting that if you stand in this spot, as I have done many times while observing the sunrise, and you turn yourself 90° to the right (facing South), you will see a completely different scene: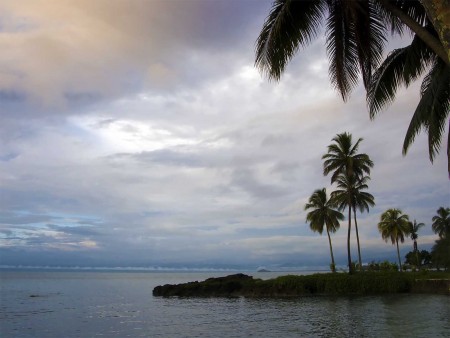 You can barely see a bit of the gold on the clouds at the upper left, but otherwise, there is no hint of the riot that is going on back in the East. The foothills of the Finisterre Mountains are barely visible in the distance.
Here is one of my favourite shooting spots. Just between the Country Club and the Coastwatchers Monument you can catch both the monument and Kar Kar Island  poking its dangerous head (active volcano) up above the trees on Kranket Island: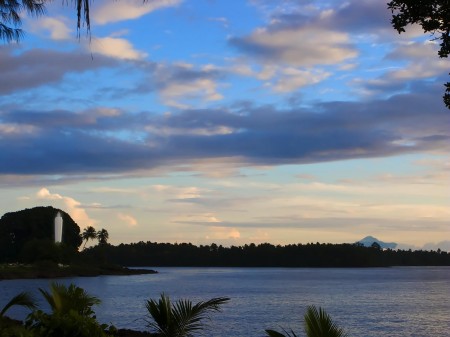 As I was coming over the little bridge next to the Memorial Lutheran Church, I got another chance at Kar Kar Island.  For this shot I was standing just at the edge of the inlet where Sir Peter Barter keeps his Kalibobo Spirit,  a luxurious motor yacht that travels all around the North Coast and elsewhere, I suppose. I've never had the pleasure of being aboard her, but from what I hear, I could live there quite comfortably. The view is great also. What more could you ask from a boat?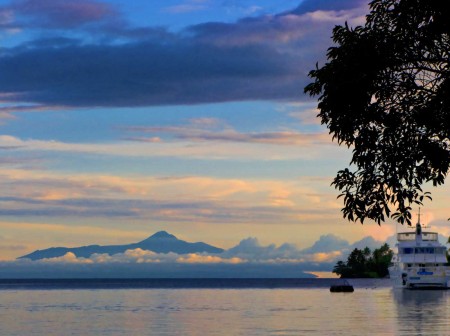 There . . .  I feel much better now.
Tags:
coastwatcher's monument
,
kalibobo spirit
,
kar kar island
,
sir peter barter
,
sunrise