Posted in
At Sea
on April 4th, 2009 by MadDog
The 34th Annual Game Fishing Association of Papua New Guinea National Titles is off and running this morning. Here is a shot of boats lined up at the Madang Game Fishing Club:



I ripped the shot above from the web site of Game Fishing Association of PNG. I don't think that they will mind, since I've been asked to be the photographer for the Madang GFA for the next week.
The boats are tricked out beautifully. Here are the rods and reels on two boats: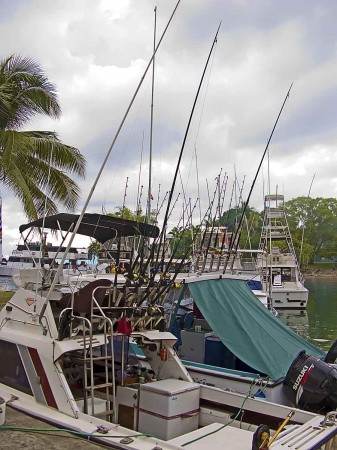 I can't help looking at the image above (the rods and reels)  and comparing it to my entire income for a year. It's not even close. I'll let you guess which is the winner. No, I'm not jealous – not much, anyway. Seriously though, people work hard here and take big risks. They deserve to blow a wad of cash on the things they enjoy. It's necessary to one's well-being in a place like this.
Just to show you how cheery I am this morning, here is what sunrise looked like in front of my house this morning. I predict calm seas and scattered rain showers for the first day of fishing. (Please don't quote me.)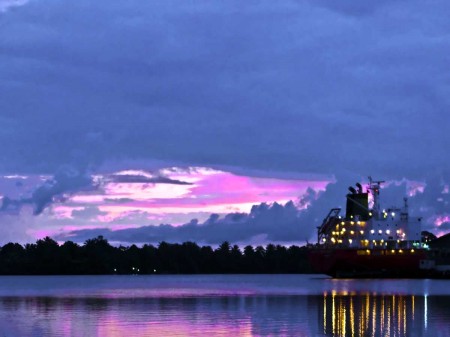 I'll be back tomorrow with photos of the catch of the day.
In case you are wondering:  Tag And Release is the name of the game for our fishermen. In general, unless a fish is fatally injured or clearly a possible record (or somebody wants to cook and eat it), then nearly all fish are tagged with a special marker that helps to collect data for research and released back into the sea.
Tags:
fishing
,
gfapng
,
madang
,
national titles