Posted in
At Sea
on April 5th, 2009 by MadDog
Saturday was the first day of fishing for the Game Fishing Association of Papua New Guinea's 34th Titles competition. It was, as I predicted, a day of calm seas and occasional rain showers. Lest you be misled that I am a meteorologist , I should mention that you could make that prediction at this time of the  year on any given day and have a 90% chance of being in the ball park.
The Madang Club was settled into the afternoon patiently awaiting the return of the fleet:

The action inside was fairly subdued by Madang Club standards: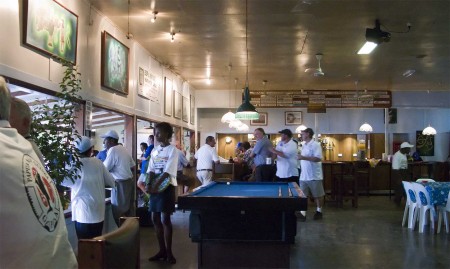 As the 18:30 deadline approached, boats were rushing in with only minutes to spare: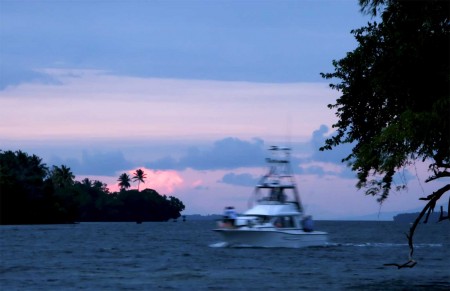 In the image above, I was using a long exposure to get a shot of the nice sunset-lit clouds and the islands. The boat came past my field of view and I thought to get the shot anyway. As it turns out, there is a nice speed-blur effect on the boat that tells the story for me. Sometimes photographers get lucky.
Here the Clan Cassell team shows off a tasty catch of Mackerel: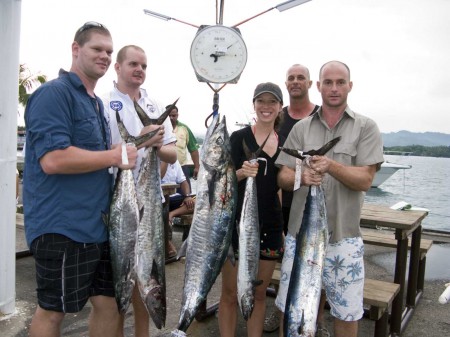 For my taste buds, fresh Mackerel cannot be surpassed. Yum, yum. Unfortunately all the fish were headed for the freezer. Maybe I'll get lucky later in the week and someone will toss me a fish to take home for dinner.  By the way, in case you're wondering, there won't be a single fish that was not put back into the water that will not be eaten by someone. Nothing goes to waste here for the sake of sport.
There are always jokers about. These clowns were passing off this Triggerfish as a point grabber. Better luck next time, fellows: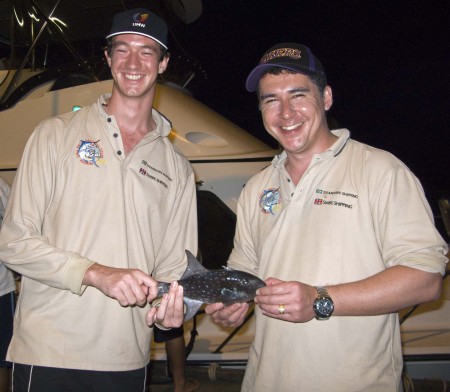 By 19:00 things were settled down and most folk were back in the club preparing for a good feed after a long day out fishing. Some call it work, others call it fun: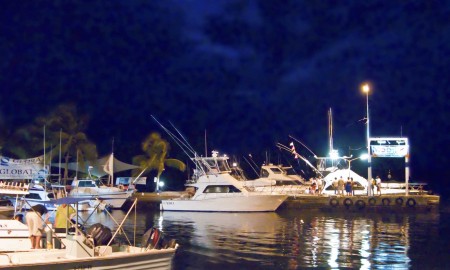 I'll be taking photos for the web site of the Game Fishing Association of Papua New Guinea each day of the Titles. I'll mix some of the images in with my daily posting as the week goes by.
It's nice to have something to take my mind off being lonely while Eunie is away.
Tags:
gfapng
,
mackerel
,
madang club
,
triggerfish