There being no fish yesterday evening at the weigh-in of the GFAPNG 2009 Titles worth taking a photo of, I'm free as a bird to write about whatever I please.
Today, the sky pleases me. We'll start with a pleasing error. A few mornings ago I was in my front yard taking a long exposure of the sunrise at about 05:30. If memory serves, it was about a ten second exposure. This is all well and good, except that I did not notice until after I clicked the shutter release that one of the game fishing boats was traversing my personal viewing area. The audacity! Anyway, you can see three or four streaks of light left on the exposure as the boat whizzed across the frame. You might have to click to enlarge: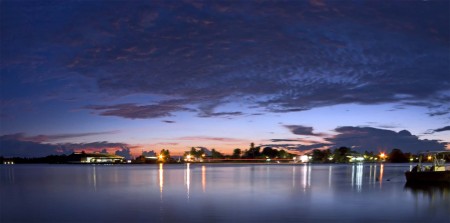 I call the next one Orange Soda Sky.  The reason seems  obvious. Assumptions can deceive. Yes, it is  orange. However, what you don't know is that I hate breakfast. Nevertheless, I need sugar to fuel my decrepit old body enough to carry it along until mid-morning. So, by filthy habit, I have a Fanta Orange Soda every morning for breakfast along with the handful of vitamins, minerals, an asprin, and Lord knows what else that Eunie gives me.

Green is my favourite colour, but orange gives me a buzz also. I've shown you orange soda sky, rainy orange sky, orange horizon sky, an orange lily. orange fish, orange vegetables, and a strange orange lichen on my coconut trees. I suppose you've had your fill of orange for a while.
Oh, sorry . . . one more:

I'll give you a break from orange now. This is more the Yellow-Orange that you'd find in a box of Crayola crayons.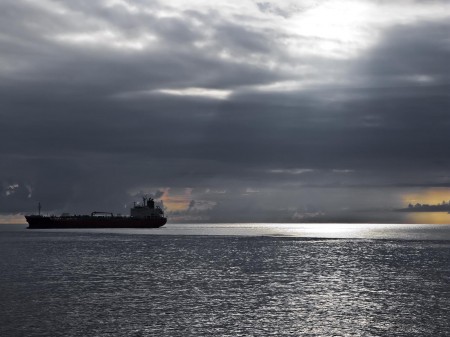 Lucky shot – that's what I call it. I snapped it on the way to work one morning. The ship is on its way to the main wharf in Madang Harbour.
I got this one at the Madang Club a couple of evenings ago while I was waiting for the game fishing boats to return: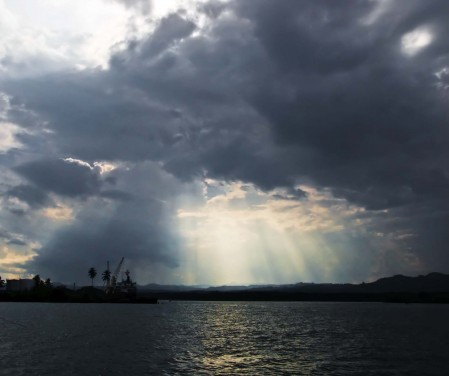 Hmmm . . . I seem to have run out of words. It's your lucky day.
Tags:
astrolabe bay
,
fishing boat
,
madang harbour
,
orange soda
,
ship
,
sunrise