Posted in
At Sea
on April 12th, 2009 by MadDog
I need to get my mind off of fishing now. It's time to get back to what passes for normal. I confess that I really don't much care for fishing. I like to eat fresh fish. I don't mind catching a fish. But, day after day in the hot sun on a boat waiting for a fish to behave so stupidly as to impale itself on my hook is not my idea of fun. I'll do my fishing underwater with a camera, thank you.
It's not that i don't like fisherfolk. They are lots of fun to hang around. I suppose I'm a fishing groupie.
So, on the way back to normality, here's an image of the Finisterre Mountains  as seen from Faded Glory: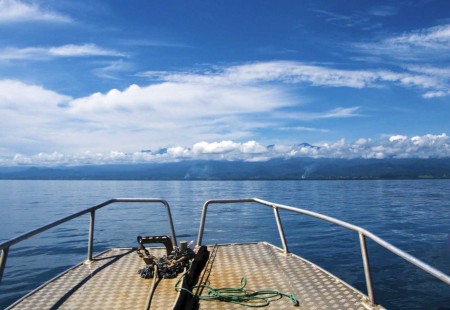 The coast along this area is spectacular – white sand beaches, rocky beaches, black volcanic sand beaches, cliffs, rainforest, towering blue mountains in the distance – how difficult are you to please? We've got it all. There was a spectacular bush fire that burned all day. we could see if from twenty kilometres: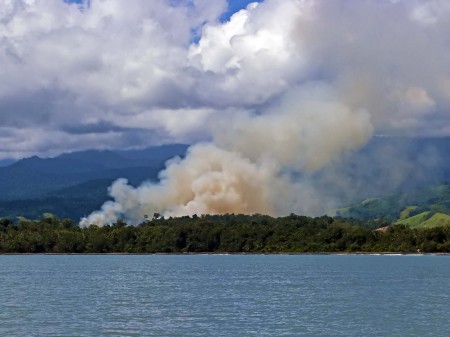 Yesterday morning, when I left Rooke's Marine after fueling up, the sky was on fire: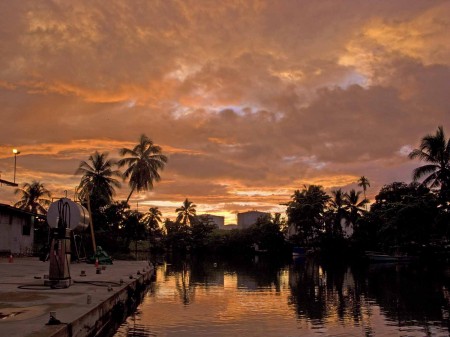 Now we've come full circle back to the usual fare of Madang – Ples Bilong Mi  – playing with images and making a general fool of myself. I believe that I'm safest when I do what I do best: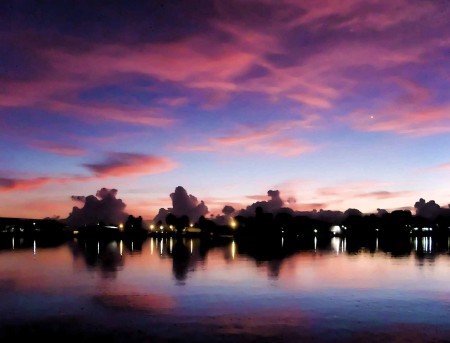 What I do best is create the kind of ridiculous images that one might find at Woollies (That's Woolworths for Yanks) in a cheap frame for ten bucks. The image above is a faux  watercolour of a sunrise at my house (yes, the sun rises and sets over my house – the true Centre of the Universe). It's titled MadDog Sunrise with Star. Click on it if you crave nausea.
Tags:
bush fire
,
finisterre mountains
,
rooke's marine
,
star
,
sunrise