Posted in
Mixed Nuts
,
Photography Tricks
on April 19th, 2009 by MadDog
Some of greatest enjoyment that I get from working with images comes from the minutes that I work on an image that I was just about to delete. As my finger hovers over the DELETE key, I make a final judgement. I'm a merciful kind of guy, possibly too much so. Today I'll show you some recent images that I nearly deleted. Each had a tragic flaw that I had to somehow overcome. Some attempts were more successful than others.
I'll start with the worst failure. I simply could not delete this image taken from the top of Nob Nob Mountain. It faintly shows the Finisterre Mountains at the right and an Air Niugini jet taking off from Madang on the left. But the colours were impossible. So, I pretend that it's grey and rainy in the distance. It doesn't work for me: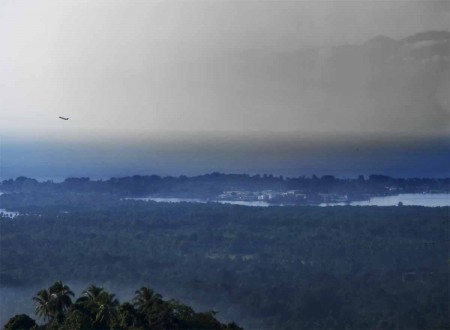 Points = zero.
This one, taken from a different position is a bit better. You can see Madang, the rugged mountains in the foreground, and the Finisterre Range again on the right: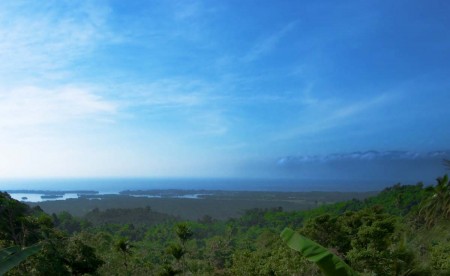 A few points, maybe. At least it doesn't look too fake.
This one is looking North-east from the top of Nob Nob Mountain. This image pleases me more. It looks natural and the sun is playing beautifully with the water way out on Astrolabe Bay: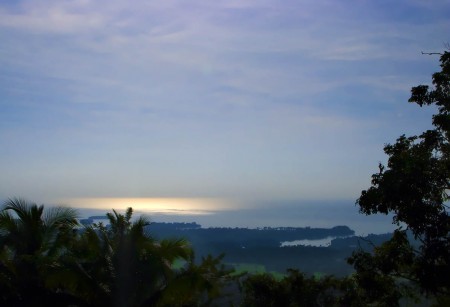 The next one nearly got the chop because I didn't think that the house would be visible enough to tell the story. It was taken at max zoom on my Canon G-9, which it nothing to talk about. It's a little wimpy. The house was about three kilometres away. Still (if you click to enlarge) the image does tell the story of rural life in Papua New Guinea. A surprising percentage of the population lives in just such relatively isolated places: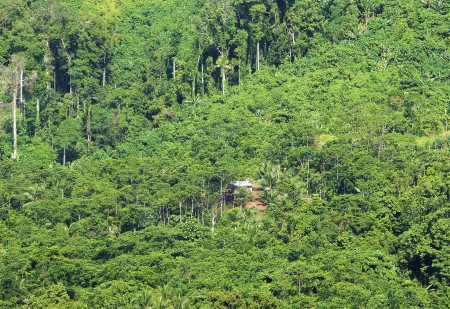 I didn't like the strong shadows in the next one, though the image was too endearing to delete. A few minutes of adjusting brightness and saturation in selected areas of the image pulls the eye away from the dark blob of the woman's shirt and allows the mind's focus to shift to the child, the bright clothing and the chuckling stream: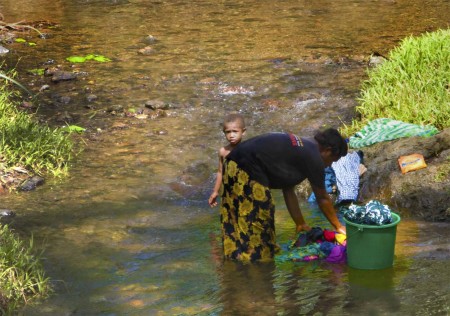 The image above makes good use of the Rule of Thirds. As it turns out, it's my favourite of the bunch.
The last image seemed hopeless. The area around the house was nearly blacked out. I pulled it up with the Photoshop Shadows/Highlight filter, but that usually gives the image a strange flat look if you overdo it. So, I decided to turn it into art instead of a photo: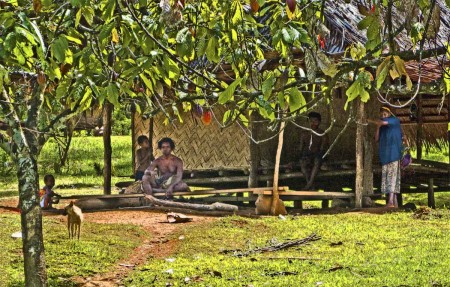 Judicious application of the Stroked Edges filter allowed for the salvation of this image. It will never hang in a museum, but it's art, nevertheless.
At least, according to the MadDog definition.
Tags:
air niugini
,
astrolabe bay
,
finisterre mountains
,
nob nob mountain