Posted in
Book Reports
,
Mixed Nuts
on April 20th, 2009 by MadDog
Frequent readers will know our buddy Mike Wolfe. Mike works for World Vision, a faith-based NGO. He's a water and sanitation technical adviser in Papua New Guinea, Solomon Islands and Vanuatu. Mike is one of those strangely deranged people that, for no explicable reason, wander around the world doing things that seem to need to be done. He doesn't get paid much for it and sometimes the conditions are less than the Paradise that he experienced while living in Madang. For an example of what Mike is all about, have a read of Jesus Wants You to Build a Toilet.
Mike maintains an absolutely stunning blog called Wanderlust. The photography is impeccable (and moving in a way that makes me green with envy) and the prose is emotionally charged without being overly sentimental. If you haven't been there, take the trip — and I do mean it's a trip, man.  UPDATE:  Whoops!  That blog belongs to Tristan, another dive buddy. I always get Tris and Mike mixed up. Call it creeping senility. Sorry, Tris, for giving your blog away to Mike. See the comment below by Tris. I think that he was very restrained.
Well, young Mike has up and got himself hitched. And, from what I gather, his bride, Lisa McKay is quite a catch.  Here's her LinkedIn summary:
Australian forensic psychologist specialising in stress and trauma issues related to humanitarian relief and development work. Directs the Headington Institute's training and education program which involves national and international travel to deliver training workshops and consultation services, as well as writing training and education materials for humanitarian workers and mental health professionals.
Hmmm . . . a very busy young lady, I'd say.  Here's the flower-strewn path shot from their wedding: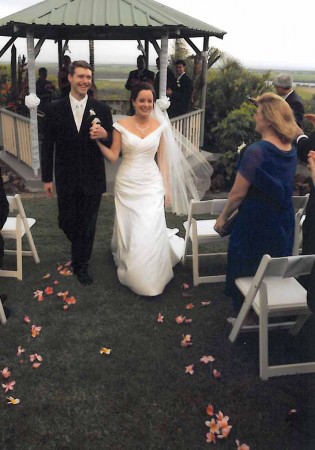 And a little smooch: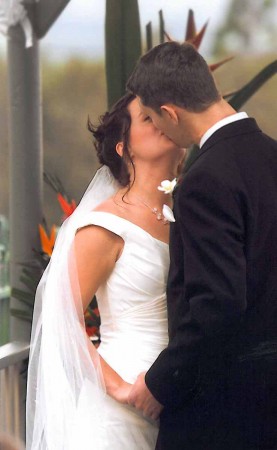 Plus the obligatory walk on the beach: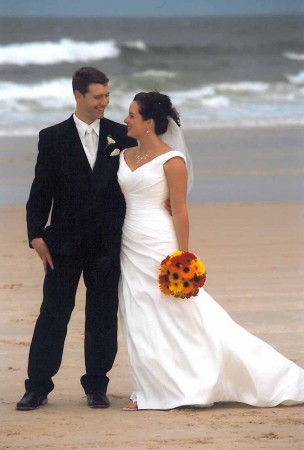 A classy couple.
Lisa has other talents. She is an author. Her first book was published in 2007  —My Hands Came Away Red: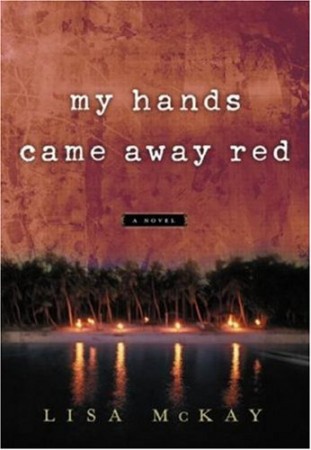 Mike gave me an autographed copy of Lisa's book recently. My excuse for not reading it yet is lame. I have three magazine articles to finish before I leave in a little over a week and I'm feeling slothful, always a bad omen. I'm going to take it with me to keep me amused as I work my way half way around the world to Canada.
I'm not usually a reader of "Christian Literature."  I know that there are excellent authors out there, but most of what I have read gives me the creepy feeling that the writer is desperately trying to sell me something that I've already bought. Either that or I'm being constantly reassured that what I believe is okay to believe. Hey, I choose to believe it. I'm not forced to believe it. I don't need to be reassured that it's okay or that I'm not some kind of weirdo for being a believer.
I'm anxious to see if Lisa can give me a good buzz without putting me off. From the reviews that I've read, I think that she'll get the job done.
Tags:
lisa mckay
,
mike wolfe
,
my hands came away red