I feel in good humour today, possibly even humorous. That remains to be seen. It will only be about ten or eleven days, depending on the vagaries of international air travel, until I'll be with my woman again in Canada. It's good to be with your woman. It's good to be in Canada (but even better with my woman). Eunie will be heading north from Illinois in a couple of days.
One thing that I'm not looking froward to is being cold. I hate being cold. I suppose that is one reason why Madang is so agreeable to me. I hardly ever catch a cold here. Catching a cold can be a very unpleasant experience; just ask William Henry Harrison, my favourite president. The only time I shiver is when I'm coming down with a dose of malaria. That's no fun, but it doesn't happen often. The other pleasantries of life in a tropical paradise compensate for the occasional possibly fatal disease. One learns to live with it. Disease, pestilence, crime, volcanoes, earthquakes . . . these are but the pesky flies buzzing around our eternal picnic here in Madang, the heart of Paradise.
Anyway, when I got up this morning, the sunrise was ho-hum. I took its picture regardless. Here's what it looked like at our house this morning at 06:00:

You can click on it to get a bigger view. The shot covers about 180° and is made up of eleven frames. The JPG file is 25 megabytes! You are looking at a scaled-down version. If you had the full-sized version and looked very closely you could see this: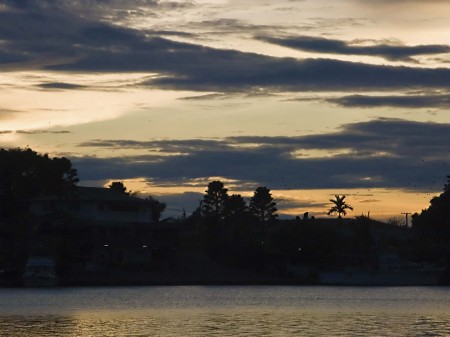 Click on the image to enlarge it and look to the right of the coconut tree. About a kilometre from my house, across the harbour you can see some flying foxes milling about in the sky before setting down to rest in the trees of town for the day. Stay out all night and party. Sleep all day. Those flying foxes have got it down to a science.
On the way to work I stopped on Coronation Drive to shoot the Finisterre Mountains: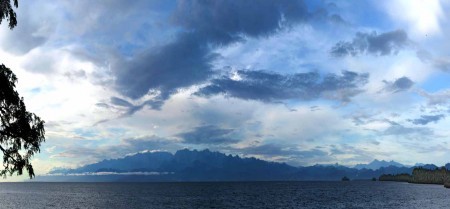 When I began playing with this image, ten frames combined into one panorama, I was simply not satisfied to leave it alone. Hmmm. . . I wonder how big they would look if they were twice as high? A few mouse clicks later and we how have what could easily be taken for the home of King Kong: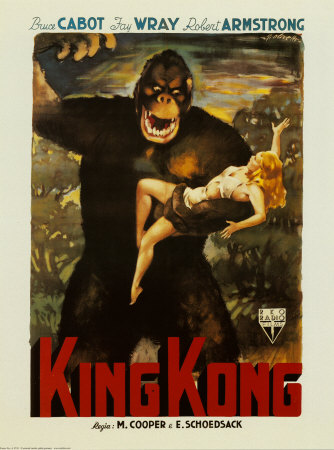 By the way, did you know that you can get a full-colour
paper model of the Empire State Building
for just a few bucks. Just the thing for your model King Kong to play with. I couldn't find any paper models of Fay Wray. Tags:
empire state building
,
fay wray
,
finisterre mountains
,
flying fox
,
king kong
,
sunrise