It has been a few weeks since I've been out diving. The weather has been miserable and nobody is motivated to go out in the rain. Yesterday, however, I did get lucky and had two divers and a snorkeler on the boat. We went to the south end of Leper Island.
I thought that I had my camera fixed, but it still locks up when I go deeper than about five metres. I think that I know how to fix it now, but I can't be bothered to work on it because I'll be winging off to Port Moresby and Brisbane on Wednesday (yikes, only two days away!). I'm going to try to post every day, but it may not be possible. If I go missing for a day or two, I'm not dead (probably), I'm just on the road.
I'll show you a few shots that I did manage to get on Saturday, even though all I could do with my camera was press the shutter release. Here is a small school of Blue and Yellow Fusiliers (Caesio teres):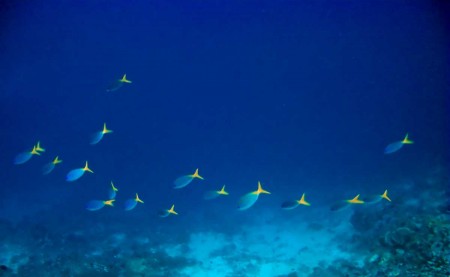 It's not a particularly good shot, but the pattern of their bright yellow tails scattered across the image is amusing. I have another image of this fish in A Nasty Customer and Fancy Pants.
These Bblackspot Snappers (Lutjanus ehrenbergii) swam past in a constant stream for two or three minutes. There must have been thousands of them: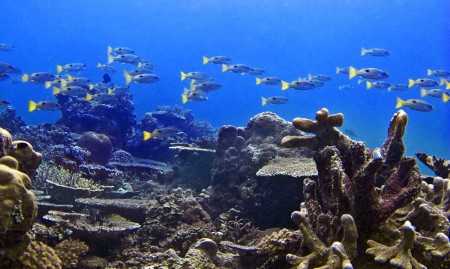 The water on the surface was quite cold, at least by our standards. It was raining a little and the wind was picking up. It was a delicious experience to dive down under the cold fresh river water on top into the wonderfully warm water below. Our average water temperature down as far as you dare to go is between 28 and 29° C (82-84°F).
I'll finish up today with a nice little shot of a small mob of female Purple Antheas (Psudanthias tuka):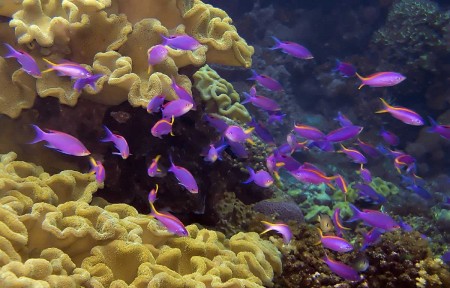 The Antheas are among my favourites in the category of small fish. There are a multitude of varieties here. They float like clouds of jewels over the coral.
I will probably have one or two more posts before I'll be reporting from Brisbane.
G'day, mate.
Tags:
blackspot snapper
,
blue and yellow fusilier
,
caesio teres
,
lutjanus ehrenbergii
,
psudanthias tuka
,
purple anthea