Up until about a month ago, I had no idea that I'd be heading back to North America this year. I was not scheduled to leave Papua New Guinea again until 2012. Anyway, Eunie got a free ride this time because she's going to represent the PNG branch of our organisation at our international office for a board meeting in Dallas. So, since Qantas had a ridiculously cheap return fare offered at A$1,000 to New York, I decided to spring for it and avoid six additional weeks of loneliness and weight loss. (I've lost a half-kilo a week since she's been gone. What does that say about me? One thing that comes to mind is that I'm too lazy to eat when left on my own. That could eventually be fatal.)
So, on Wednesday morning, I'll be off at 06:00 to here: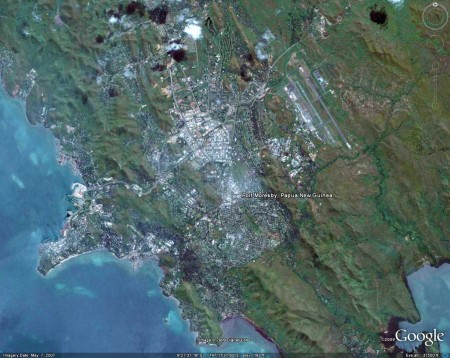 That's Port Moresby, in case you didn't notice.  It's the capital of Papua New Guinea and it costs almost as much to get from Madang to Port Moresby as it does to travel from Brisbane to New York. This is one of the great shames of our wonderful nation. You can hardly go anywhere in PNG without travelling by air. Air Niugini has a strangle-hold on traffic within the country. I'll have more to say about that someday, but now I'm just to antsy to concentrate.
The next stop will be here: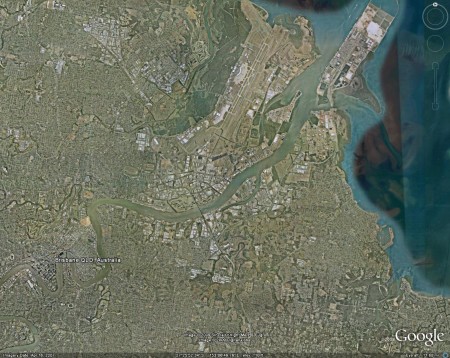 That's Brisbane in Queensland, Australia.  I'll be spending three days and two nights there. A friend is coming up to Brisbane to meet me. We're both camera freaks, so we'll spend most of our time hustling around grabbing images. I hope to have a couple of interesting posts from Brisbane.
The next stop will be San Francisco, but only to change planes. I'd like to visit there for a few days some time. Then it's on to New York City where I'll spend two nights.
Two nights in New York City – big deal, eh? Well, not exactly. Eunie books my travel because she likes doing it, and she's very good at it. She hands me an itinerary, tickets, passport, visas, etc, and off I go.  I asked her to book me 'some place interesting' in New York City. She did. She booked me into a bed and breakfast in Harlem. Now, if you don't know about Harlem, then Google it. Let's just say that I'm looking forward with mild anxiety to an interesting two days and nights. I'm sure that I'll have some tasty posts from there.
Then, it's off to Buffalo, NY where I'll meet Eunie for the drive to Hamilton, Ontario.
I may drop off the calendar for a day or two, but I'LL BE BACK. I'm The Travelator.
Tags:
brisbane
,
harlem
,
port moresby