Posted in
On Tthe Road
on May 1st, 2009 by MadDog
This is my last day in Brisbane. It's been very enjoyable, but it feels very cold here to me. I don't know what I'm going to when I get to Canada – buy some warm clothes at the Salvation Army and then give them away before I leave sounds like an option.
Brisbane is a very beautiful city with a lot of different spaces. There are old neighborhoods packed with lovely old-style Queensland houses, waterfronts everywhere, and the city centre sparkles with glassy skyscrapers. At night, it's a delight.
We'll start off with lunch. Here was my lunch yesterday – fish and chips – the best I've ever had. I don't know what kind of fish it was, but it was absolutely perfect. Of course there was far, far too much food on the plate, but that seems to be a symptom a serious eating disorder that is becoming the norm in mst of the western world. I'm talking about the habit of eating until one feels full.  I'll go into that another day, when I'm not feeling so cheerful.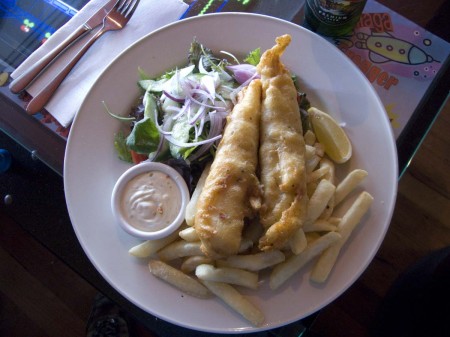 I ate all of the delicious fish and a few chips, pecked at the salad and left the rest.
Our long-time friend Val Jerram is escorting me around Brisbane. She particularly wanted me to see this remarkable wooden statue of Sister Mary MacKillop located right in the centre of the city at St. Stephen's Chapel. It's all carved from one huge tree. It is about three or four metres tall: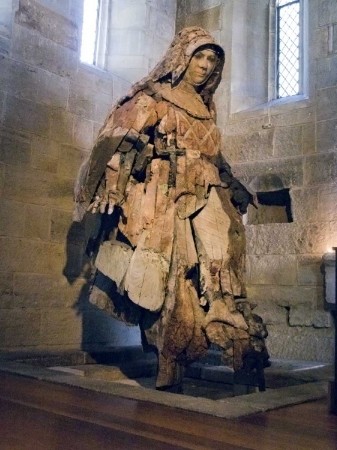 Sister Mary lived from 1842 until 1909. Her vocation was primarily as an educator. Val told me that Sister Mary is the first Australian Saint. One of the hands of the statue is missing because some clown knocked it off. What can one say about that? Some things that people do are simply too dumb for words.
Here's my last offering of Brisbane for now. I got this shot from one of the little ferry boats. It is actually pretty horrible – it was full of noise: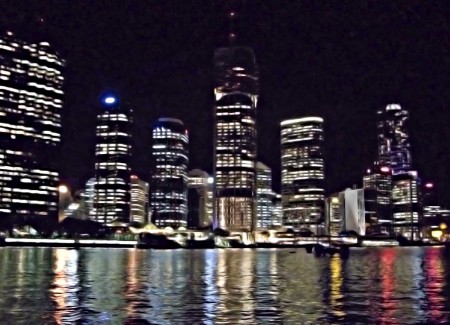 I had to turn into a bit of fake watercolour art. Photographically, it stinks, but I like the colours on the water.
My next post will probably not be for a day or so because of the lengthy, boring, thoroughly detestable flight from Brisbane to New York City.
Stay cool.
Tags:
brisbane
,
chicago
,
fish and chips
,
mary mackillop