Posted in
On Tthe Road
on May 4th, 2009 by MadDog
It feels cold here in Hamilton, but people are walking around the streets in shirtsleves.
I'm sitting here with the thermostat turned up high in our hotel room thinking about images that I've taken along the way from Madang to Hamilton, Ontario. I thumbed through them and found four that amuse me enough to show to you. I'm sipping a very nice Rickard's  Red. I highly recommend it.
I like snapping through an airplane window, if it's clean enough to get decent shots. I got lucky when I left Madang on one of Air Niugini's F-100's with reasonably clean windows. Here's a pretty shot of the morning sun on the clouds: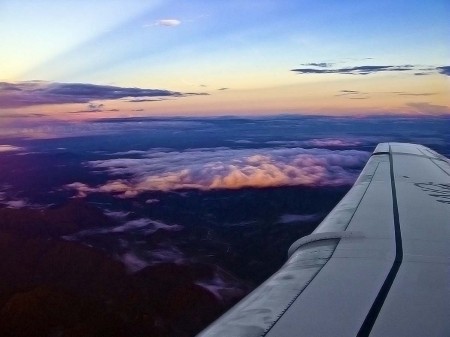 We're always close to Mount Wilhelm (highest mountain in Papua New Guinea) on that route, but one can seldom see it except on the earliest flight. This is the best view that I've had: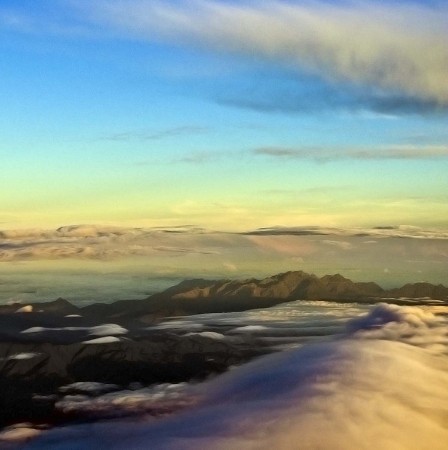 I'm hoping to go to Mount Wilhelm in October take shots of a guy who's planning to paraglide off of the top of it. I hope to get a couple of magazine articles out of that trip. All this assumes that I can actually climb up there.
Here is another image of The Wheel of Brisbane: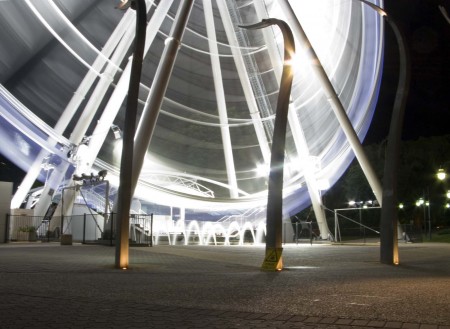 It doesn't actually go as fast as the image suggests. That's a fifteen second exposure.
To finish up, this is Los Angeles at night from the Qantas flight: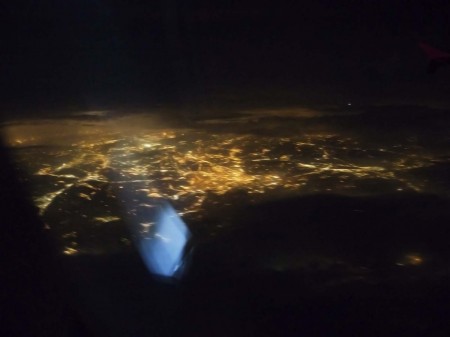 Photographically speaking, it's horrible, however, I couldn't bear to erase it. So, I cleaned it up and stuck it here for you to critique. The blue streak is not a flying saucer – I think. It seems to be a reflection from lighting inside the cabin.
Tags:
brisbane
,
hamilton ontario
,
los angeles
,
mount wilhelm
,
new york city
,
wheel of brisbane