Posted in
On Tthe Road
on May 10th, 2009 by MadDog
I'm dead tired tonight. We went down to Niagara Falls today with our friend Brenda. I'm going to show you a few shots from my new Olympus SP-590UZ camera. It has a 26x optical zoom. I was sceptical of this when I bought the camera, but I refuse to spend the kind of money it takes to get an SLR and two or three lenses. The Olympus has good wide-angle capabilities and this fantastic, sharp zoom that is the equivalent of nearly 700mm on a standard 35mm camera. That's a lot of zoom.  Here is a shot of part of Fort Niagara taken from the Canadian side at a distance of about two kilometres: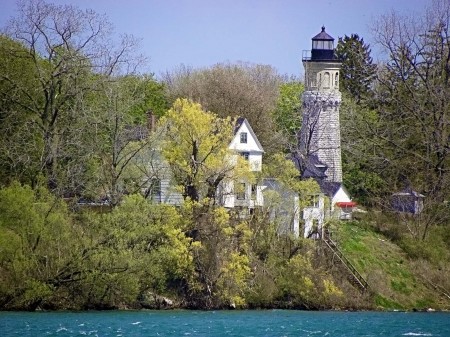 I wish I could easily show you the original shot. If you click to enlarge, you can see two birds flying around the top of the tower. That's a fairly fantastic zoom lens. The shot is full frame. I've done no cropping or enlarging. The original is sharper yet. The file is over 12MB, so I can't show you how incredibly detailed it is. The JPEG compression here has wiped out a lot of detail, but you can still get the idea of how great this lens is. To top it off, this camera sells for about US$400!
Here's a beautiful, clean, well exposed shot of Eunie and Brenda in a restaurant with the Canadian falls in the background. I did have to make some minor adjustments to the exposure in the foreground and background to get it just the way I wanted it, but the image was fine right out of the camera for a vacation snapshot. I used fill flash: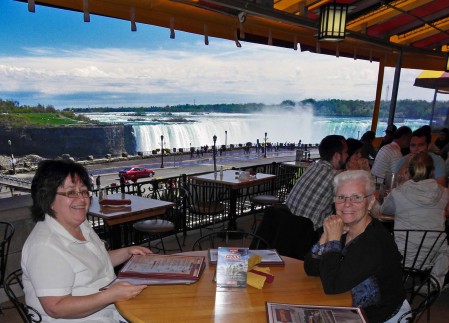 Here is a rather unremarkable shot of the Canadian falls. Nothing fancy, but a nice tourist image: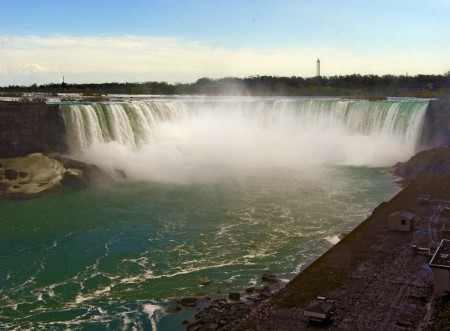 And here is the American falls with the Maid of the Mist chugging past: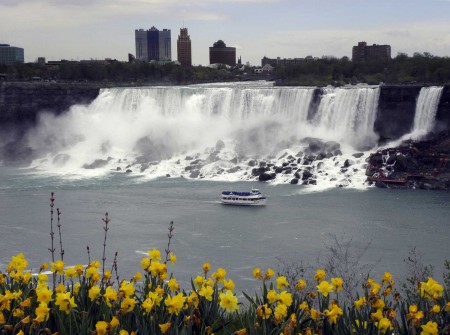 I really like this next shot. It's another one that shows the quality of the zoom lens on the SP-590: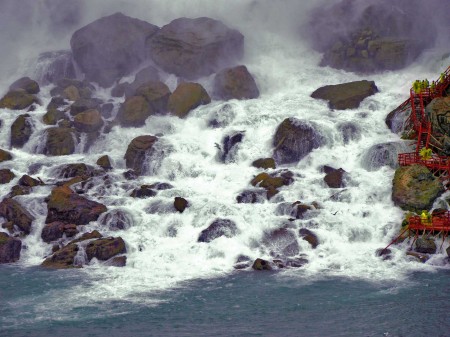 It was captured on the Canadian side looking at the American falls across the river. You could just barely make out the stairway with the naked eye. The image detail is excellent. The people on the walkways are clear and clean at the edges. The detail in the water is excellent. If you click to enlarge and look around a bit you will see three seagulls flying around. I can't wait to get this camera out somehwere to give it a really good workout.
But, now I'm going to bed.
Tags:
fort niagara
,
niagara falls
,
olympus SP-590uz