Posted in
Mixed Nuts
on May 11th, 2009 by MadDog
It was way too cold to go waterfall hunting today — Hamilton is supposed to have over a hundred. So, I decided to bite the bullet and do some overdue computer maintenance.
I don't often write computer geeky posts, because I have to work with the stupid stuff every day. I'm sure it bores you as much as it does me. My main job is as an IT Manager. I'm sick of it. You lookin' for work – in a tropical paradise? Email me. You can have my job, but you have to find your own house. I'm not giving mine up.
However, when Microsoft comes through with a new version of Windows, the world holds its breath. Okay, okay, maybe that's a bit of hyperbole, but it is  a big deal.  The big question is, are they going to mess up big time again? Their flop history is the stuff of urban legend. Windows ME was a cruel joke. Vista is (please excuse the indelicacy) a painted whore.
I've been using Windows 7 since the first public beta version. For a beta, it has been extremely satisfying, despite a few user interface puzzles. I have never had a single program crash or Blue Screen of Death.
Today I downloaded the 64 bit version of the Release Candidate (that's essentially the same software that will be sold to the public, or so the plan says) and installed it on my old Toshiba Satellite A-215. I had to back everything up so I could start from a blank hard disk drive, but the Easy Transfer facility in Vista made that fairly painless. I then burned the ISO file to a DVD, slapped it into the slot, rebooted, and held my breath.
In a surprisingly short time, without a single glitch, I now have this: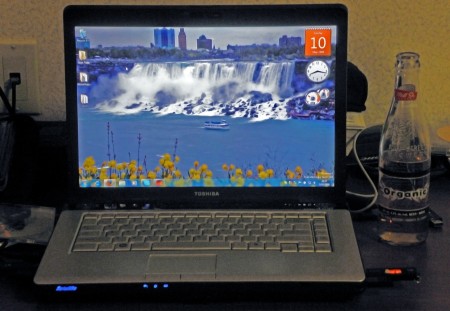 An old Toshiba that runs much faster than it ever dreamed it could. I won't bore you with technical details. You could look up the model number if you wanted to. The desktop background is one of the shots that I got yesterday at Niagara Falls. The bottle is Mill Street Brewery's Original Organic Lager, not a bad sip, if a little on the light side for my taste.
Not a bad day's work, eh?
Tags:
windows 7