Posted in
On Tthe Road
on May 14th, 2009 by MadDog
I'm going to have to get out of the neighbourhood and roam a bit. We went shopping for a new pair of Timberland boots today. No luck – they only have them in stock in the fall for some strange reason. I'll have to try when I get to Sedona.
So, for today, it's back to Victory Park, a lovely, compact community commons in the centre of the city.
At the base of the statue of Victoria is one the finest of the classic regal lions that I have seen: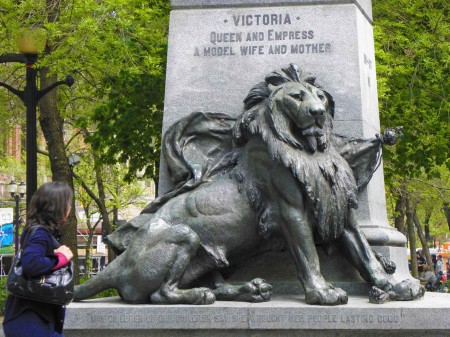 And here is the great lady: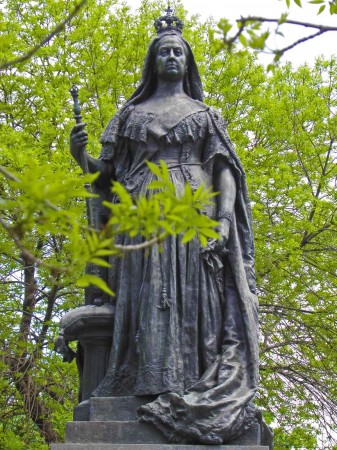 The modest fountain in the centre of the park is a magical setting to exercise a long zoom lens. The flying rats are always cooperative: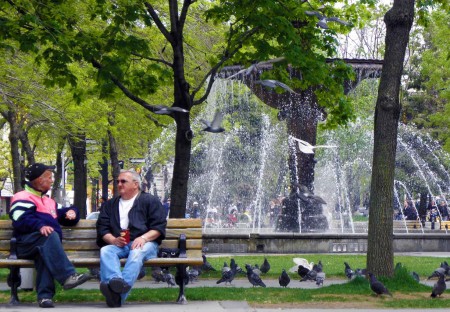 Remember, while in Canada we are always playing the "Spot the Tim Hortons Coffee Cup" game.
It won't be so difficult in this image: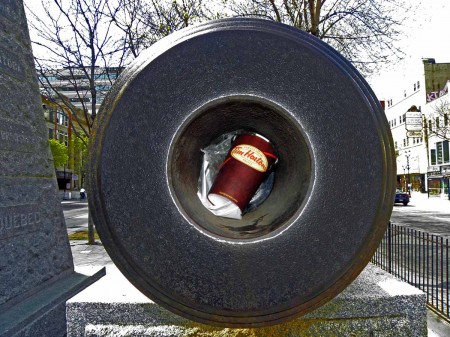 There are, of course, the obligatory canons in the park. They make convenient trash receptacles.
We've spent much of our day communicating with a young teacher at the school in Toledo, Ohio which has been locked down because a teenage boy who aledgedly wrote threats to teachers and pupils in his diary has been missing and presumed to have in his possession a gun. It also appeared that he had stolen a vehicle. The school was closed and threatened persons taken to safe places until the mystery could be solved. We just received word from her that the boy has been arrested in Tennessee.
Many innocent people will sleep easier tonight and there is hope now for healing for the boy. Blessedly, tragedy has been averted.
Until the next time.
Tags:
hamilton ontario
,
lion
,
pigeons
,
queen victoria
,
tim hortons
,
victoria park