I naturally gravitate to funky little joints with lots of character. Rebel's Rock Irish Pub in Hamilton, Ontario is just such a place: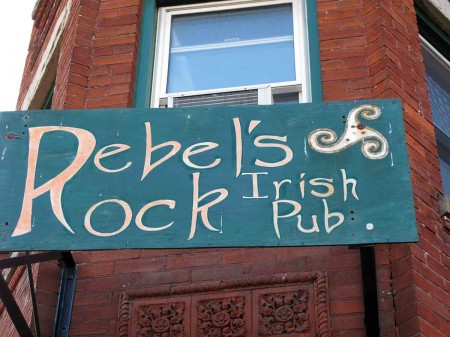 We enjoyed Rebel's Rock a year ago when we were in Hamilton for a while visiting our son and his family.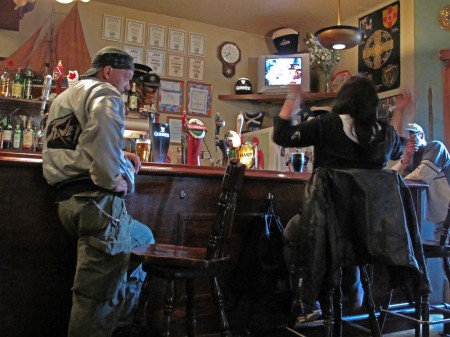 Last year I was shooting with a Canon G9. This year, for this post, I'm using my new Canon G10, a superb point-and-shoot camera. It has better noise characteristics at low light levels using high ISO values (1600 in the case of these shots). As the G9 was very noisy at 1600, the G10 is less so. The G10 is also far less noisy than my new Olympus SP590UZ, but has only a 5x optical zoom, compared to 26x for the Olympus. As is my habit, I used the excellent NoiseNinja Pro filter for Photoshop to clean up the noise.
Essentially, I now have two cameras that together set me back about US$800 that will, taken as a team, outperform one Single Lens Reflex camera with two separate lenses. One would have to spend far more for an SLR with lenses of similar capability and you'd still have only one camera. I like the safety factor of having multiple low cost cameras with complimentary capabilities. It also eliminates completely the possibility of getting gunk on the sensor during a lens change, as these cameras are completely sealed.
Sometime soon I'm going to write a post titled "Why You (Probably) Don't Want an SLR."
At Rebel's Rock, you never know when someone will pick up an instrument and start playing: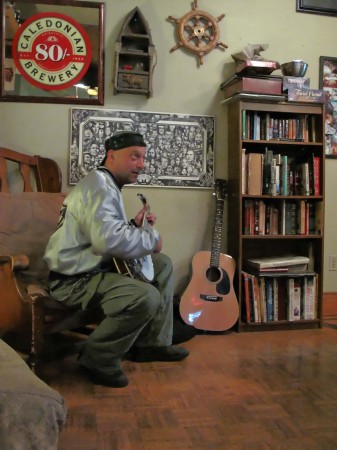 We enjoyed good food and good company consisting of our son, Hans, one of his workmates, Sheila, and our friend, Brenda. I also rather too much enjoyed four pints of
Steam Whistle
pilsner beer, a very tasty brew, indeed.
Our entertainment for the evening was a local musician, Bill Becker: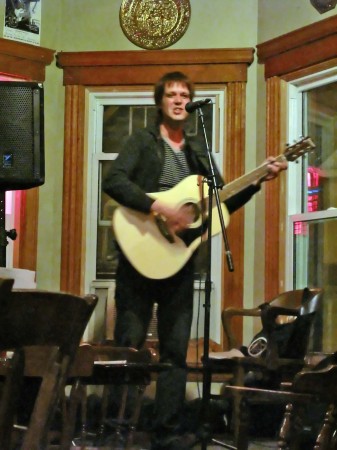 My keywords for Bill would be talented, unassuming, eclectic, and brave. It takes a certain kind of entertainer to work a small room where a lot of other things are going on and not seem hurt that people sometimes seem not to be paying much attention. He pulled it off nicely, providing a pleasing and energetic background and often grabbing the room when the opportunity arose. He reduced me to tears with his excellent rendition of
Pink FLoyd's
Wish You Were Here
.
If you're ever in Hamilton, a struggling steel town that approaches the culturally surreal, pop into Rebel's Rock for a break from the humdrum.
Tags:
canon g-10
,
hamilton ontario
,
irish pub
,
olympus SP-590uz
,
rebel's rock