Cute little short posts aren't my style, but I must show you this shot taken yesterday by our friend Ron Barrons while we were out waterfall hunting. Ron and Eunie remarked to me (more like a complaint) that they wished that I'd stay on the paths. I didn't know why they were so concerned until I saw this: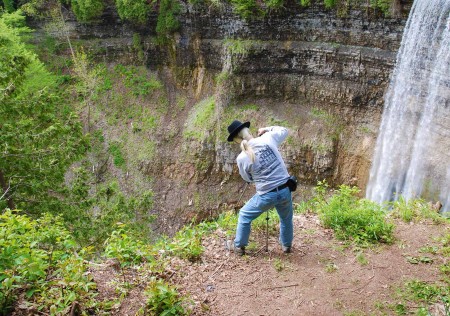 I'm standing a half metre from a fifty metre drop striaght down. I was being careful, because I'm not a complete idiot. Also it didn't seem nearly as scary to me as it did to Ron and Eunie. I did remind myself several times that if my tripod and camera went tumbling over the edge, it would not be wise to grab for it.
At one point I heard Ron remarking rather too loudly that some kid had been snatched up out of the bottom after he jumped to catch a frisbee. I though to myself, "Hey, I'm not that stupid."
Or am I?
Tags:
hamilton ontario
,
waterfall