Eunie is packing up for our road trip to Buffalo where we'll stay overnight and rise early for our flight to Chicago, from where we will take the Amtrack to Springfield (NOT the one that is the home of the Simpsons, but it might as well be).
Please notice that I said that Eunie is packing. I've learned from bitter experience  that packing is woman's work. (You lovely, sweet feminists out there, I beg your mercy. I love you. Women are MUCH more equal than I. I bow in humble respect to you and kiss your precious feet.) I only pack if I'm going somewhere by myself and I'd feel ashamed to ask my wife to pack for me (though I'd be infinitely more likely to have everything I need). A man who is wise enough (I'm old; I know stuff.) to allow his woman to pack reserves for himself the privilege to think of, but never mention, those item which have been inadvertently left behind.
So, I'm taking a few minutes to post some images that I snatched from the Ontario Royal Botanical Gardens. These are only a few. I'll bore you senseless later with others of my choosing. There's nothing sadder than an old man chaining you to a chair to show you his flower pictures.
About the only botanicals that were in abundance this time of year were lilacs and tulips. Lilacs get up my nose. I do like tulips, but the rank Dutchiness of the Hamilton area guarantees that you'll come away in the spring moaning, "Erp!, Too Many Tulips!" to the accompaniment of a soft belch.
Nevertheless, let us press on with simulated bravado. Somebody has to look at these things and it might as well be us: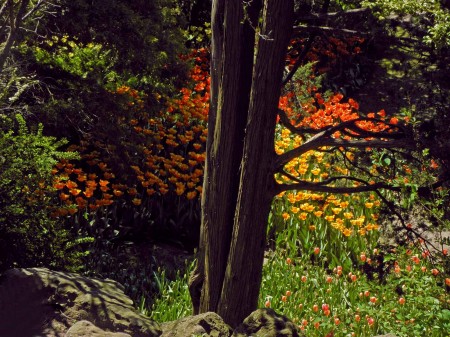 The trees splitting the scene above is a nice compositional touch. If I had any artistic talent, that's the way I'd paint it.
This is my favourite shot of the day. A long zoom lens can give you the eyes of an eagle: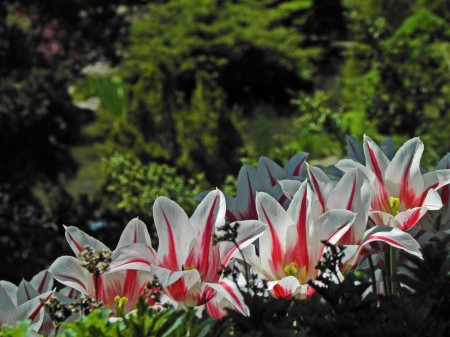 I was about ten metres from the tulips. The backgound was about a hundred metres away. I really wanted to clear out the little spindly bits in front of the tulips, but I was afraid that I'd get caught by one of the highly dedicated groundskeepers scurring about in their tiny little pickup trucks.
I call this one a 'calendar shot'. I'm not knocking calendar images. We have to have something to cover up those rusty refrigerator doors. I'm going to have to start doing calendars myself soon, if I'm going to help Eunie keep food on the table. Most of our supporting churches think we're too old to work any more. Their less-than-polite way of telling us so is to cut off our pay. I say that we're just getting rolling!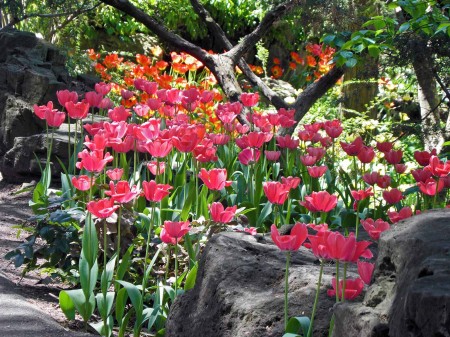 Here's another calendar shot that I hope will soon be earning its keep: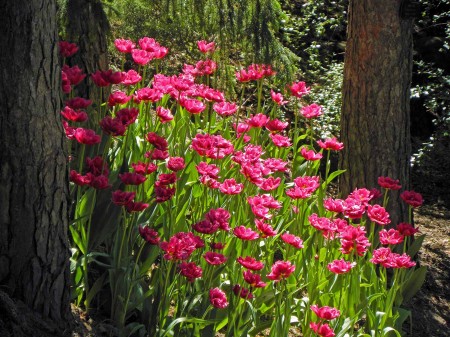 And this . . . THIS!  Is what I mean when I say, "Too Many TULIPS!"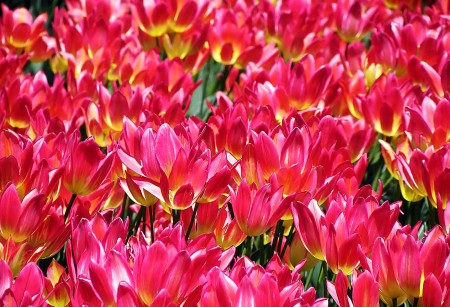 And so, my friends and those I've never met but wish I could, after a couple of Rickard's Reds over lunch, I'm feeling better than yesterday. I'm once again resigned and full of humility and gratitude to receive with as much humour as I can manage whatever is placed before me in however much time that I have left.
Life is a stone gas, man!
Tags:
hamilton ontario
,
tulips