Yesterday was a lovely day at the Grand Canyon. The weather, though a little chilly, was perfect for photography. I took hundreds of shots, but my new Olympus unceremoniously dumped my in-camera panoramas. Don't know why – don't care. They are gone, so that is that.
I've been working all day today finishing up my Patterns of the Sea article for Niugini Blue. So this will be a quickie.
Here is one nice panorama that I managed to stitch together from shots with my Canon G10: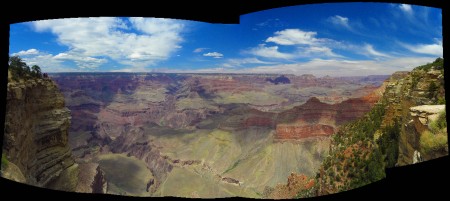 I'm off to New York City early tomorrow morning. I'm going to try to do a post from there tomorrow evening. I have two nights in Harlem. I'm hoping for good shooting weather. There are so many sights to see within walking distance that my new Merrells are going to get a good workout.
Tags:
grand canyon