When I walk into a hotel to have a look around, poke around the place to see who else is there, check my room to see if it's comfy, look out the window . . . you know the drill . . . what I want most is to feel my travellers' anxiety dissolve and hear that little voice in my head whispering, "Yeah, man. You could live here."
That little voice was crooning those exact words to me shortly after my arrival at La Maison d'Art in Harlem, New York City. Harlem reminds me so much of my old neighbourhood that the taxi ride from JFK was like coming home. I arrived at the four story brownstone with only the number 259 to identify it thinking to myself, "This will be interesting."
A brief unpacking session and  a beer run to the corner store were followed by a visit with the owner, Stephanie Calla, a delightful young French woman who surprised me by accepting my offer of a beer as she sat with me for an hour or so to get acquainted. When is the last time you encountered such pleasantly surprising hospitality? In most hotels I feel more as if I'm checking into a hospital for a coronary bypass.
Here is Stephanie in the reception area of her delightful, art-filled establishment: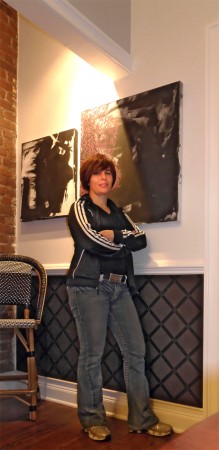 She must have asked me ten times if there was anything else I needed. It wasn't phoney baloney. When I suggested that I might want to go out for some night life, she went searching for brochures for me and told me the best places to go. She stopped by again this morning to check on me and chat a bit.
La Maison d'Art is billed as " . . . sophisticated lodging for the astute traveller" I don't know how sophisticated and astute I am, but I dig this place. Whether you are straight off the farm in Iowa or freshly arrived from your townhouse in Vienna, I can't imagine that you would not be comfortable here. This is another cute shot of Stephanie: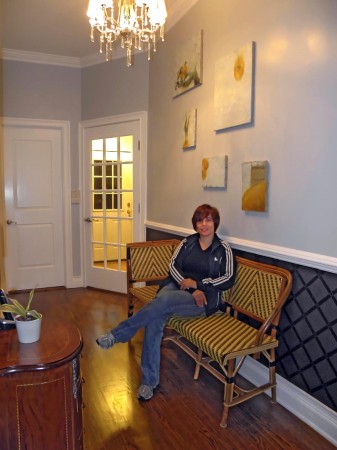 Later today I'm going to walk down to Central Park. I had plans to fill my two days with sightseeing. Now, I'm so comfortable and happy here that I think I'm going to slow down a little to rest and recuperate. It's that kind of place. I won't get to see all the things that I planned to see, but hey, that's what pictures are for.
Blame it on Stephanie and her cool pad. Frank Sinatra could chill out here.
If you are going to NYC, do yourself a favour. Save a bundle of money, be close to all the action, and enjoy the hospitality of a delightful young woman who is quite literally pursuing the American Dream. She's making it on her own, playing the game by the rules, and doing a great job of it.
Thanks to my clever and omniscient wife, Eunie, for once again booking the exact place that I wanted before I even knew what I wanted. It's scary, man!
Tags:
harlem
,
la maison d'art
,
new york city